The Loop
Phil Mickelson replaces ill caddie with brother Tim, whose mandate was, 'Don't screw it up'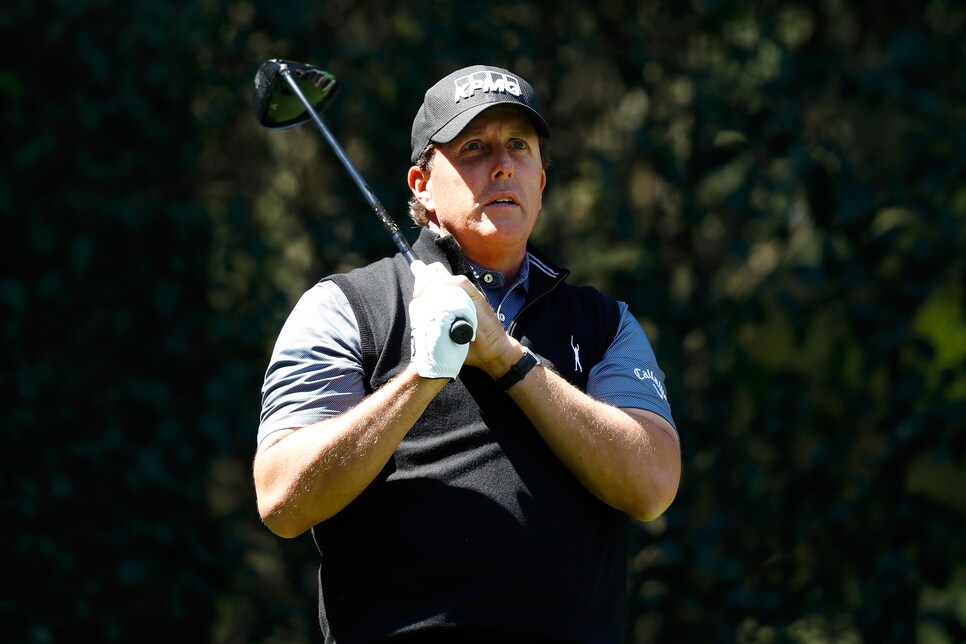 MEXICO CITY -- Phil Mickelson and caddie Jim (Bones) Mackay have been inseparable in more than two decades together on the PGA Tour.
Friday the two were finally split up. It took a bout of food poisoning.
Mackay became the latest victim to fall ill to a stomach virus at this week's WGC-Mexico Championship, where a handful of players and caddies have been stricken by intestinal ailments.
It was the first time Mackay has missed a PGA Tour round working for Mickelson since 1999 -- in the same event, then called the WGC-American Express Championship and that year played at Valderrama in Spain.
"Bones hasn't been feeling well, and the first three holes are straightaway going from the clubhouse downhill, and we got back and we looked back up the hill and I could see that it was going to be a difficult walk," Mickelson said.
In came Mickelson's younger brother, Tim, who was out following the group at Club de Golf Chapultepec after being told earlier that Mackay wasn't feeling well and that he might need to fill in.
The former Arizona State men's golf coach and current agent for player Jon Rahm, Mickelson took over on the fourth hole of the day, the par-3 13th.
"They said Bones has done a great job today," said Tim Mickelson, who had never caddied for his older brother before. "Don't screw it up."
Mickelson promptly made bogey.
He could live with the blemish, though. It was the only one in a round of 68 that has Mickelson tied for second two shots behind leader Rory McIlroy.
"You can't replace somebody likes Bones," Phil Mickelson said. "He's phenomenal, and he's so good with club selection and strategy and so forth, but my brother's a great player and he did a phenomenal job today.
"It was a pretty easy transition."
Mickelson said his younger brother kept him relaxed and even "told a few stories I wish he hadn't." The younger Mickelson also leaned on the other caddies in the group.
When it came to yardages and reading putts, however, that was left to the elder Mickelson.
"He was there if I needed to talk through some stuff," Phil Mickelson said of his brother. "But for the most part, these greens are greens I'm going to read on my own. Also, the irons, you really have to feel, get a sense for it. You can't say I like an 8 or I like a 9 because it can go such a different yardage. It's based on how you feel, how hard you're going to hit it and all those nuances.
"So of all places to have it happen, this is probably the easiest to transition, but Bones is invaluable. He's so good at what he does."
It's expected that Mackay will be back on the bag for Saturday's third round after getting treatment and spending the day in bed.
Tim Mickelson is happy to return the bag.
"I'm pretty sure I've already been fired," he said. "I'm sure Bones will be ready to go [Saturday]."