The Loop
Phil Mickelson 'pleased' to put SEC investigation behind him
DUBLIN, Ohio – Phil Mickelson began with a mea culpa.   In his first public appearance since being cleared of any legal wrongdoing in a Securities and Exchange Commission insider trading case, Mickelson admitted Wednesday at Muirfield Village Golf Club that he could use better judgment in deciding with whom he chooses to associate.   "I'd like to say that I'm disappointed to have been a part of that whole thing," Mickelson said, "but after a thorough investigation, I'm pleased that it's behind me, that it's over... that it's behind me. I'm appreciative of my family and friends and my companies and their faith in me and their support of me.
"I feel excited to start playing golf again. I feel excited to have that part behind me and move forward."   The SEC revealed May 19 that Mickelson will have to repay the nearly $1 million he earned on a 2012 stock trade he made after allegedly receiving a tip about Dean Foods from Las Vegas investor and gambler Billy Walters.  The SEC indicted Walters and Thomas Davis, the former chairman of Dean Foods, on insider trading. Mickelson was named a "relief defendant," meaning he benefited from the deal but is not accused of any illegal act.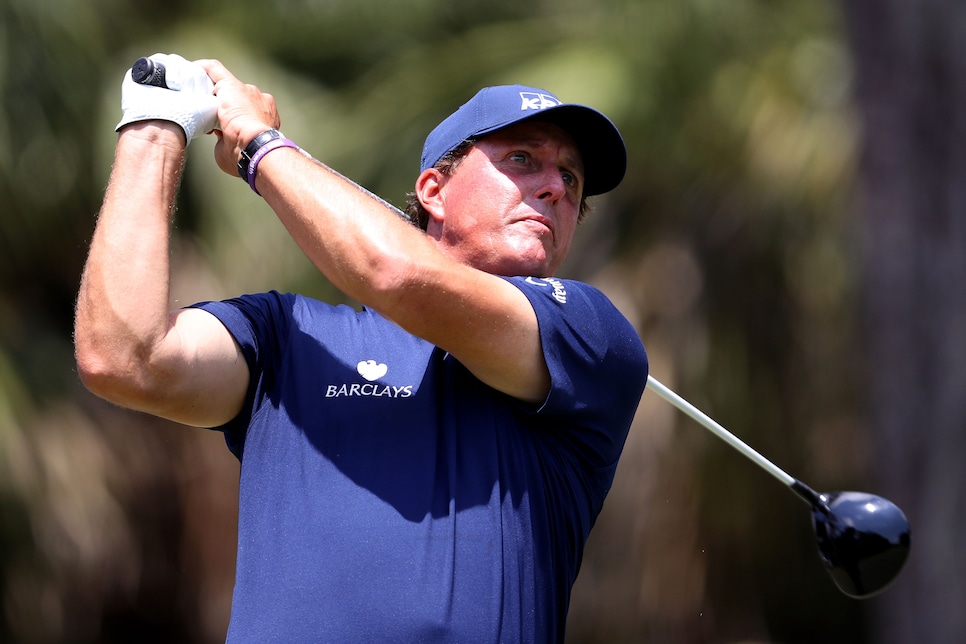 Mickelson's association with Walters, a known gambler, is central to the controversy as it relates to the PGA Tour. Though he didn't refer to Walters or anyone else directly, the five-time major champion reiterated that he has to be more discerning in his choice of acquaintances. A clause in the tour's player handbook stipulates that players should be mindful of their associations with people who might reflect badly on the game.   "I have to be responsible for the people I associate with," Mickelson, 45, said. "Going forward, I'll make the best effort I can to make sure I represent myself, as well as my family, as well as my companies, in the way that I want to and they deserve."   He added that he has not spoken with the PGA Tour about the case. Asked about the Mickelson ruling, PGA Tour Commissioner Tim Finchem said he had no comment.   The SEC investigation has been ongoing for at least two years. Mickelson has not won since the 2013 Open Championship at Muirfield, Scotland.   He comes into this week's Memorial Tournament presented by Nationwide having missed the cut in three of his last four starts, including the Masters and the Players. His other start produced a T-4 at the Wells Fargo Championship, his fourth top-five finish this year.   He'll be making his 16th start at Jack Nicklaus' event, where his best finish was T-4 in 2006. "I saw Jack here today, and he said, 'Look, you're missing one big one, this one right here.' And I agree with him," Mickelson said. "I've been fortunate to have the career that I've had, but I want to win this tournament. Granted, there's another one in two weeks that I really want to win too, but I want to win this one."   He was referring to the U.S. Open, of course, the lone major he has yet to win – though he owns a record six runner-up finishes.   Though his play of late has been inconsistent, the popular left-hander insists that his game is on the rise. Pardon the expression, but if he were a stock, he'd be buying.   "I've had some really good finishes. I've had some poor finishes. I had a really good week last week of practice with Andrew [Getson, his swing coach]. I hate to say this because I've been saying this for a while, I think it's close. I think it's close.   "I feel like it's kind of turned the corner," Mickelson added. "I feel like I'm playing some good golf, but I don't want to put that pressure on me right away to kind of have that expectation because you go out with the idea to try to win and that's the kiss of death because you're dealing with expectations rather than trying to hit shots and play the round.
"So I'm trying to take a step back from the expectations or the result and let the way I believe I'm playing just kind of come out."   Perhaps now, with a huge weight off his shoulders, it will come out a bit easier.