Phil Being Phil
Phil Mickelson calls LIV 'the best tour to be your best in majors,' implies that it's not up for debate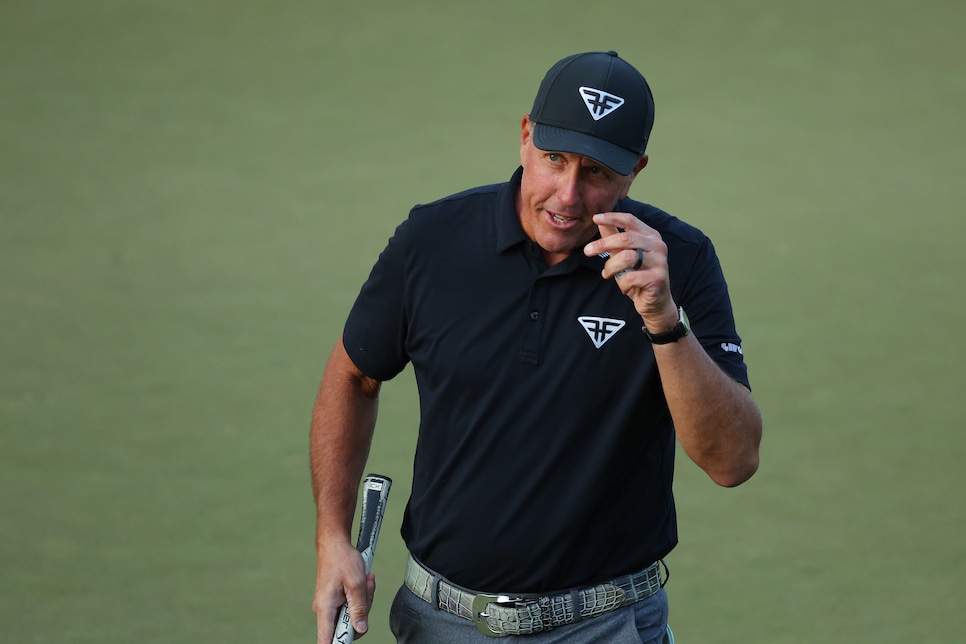 If his Sunday 65 at the Masters wasn't enough proof, Phil Mickelson's recent Twitter rebirth has further driven home the fact that the man is starting to feel himself again.
Last year around this same time, Mickelson took a quieter, more robotic-like approach with the media in the early stages of the LIV-PGA Tour saga. He did the same on Twitter, a forum he joined in 2018 and seemed to enjoy the back-and-forth of until jumping to the Saudi-backed tour and going dark on social media.
That has not been the case of late, however, with Mickelson tweeting and replying to everything and anything in regard to LIV, the PGA Tour, major exemptions, World Ranking points, etc. The six-time major champion was asked why, with all he has accomplished in this game, he has felt the need to get back on the bird app to fire off takes. His answer was an interesting one, to say the least.
"I guess it's because I know some things that others don't," Mickelson said on Sunday after wrapping up a T-58 showing at the PGA Championship at Oak Hill in his PGA Championship "defense" (Mickelson skipped the 2022 PGA at Southern Hills). "I just want to make sure everybody's held accountable."
Lefty's Twitter comeback tour continued on Tuesday, just two days after witnessing fellow LIV golfer Brooks Koepka's impressive victory. Knowing how well he and a number of LIV golfers played at the Masters as well as the PGA, the 52-year-old felt confident enough to make a rather bold declaration.
The use of "Fact." here from Mickelson seems to imply that this take is not up for debate. In fairness, albeit in a small sample size, the LIV players have thoroughly impressed at the two majors, a reminder that the biggest LIV stars are still very good at golf. Three LIVers, Mickelson included, finished in the top five at the Masters. At Oak Hill, three LIV players placed inside of the top 10, including winner Brooks Koepka.
Again, small sample size.
As Mickelson has quickly come to find out, everything on Twitter is up for debate in 2023, including "facts." In just over two hours he's already received more than 800 replies, a nice reminder that sometimes it's best to simply log off.