The Loop
Phil Mickelson is more at home overseas than ever before
ABERDEEN, Scotland -- It took him a while to fully figure out the subtleties and nuances of golf by the seaside. Then it took him almost another decade to marry practice with theory. But exactly 12 months ago Phil Mickelson found the solution. In successive weeks, the now 44-year-old Californian won the Scottish Open at Castle Stuart then the Open Championship at Muirfield.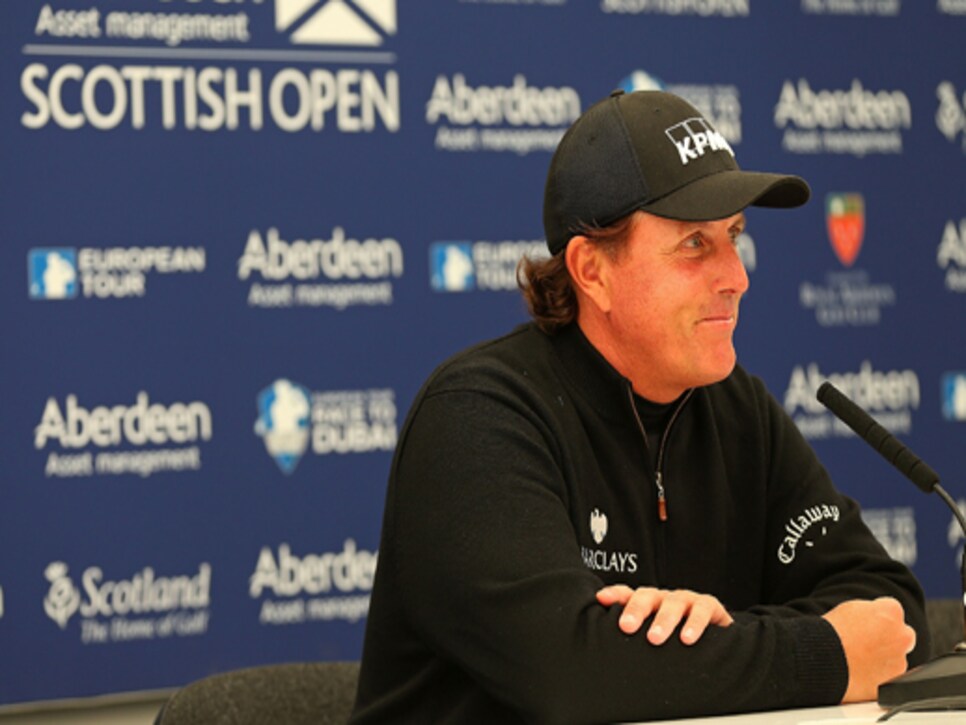 "They were two of the most memorable events of my career," he said on the eve of his defense of the first of those two titles at Royal Aberdeen. "Winning both events is something I will always cherish. Walking up the 18th fairway at Muirfield knowing I had the tournament in my grasp was the greatest feeling. I could take advantage of the moment and not have to grind it out. I could really enjoy the walk."
Prior to that point, however, Mickelson's play in golf's oldest and most important event was more akin to ill advised "running" than relaxed strolling. Too aggressive for his own good and hitting shots too hard, his performances displayed a basic lack of understanding of conditions that are, admittedly, completely foreign to one brought up in the sunshine and warmth of San Diego.
No more though. After starting to work on his short game with Dave Pelz back in 2003, Mickelson began to "get" links golf.
"I started controlling the distance I hit wedge shots by employing little or no spin," he explained. "That carried over into the rest of my game. Previously, I had always struggled with that. I was fighting the conditions, not using them.
"In practice rounds I go to 150 yards out and run balls in on the ground just to see where they end up. I feel like I'm hitting little half-shots. I'm not making full, aggressive swings. From 100 yards it is easier to hit a little 5-iron than a full wedge. I play to spots on the ground and so I don't have to fight any wind. Realizing that was a huge turning point for me."
His lesson on links golf over, Mickelson launched into his annual detailing of his family's latest and "really educational" European vacation. Greece was the destination of choice this time. He then skillfully dodged the inevitable Woods question: Is Tiger missing a trick by not playing this week?
"I think each individual has to find out what they need to do to bring out their best golf and prepare for major championships," he replied, barely suppressing a smile. "It's not the same for everybody."
As ever in Europe, the Ryder Cup also came up in conversation. Will Phil see the PGA Centenary course at Gleneagles before the matches in September?
"I think it would be a great opportunity to be able to play the course well in advance," he responded. "But we will have four days to prepare, which is as many or more than I usually have for major championship prep. We should know the golf course well enough to compete at a high level."
And then there was the performance of Team USA in the soccer World Cup. "I watched every match," Mickelson claimed. "This World Cup really created an interest throughout the United States and hopefully that will propel the sport forward."
Educator. Lecturer. Politician. Diplomat. Sports geek. It isn't only around the greens that Phil displays dexterity and touch.