The Loop
Looks like 'Hit Bombs' might be part of Phil Mickelson's next side hustle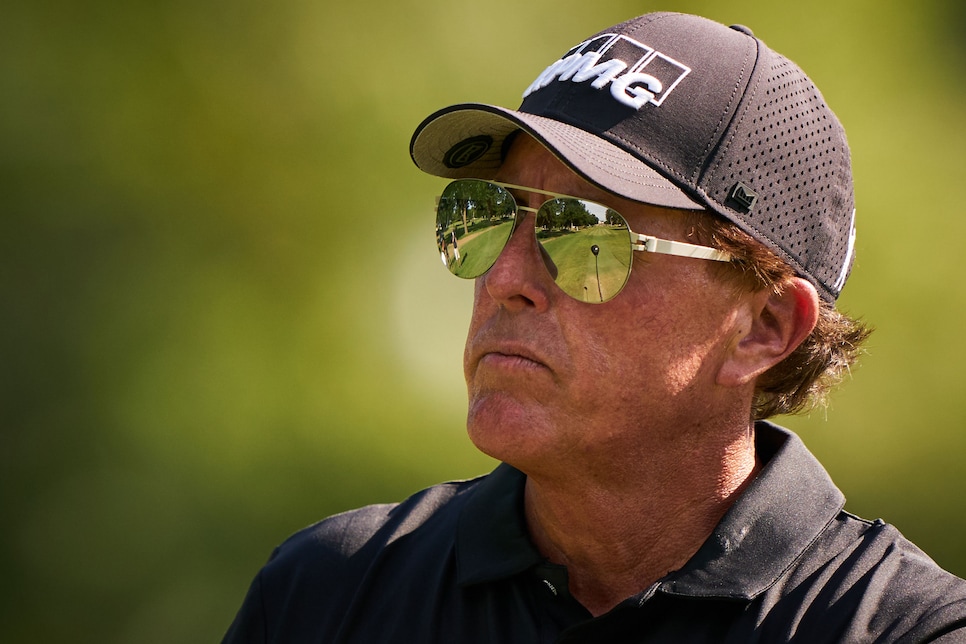 Darren Carroll for Golf Digest
There is never a dull moment with Phil Mickelson. And if you thought that was going to change after he picked up his AARP card last week, you probably don't have a true understanding of what Phil being Phil is all about.
Just days after celebrating his 50th birthday, Lefty was contending for his 45th PGA Tour title at the Travelers Championship and, apparently, conjuring up another glorious side hustle.
Mickelson's use of the term "Hit Bombs" dates back to at least the 2019 Masters, when he merrily drove down Magnolia Lane talking about doing just that at Augusta National.
The trademark application notes the potential use of the term on golf shirts, T-shirts and hats. That doesn't explain the aviator sunglasses he's been sporting the last three weeks since the PGA Tour's restart, although maybe you need to wear those shades when you're hitting all those bombs?!?
Mickelson has a history of taking big moments in his career and, ahh, capitalizing on them. His mighty leap after winning the 2004 Masters has been turned into a logo that Mickelson wears on his apparel and golf shoes.
He's also in the last year worked on another business venture, Coffee for Wellness, as part of his body transformation over the last year.