News
Phil Mickelson has two legs up on hitting it longer, straighter -- seriously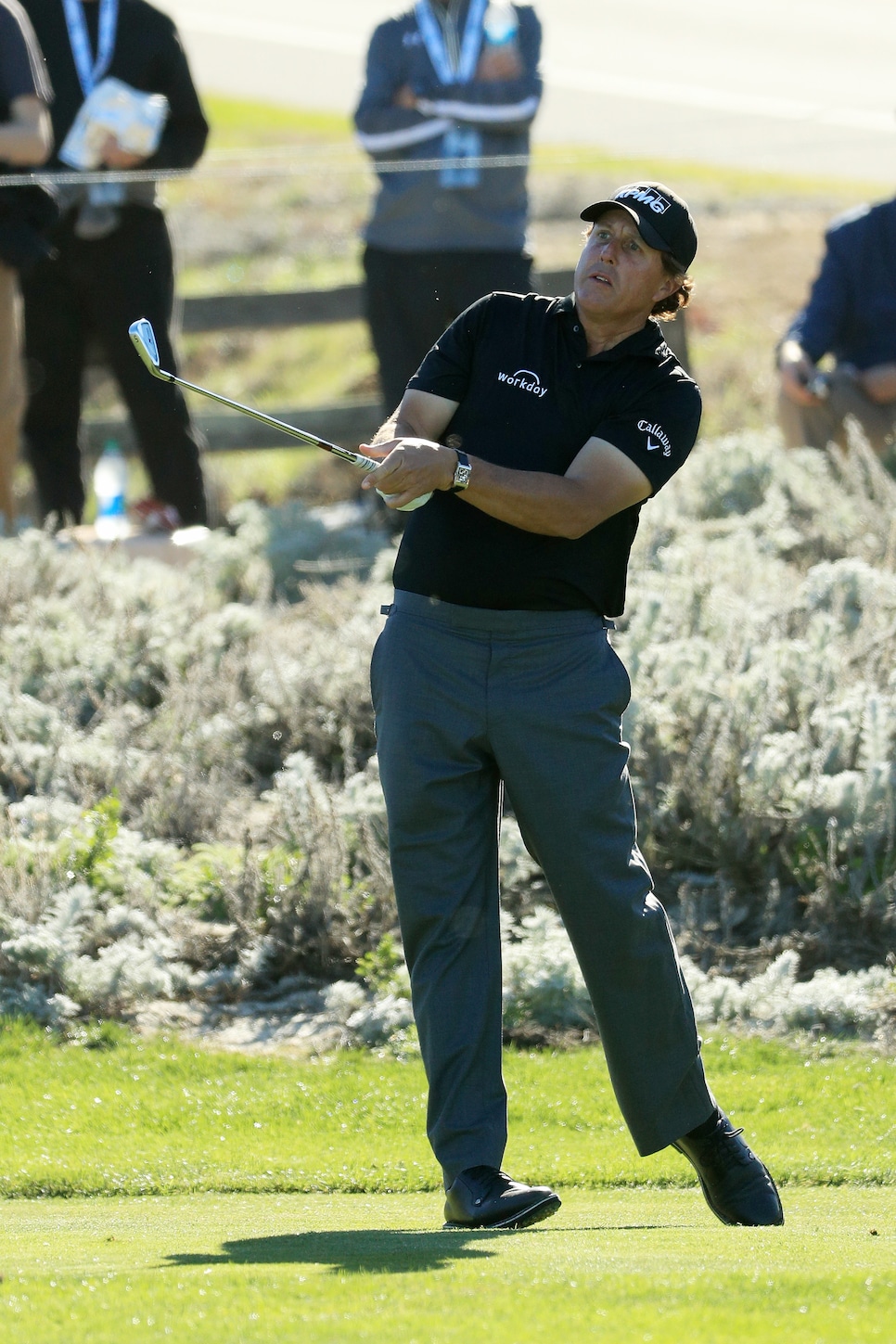 PEBBLE BEACH — "I walk around this golf course," a radio reporter said to Phil Mickelson Thursday afternoon at Spyglass Hill, "and I wonder how you shot 62 here."
This, ladies and gentlemen, is called a set-up line.
Mickelson, who set the course record in 2005, could have gone any of a number of directions with his response. Sort of like his driver. He played it deadpan straight.
By now we're aware that Mickelson doesn't play it straight, at least not off the tee. The left-hander acknowledged as much last week, noting that becoming an average driver would be an improvement. And from the fairway he is still capable of scoring, which is what he did on the back nine at Spyglass Thursday in his opening three-under 69.
Overcoming two bogeys on par 5s on the outward nine, Mickelson converted five birdies on the inward half. No surprise that the bogeys were the result of visiting Spyglass Hill's rather gnarly nether regions not conducive to scoring.
He is on his way to figuring out how to stay within a zip code of the center lines, and at 47 you have to think, Well, it's about time. Then you say, Whoa, hey, what makes you think it will be different this year?
Good question, especially when so far this season he ranks a dismal 213th in driving accuracy. He's finding fairways only 45.9 percent of the time, 10 percentage points lower than a year ago. If the trend continued, it would be his worst driving season of his career.
But it won't continue. Here's why: he's a changed man. But it's a change you can't see. No, he is still swashbuckling Phil. But perhaps the new iteration won't have to be so gosh-darn entertaining. Which would make him eminently more competitive.
An offseason leg-strengthening program might soon pay dividends. Always enamored with the long ball, Mickelson is averaging 305 yards off the tee, 13 yards longer than his driving average in 2017. He ranks 39th on tour in that category. His clubhead speed, he said, has increased four miles per hour, and his ball speed is up significantly, too.
"My legs were always very passive in my swing, and now I'm able to get more of a whip effect and push off the ground," he explained. "It's increased the speed right away. From a biomechanical standpoint, I've always had plenty of upper body speed, including the hands, but I was weak using my legs for power."
Increased leg power has made him wilder, if that were possible. But that should change. He now is relying less on his hands to square the clubface, which always is a bad idea. Timing is still an issue as he gets used to the new metrics, but he is putting in the work. And after the round he visited the putting green to work on another weak spot—putting. He still makes plenty of birdies, averaging nearly five per round. But short putts have been defiling otherwise solid rounds.
He is energized by his potential improvements. He believes he can win again after being stalled at 42 career victories since his 2013 Open Championship triumph. But he has more than just belief. He is finding answers.
"The two areas that I've been weak in over the last five years and have held me back are driving and short putts, and I believe they are both becoming strengths," he said. "If that's the case, then I'm going to have a good year. I believe what I'm doing is going to make a huge difference."