News
Phil Mickelson's first PGA Tour round as a 50-year-old goes as well as he could have imagined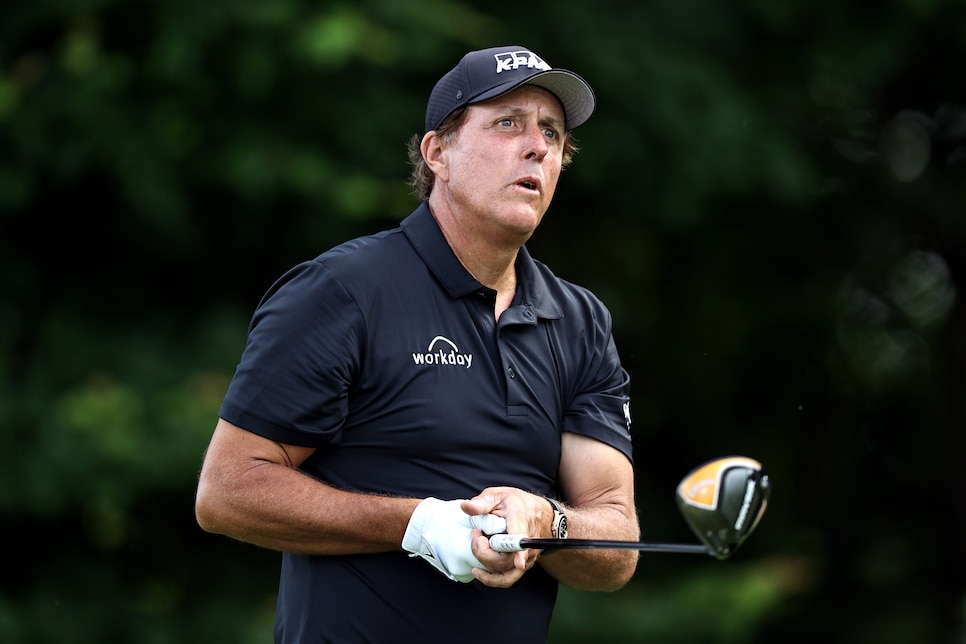 Phil Mickelson won't be the Day 1 leader at the Travelers Championship. But if there were a senior division, he would have already wrapped up the title.
Playing on the PGA Tour for the first time as a 50-year-old, Mickelson fired (or is it "phired") a bogey-free 64 at TPC River Highlands. Impressive stuff, especially considering Mickelson had missed his previous three cuts, including two weeks ago at Colonial.
Starting on the back nine, Mickelson made three birdies before making the turn. After birdies at Nos. 2 and 3, he added a sixth one on his final hole at No. 9.
But he was just part of a spectacular showing by the marquee group on Thursday morning. Rory McIlroy nipped him with a 63, and Bryson DeChambeau shot 65.
On the third hole, Mickelson could be overheard saying, "That's nasty," to DeChambeau after he launched a 335-yard drive. But Mickelson, who poked his drive 313 yards, made the only birdie in the pairing.
"So I love what I do. I love my job," Mickelson told reporters after. "I love trying to play and compete, and I really enjoy playing with guys like Rory and Bryson who are just tremendous talents and trying to compete with those guys. Rory has got one of the most beautiful golf swings this game has ever seen, and Bryson has got a unique style of playing that is fascinating, and he plays at the highest level. I enjoy kind of watching and learning, but I also enjoy trying to play my game and compete regardless of age."
For the round, Mickelson averaged 301.5 yards off the tee. He was even better with his irons, though, hitting 16 of 18 greens.
Mickelson also received some good news before the round with the USGA tweaking its criteria for this year's U.S. Open since there won't be any qualifiers. By allowing the top 70 in the Official World Golf Ranking as of March 15 into the event (10 more spots than usual), Mickelson has a spot in September at Winged Foot, where one of his record six runner-up finishes came in 2006.
"No, that worked out great, to be able to know that I have a chance to go back to Winged Foot and give it another shot," the five-time major champ said. "But I've had 30 U.S. Opens. I've had plenty of opportunities, and so if I don't qualify, I want somebody else who deserves a spot, too, to play. As long as I'm playing well enough to compete to earn my way into the field, then I want to play and keep trying to win that tournament."
If he keeps playing like how he played Thursday, Mickelson making more history as the oldest major champ doesn't seem so far-fetched.