The Loop
Phil Mickelson finds that winning an Open makes a bad day not so bad
AKRON, Ohio -- If Phil Mickelson was suffering from a major hangover in the first round of the WGC-Bridgestone Invitational, he didn't mind it, at least not for one day.
"It's a good problem to have," Mickelson said Thursday at Firestone CC, where he opened with a mediocre 2-over-par 72 in his first competitive round since his stirring final-round rally to capture the Open Championship July 21 at Muirfield, Scotland.
And now for the bad problem he has: Mickelson, No. 2 in the world behind Tiger Woods, trails leader Webb Simpson by eight strokes after his worst opening round on Firestone's South Course since a 74 to start the 2007 edition. If he wants to keep his winning streak alive - he won the Scottish Open before claiming his fifth major title - Lefty has left himself plenty of work to do.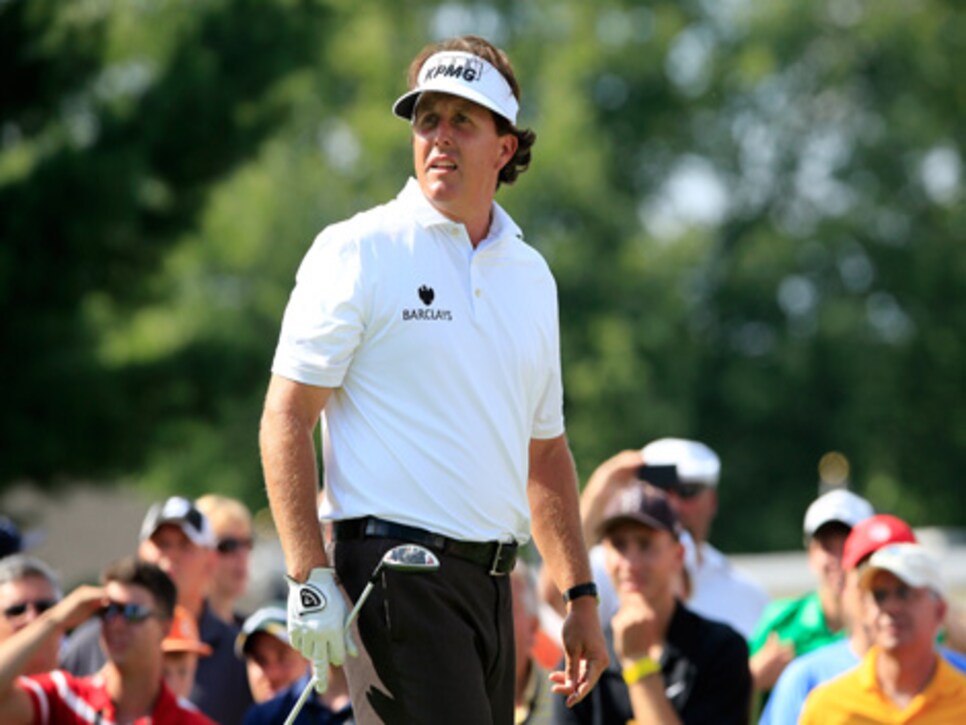 "I'm not overly concerned. I'm disappointed in the round. I certainly didn't want to shoot over par and leave myself this far back after the first day," the 43-year-old left-hander said. "But my game feels sharp. I feel like I'm rolling the ball well. I know I'm swinging the ball well, and tomorrow if I can just mentally see it a little clearer, I should have a good day."
Though his mechanics weren't appreciably different from his what he put on display at Muirfield, Mickelson said he wasn't mentally sharp and that he had trouble focusing and visualizing shots. He hit eight fairways and 11 greens in regulation. Perhaps where he struggled most though was on the greens, where he needed 31 strokes.
He lipped out on consecutive holes for bogeys at Nos. 6 and 7 and he three-putted the 17th from 26 feet.
"I wouldn't say that physically I was tired," he said. "I took yesterday off, but I could tell that mentally, you know, again, it was very difficult for me to see what it was I was trying to do and see the shot clearly and be able to feel the shot and get into the nuances of striking the ball."
Mickelson has five top-10 finishes in this World Golf Championship event, but only one since 2002. He did win the 1996 World Series of Golf at Firestone South, which was his first PGA Tour win east of the Mississippi River.