The Loop
Phil Mickelson didn't let age creep up on him Sunday at the British Open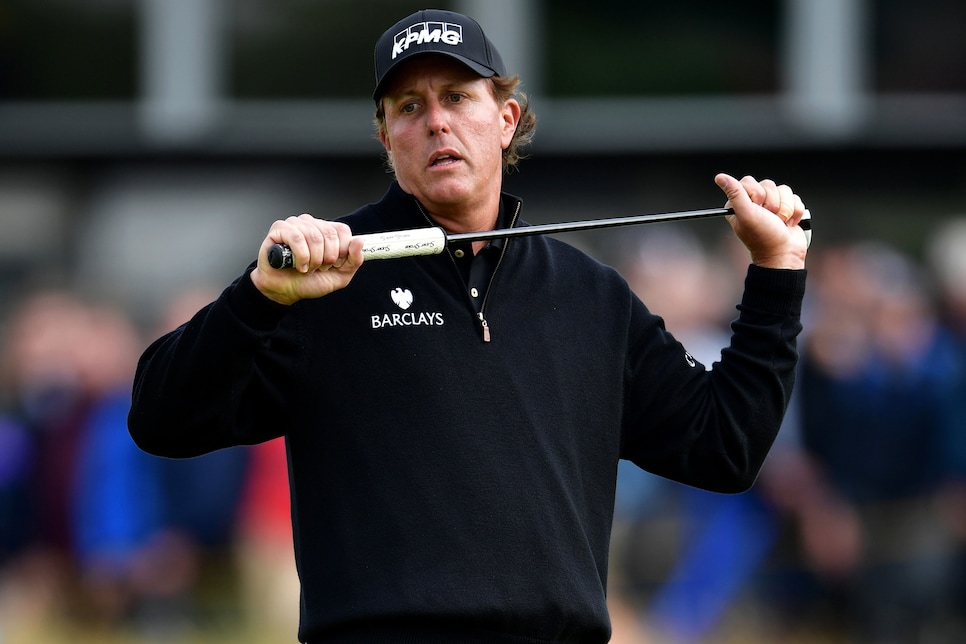 TROON, Scotland -- Phil Mickelson went against type at Troon. Not because the closer of 42 PGA Tour events didn't find a way to win a championship that he led for more holes than anyone else. Not because he hit fairways and greens with an uncommonly metronomic precision.
No, it was because he didn't play like a guy older than 45 in the final round of a major.
The 46-year-old, who hasn't won since the 2013 Open Championship, shot a 65 on Sunday. He didn't make a bogey or weaken in concentration or control in a shootout with Henrik Stenson. The only problem was that Stenson, himself 40, shot 63 in one of the greatest final rounds in the game's history.
From an age perspective, their duel in the final pairing, a continuation of their shared round on Saturday, was that rarest of things: A showdown for a major championship by two golfers older than 40. The only other time that has happened in a final group was with Ben Hogan and Sam Snead in the 1954 Masters, the duo playing the final 36 holes plus an 18-hole playoff together when both men were 41.
Three golfers have been famous exceptions to the 45 fade, most notably Jack Nicklaus winning the 1986 Masters at 46 with a closing 65. Julius Boros' victory at 48 at the 1968 PGA Championship is underappreciated, as is Hale Irwin taking the 1990 U.S. Open at 45. And at a time when the average life expectancy in the United Kingdom for a man was 47, Old Tom Morris won the 1867 Open Championship at 46 years, 99 days (Mickelson would have been about two months younger.)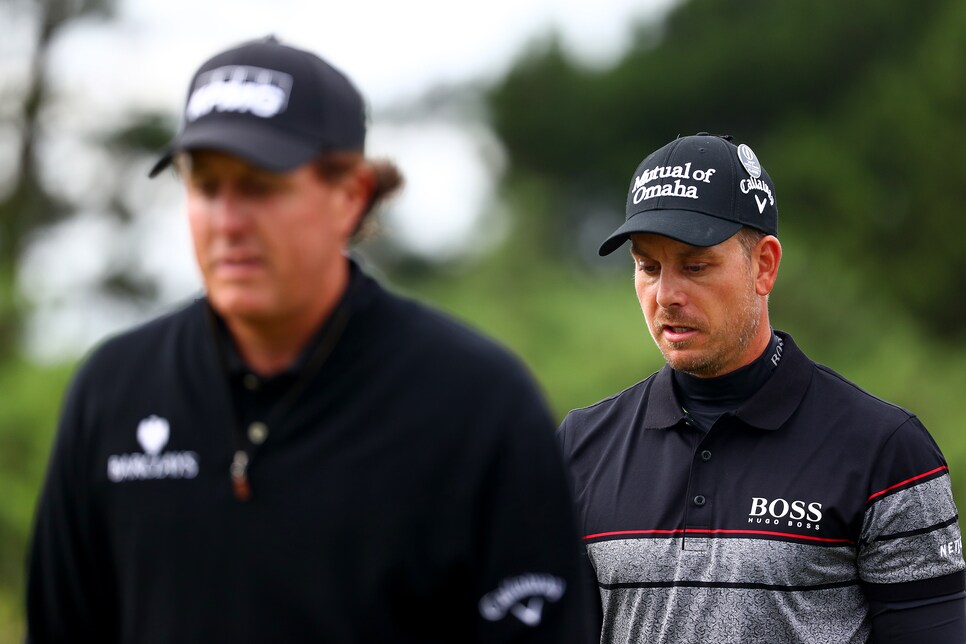 But the stark reality for 45-plus contenders in majors is they seldom succeed on Sunday. The pattern usually goes like this: old war horse has inspired start, hangs tough to hold onto or be near the final-round lead. Then in the final round, things change. There is less concentration, less feel, less energy and less confidence. And more nervousness. The difference might be subtle or dramatic, but it's a weakening. One that's nearly always enough to prevent victory.
"For an older player, everything gets stored—good pictures and bad pictures," says Nick Faldo, whose sixth and last major, the 1996 Masters, is his proudest because it required him to overcome the most mentally. "Jack had a great mind; it's what made him the exception. Because the longer you play, under pressure, the easier it becomes to see the bad picture. You just know too much, and it takes greater mental strength than when you're younger."
The pattern is well-established, and it began early. In the 1920 U.S. Open at Inverness, 50-year-old Harry Vardon led by five strokes with seven holes to play. But the winner of a record six British Opens tired badly and played seven over par the rest of the way to lose by one. Ironically, the golfer who beat him was his countryman Ted Ray, who at 43 years and four months would be the oldest winner of the U.S. Open until Irwin.
Ben Hogan was 47 at the 1960 U.S. Open at Cherry Hills and tied for the lead on the final nine. But he fell short, finishing bogey/triple bogey. Boros was 53 at the 1973 U.S. Open at Oakmont, when he closed with a 73 to finish T-7 when a 69 would have gotten him into a playoff. Gene Littler was 47 and coming off a bout with cancer five years earlier when he led the 1977 PGA by four going into the final round but shot 76 and lost in a playoff to Lanny Wadkins. Lee Trevino was only a few months short of 45 when he entered the final nine of the 1985 PGA Championship tied with Hubert Green but shot three over to lose by two.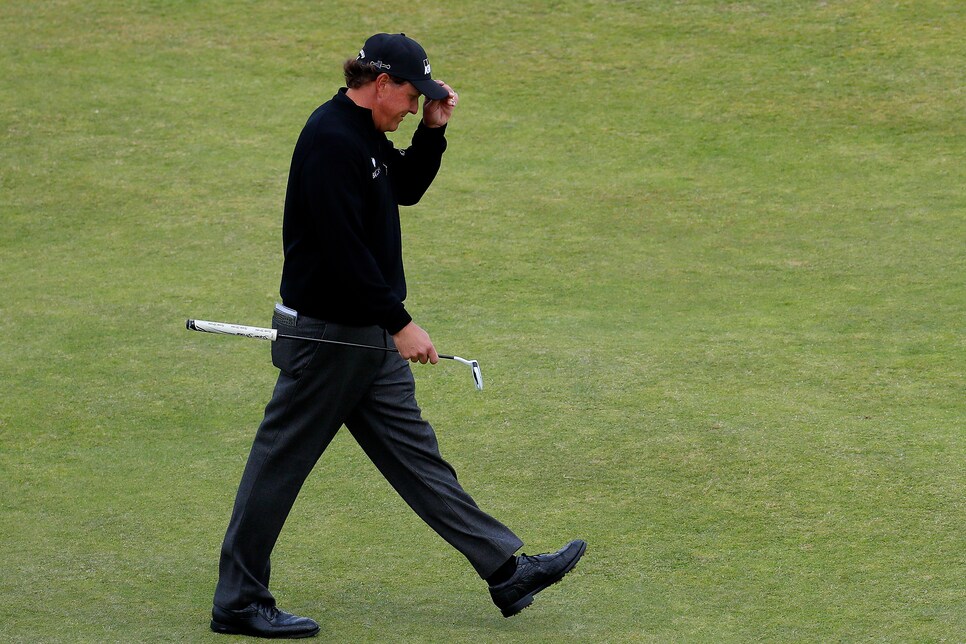 More recently, Greg Norman at 53 led the 2008 British Open at Royal Birkdale by three after 54 holes but shot 77 to finish T-3. The next year, a 59-year-old Tom Watson came to the final hole at Turnberry with a one-stroke lead but lost it when his flushed 8-iron bounced over the green. In the four-hole playoff, a disheartened Watson was four over par to winner Stewart Cink's two under.
Steve Stricker, then 46, was one behind the 43-year-old Mickelson with 18 to play at the 2013 U.S. Open at Merion but shot 76 to finish T-8. At this year's Masters, Bernhard Langer at 58 was only two behind the leader beginning the final round but shot 79.
Clearly, putting a good fourth round together while fighting for a major gets tougher after a certain age.
About the only concession to age Mickelson showed at Troon was wearing two gloves in wet conditions on Fridays, a precaution against a flare-up of the psoriatic arthritis that has caused him problems. Even with the bad weather, it was clear Mickelson has learned to trust controlled rather than power golf on links courses, making the Open Championship, which he won in 2013 at Muirfield with four birdies on the final six holes, the major that gives him his best chance in his advancing years.
But so far this year, despite showing an improved level of play through his work with new swing instructor Andrew Getson, Mickelson has struggled to finish tournaments off. At the Waste Management Phoenix Open, he finished with 71 after a third-round 65 to drop to T-11. And at the AT&T Pebble Beach Pro-Am, where he led by two after rounds of 68, 65 and 66, he shot a closing 72, missing a five-foot putt on the 72nd hole to lose by one. "Phil just seemed to be missing the competitive stamina," Faldo said.
To his credit, Mickelson seemingly willed himself to an elevated zone at Troon. His opening 63 is probably the greatest round of his life from a pure golf standpoint. Asked after his second-round 69 if he knew that he could become the second-oldest Open champion next to Old Tom, Mickelson used the opportunity to rebut the idea that he's not the player he was.
"I understand the age thing," he said, "but the fact is that from 10 years ago, when I was playing my best golf, I'm 25 pounds lighter, I'm in better shape, I'm physically stronger than I was. I feel better and I'm playing, now that my swing is back on plane, I'm starting to hit some shots like I did 10 years ago and starting to play some of my best golf again. So I don't see why there's any reason why I can't continue that not just this week but for years. That's kind of what the game plan is."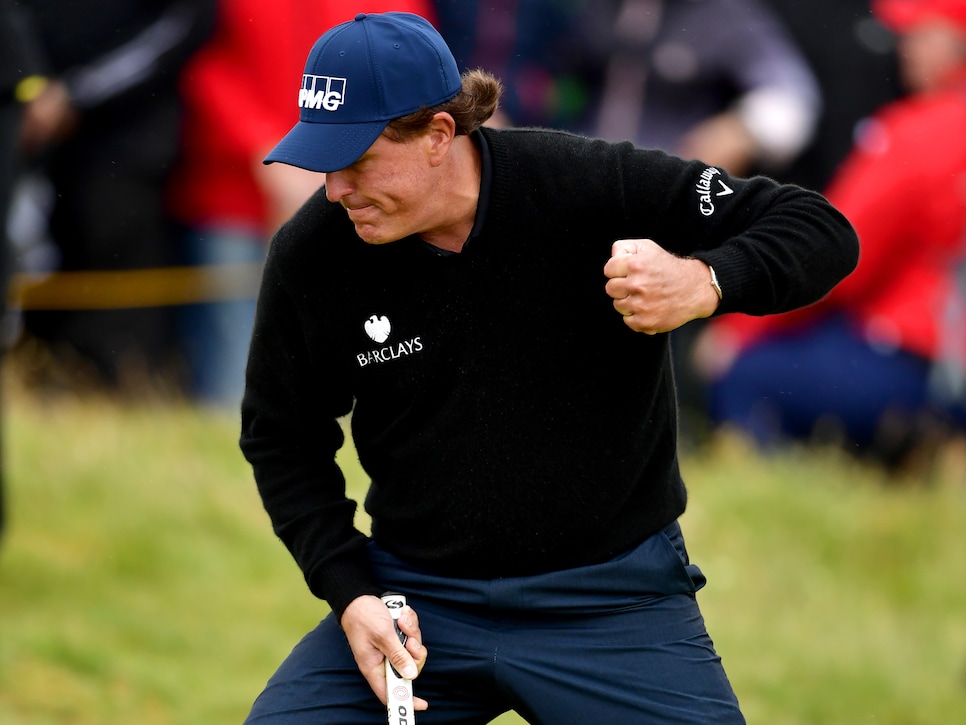 Mickelson's Saturday 70 was scratchy, but he used grit and craft to keep it from being higher. When his longtime caddie, Jim Mackay, was asked if he was worried about Lefty succumbing to the aged-player final-round syndrome, he said, "Not as competitive as Phil is. And not as confident as he is in his ball-striking."
And so he was with a superb Sunday 65, a round that began with a nearly holed approach shot and was as good in quantity and quality as Nicklaus' fabled closer at the '86 Masters. Mickelson simply had the bad luck to be running head-on into Stenson.
It might be small consolation, but Mickelson has proven that he's a young 46, at a time when players in their 40s are performing more youthfully than ever. Next week he goes to Baltusrol for the PGA Championship, the course where he won that championship in 2005. The timing could hardly be better.