News
Phil Mickelson consults doctor, improves focus, energy and shoots 69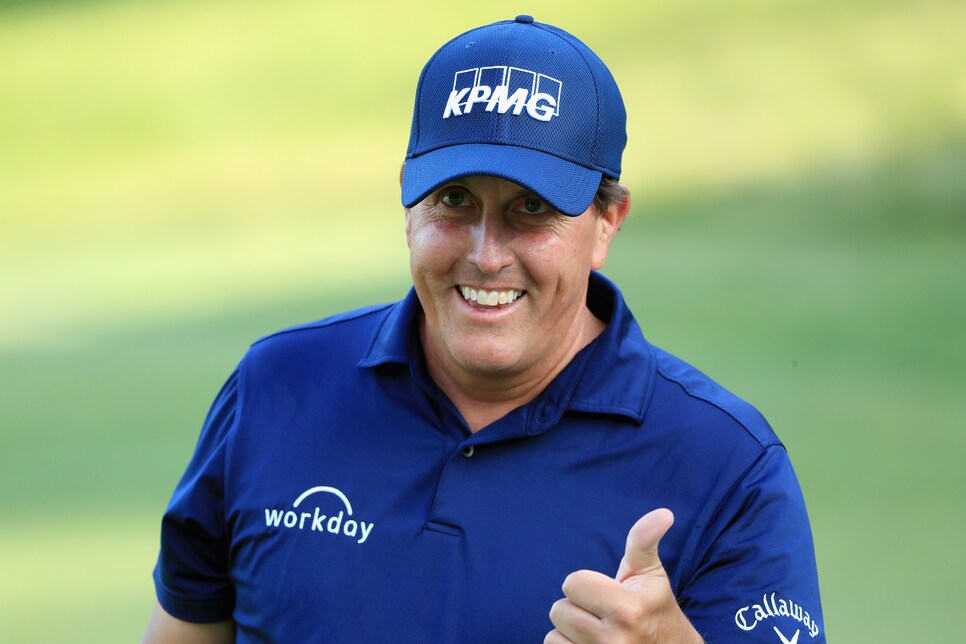 NORTON, Mass. -- Following a missed cut at last month's PGA Championship -- his fourth in the last eight majors -- Phil Mickelson met with the same doctor who helped him get through his psoriatic arthritis diagnosis in 2010.
Only this time it was to help with something else Mickelson said he has been struggling with, specifically focus and energy.
It seemed to be working on Friday at TPC Boston.
Mickelson made three birdies and just one bogey en route to a two-under 69 in the opening round of the Dell Technologies Championship, where he trails leader Dustin Johnson by three strokes.
"This is the best energy I've had throughout the round and the best focus," Mickelson said. "My short game has been very disappointing and I haven't been able to visualize the shot I've been trying to hit. And today, and for probably the last few days, I've been able to see the shot again. And so it was a good day."
Especially around the greens.
Mickelson got up-and-down five of six times on Friday, including on the 15th after leaving his approach short on the par 4, and at the par-5 seventh for one of his three birdies.
A good round couldn't have come at a better time, too.
The Presidents Cup team will be finalized next week and at 18th in the standings Mickelson is on the outside looking in. He has been a member of every U.S. team since 1994, and a good week this week would make things even easier for Captain Steve Stricker when it comes to his two captain's picks.
For Mickelson, though, he's pleased to have seemingly turned the corner on an issue that he says has plagued him for the last eight months.
"It's been very frustrating to not be able to practice or visualize or see a shot or have that energy level," he said. "This last week or two has been a nice step up."