News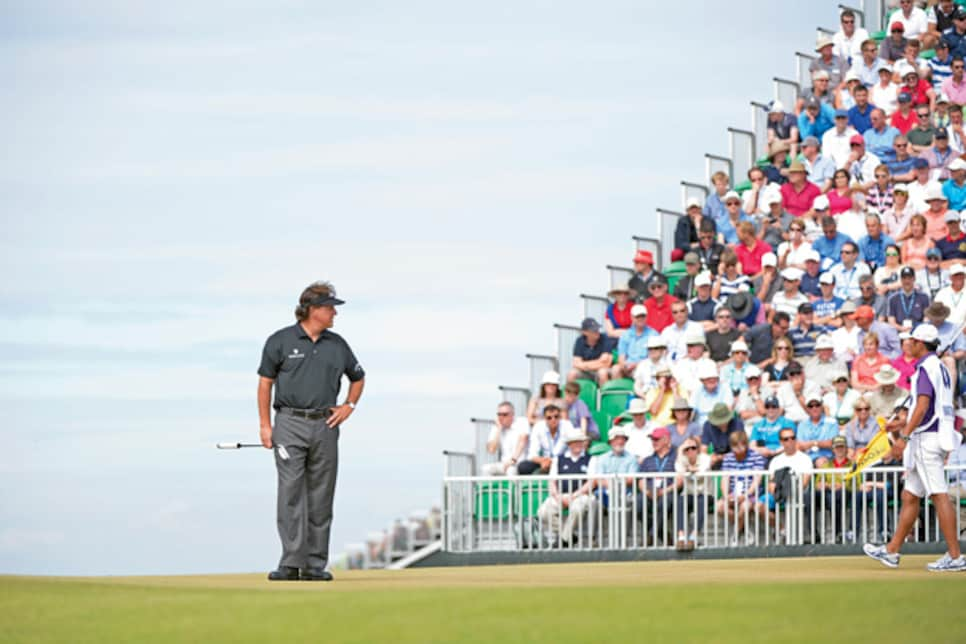 5 years apart in Southern California, two small, right-handed boys took their first golf swings left-handed. Each was facing his father at the time, swinging in a mirror image of the old man.
One (the second one, actually) was easily turned around. Amazingly turned around. Without prompting, he repositioned his fists right over left and never went back.
The other was a different story. Seeking to please, he swung right-handed as long as anyone was standing over him. But once he was alone again, he always reverted to lefty. He did it his own way.
That was Phil Mickelson at 3, and at 43.
He had big hands and big feet and, as his mother will tell you, "was just about the clumsiest kid you ever saw." He walked into so many pillars and posts that she required him to wear a football helmet in the house.
Bewitched by golf, he might be the only child who ever threatened to run away to a golf course—in writing. ("I love you, but I'm really going this time.")
The game never completely left his thoughts. ("In school, I'd picture myself putting up and down the aisle. I'd think, Gee, I wonder how the ball would roll on a marble green. I always did that. I still do.")
His father imparted the golf lesson that counted most, the one that best describes Phil's game still. Whatever else golf could be, it had to be fun. After slamming a club against the ground at age 8 or 9, Philly was demoted to spectator for several holes until he eventually spoke up in a contrite whisper: "Dad, I think I can have fun now."
"My father would come get me right after school. We used to go out to a local municipal course, Balboa. After about 14, 15 holes, it would be too dark to play. In pitch-black sometimes, we'd have to walk all the way from the far end of the course through the canyons to the car. Those walks are my fondest memories in the game."
Phil Sr.'s fondest memory was the 1987 U.S. Amateur, caddieing for his 17-year-old son. Three years before winning that championship, young Phil was looking pretty good to advance in the tournament when he, and only he, saw an infinitesimal breach of the rules and docked himself a stroke that mattered.
During Phil's "best player never to win a major" siege that nobody thinks of anymore, the elder Mickelson confided, "I keep holding onto that moment at the Amateur. That's who he is really. Not this major thing. This business of the major makes me sad because I know how hard Phil has tried and how much it means to him. I also know how quickly the media will move on to the next name when he does win one. I probably shouldn't say when. But they won't miss a beat when he does."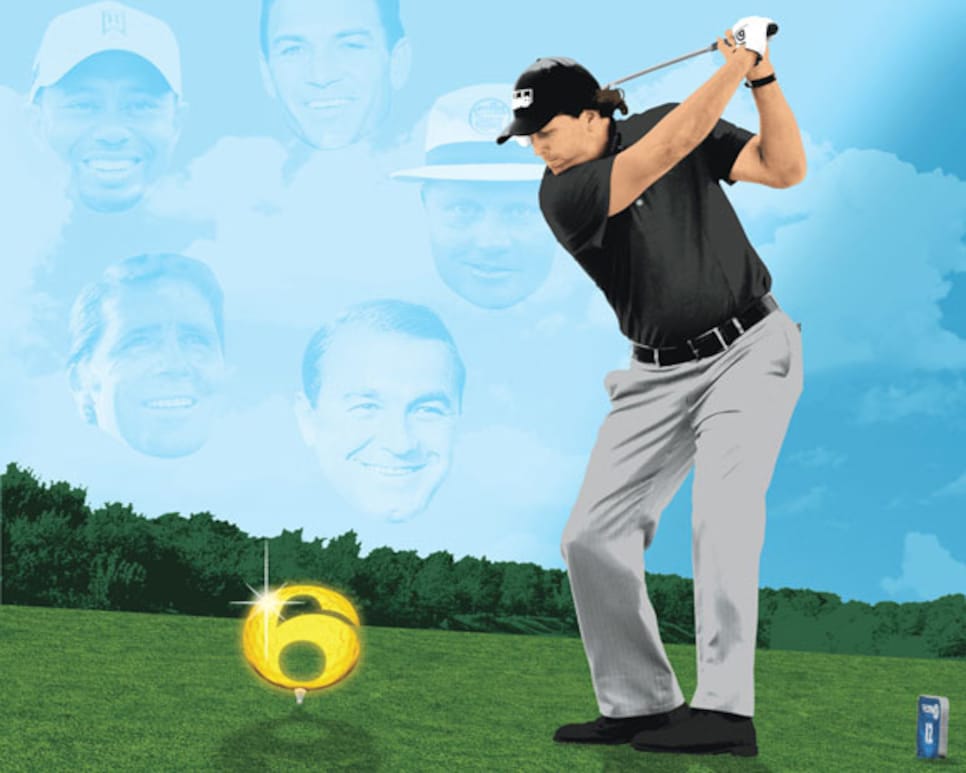 Twenty years ago, about a season-and-a-half and $430,000 into his $80 million career (counting just the money he has earned with his golf sticks), Phil was sitting in a Texas clubhouse drawing a picture on a menu. Pointillism. Painting by Seurat. "This is a right-hander's shot pattern," he explained, dot-dot-dotting one side of the page. "This is the left-hander's. Do you see?"
"I think he sees things others don't," Ben Crenshaw said later that afternoon. "I think it will get him through many indifferent rounds while he's learning. He'll figure out how to score when he's not playing well. He'll just let his imagination go. I saw him hit a pitch in a pro-am, straight up in the air—I mean, 50 yards into the air over a bunch of trees. It fell on the hole like it was dropped from a B-52. I wonder if this kid doesn't have more imagination than the rest of us put together."
That day in Texas, Mickelson was thinking of flying to Phoenix between rounds to catch an NBA game. He was sweet on a Suns cheerleader named Amy McBride. Steve Loy, his advisor, thought it was a terrible idea. Jim (Bones) Mackay, his caddie, helped talk him out of it. Two decades later, Loy is still his advisor. Mackay is still his caddie. And Amy is his wife. As golf continuums go, Mickelson is unique.
"I'd like the demeanor of Couples," he got to daydreaming out a window, pushing shot patterns aside, "the patience of Faldo, the course management of Nicklaus, the imagination of Ballesteros, the short game of Watson, the putting of Crenshaw, the power of Norman... "
What, all these years later, has not come true?
He broke through the major barrier with a 31 on the back nine at Augusta in 2004, promptly ran his green-jacket collection to three, mixed in a PGA Championship for flavor and, into a press room microphone, said something beyond smart:
"The reality is, even if I play at the top of my game for the rest of my career and achieve all of my goals—let's say, win 50 tournaments and 10 majors—I still can't get to where Tiger [Woods, the other small, California right-hander] is now. So I won't compare myself with him [anymore]. It makes no sense."
Exactly when this became inoperative isn't clear, but the 2012 AT&T National Pro-Am at Pebble Beach comes to mind. Trailing Woods by two strokes and paired with him on Sunday, Mickelson shot 64 to Tiger's 75 to win in more than a rout, to make a statement. A revised statement. Eleven years earlier, as hardly anybody remembers, Phil was an uncredited bit player standing on Ponte Vedra's island green as Woods delivered his "better than most, better than most, better than most" soliloquy. Those days are over.
"It could be Phil," early finisher Geoff Ogilvy mused at Muirfield in Scotland this past summer, scanning the board as the leaders were just about to tee off in the final round. Lee Westwood -3, Hunter Mahan -1, Tiger Woods -1, Adam Scott E, Angel Cabrera +1, Zach Johnson +1, Ryan Moore +1, Henrik Stenson +1, Francesco Molinari +2, Phil Mickelson +2... What made Ogilvy reach 10 men down to choose Mickelson? "Because he's always been a great iron player," Geoff said, "and because he likes it when Tiger's up there now."
If you don't think so, consider that Ernie Els and Mickelson, the main casualties of the Woods blitzkrieg, have won the last two Open Championships, spotting Tiger one and three strokes after three rounds, overtaking him by four and five in the end.
"This is just an amazing feeling, winning this great championship," Phil said at Muirfield, strangleholding the claret jug. "And to play probably the best round of my career [a five- under-par 66, including birdies on the last two holes and on four of the final six] and hit some of the best shots I've ever hit. Certainly putted better than I've ever putted. You know, I was getting ready for today and I just thought, I need to bring my 'A-game.' I just need to bring it. And I did."
Except with his eyes and smile, he never mentioned Woods.
While clutching a golf trophy that has Old Tom Morris' name scratched on it, you can't help but be a little imbued with history. When you're three-quarters of the way to a cloud, you have to expect your ears to pop.
"If I'm able to win the U.S. Open and complete the career Grand Slam," he said, "I think that's the sign of the complete great player. And I'm a leg away. And it's been a tough leg for me. [Laughter in the press room.] But I think that's the sign. I think there's five players who have done that. And those five players are the greats of the game. You look at them with a different light." Gene Sarazen. Ben Hogan. Gary Player. Jack Nicklaus. Tiger Woods.
The 10 men with three legs aren't bad, either, including Englishman Long Jim Barnes, who never had an opportunity for the fourth. Barnes, Walter Hagen, Tommy Armour and Lee Trevino are missing only the Masters; Arnold Palmer and Tom Watson only the PGA; Byron Nelson and Raymond Floyd only the British; and Sam Snead and Mickelson only the U.S. Open.
Didn't it always figure to be a tough leg for Phil? Of all the golf tournaments in the world, the U.S. Open is the one least associated with fun. Hogan finished in the top 10 of every Open he played from 1940 to 1960, and never once laughed.
Phil has finished second six times, four brutally. The worst was at Winged Foot in 2006, when he double-bogeyed the 72nd hole and said, "I am such an idiot." But he took the most recent near-miss at Merion a month before Muirfield even harder. "For days," he said, "I didn't get out of bed."
Over 11 magic days in July, he changed his identity in golf, not among the people, just throughout the industry. Somewhat by choice—family considerations, partly—he had been a world-beater in America but not much of a world player around the globe. His Scottish Open victory the week before the British was his first success on the European Tour, his first triumph on a links course anywhere.
"It's taken me awhile over the course of my career," he said, "to not just hit the ball low [as links golf demands], but to hit it low without spin. That's the challenge. Anybody can just move it back in their stance and drive it low. But when you do that, you come in steep and create a lot more spin; and, even though it's hovering above the ground, it's still being greatly affected by the wind. So it's taken me years to really get the ball low and without spin so it tumbles on the ground."
Asked to characterize his relationship with links golf before the Open Championship started, he replied, "It's hate-love. I used to hate it, and now I love it."

Where he will ultimately fit in the hierarchy of golf won't affect how he is loved. Like Palmer, he won the people more than the tournaments, and pretty much the same way, by letting them in. They think of him hitting a 207-yard 6-iron off the pine needles and through the eye of a needle at Augusta's par-5 13th hole, but also weeping with Amy behind the 18th green. That was 2010. For the first time in her breast-cancer ordeal, she had made the journey to a tournament location, but the nausea of chemotherapy kept her from the course Thursday, Friday and Saturday.
"At night," said coach Butch Harmon, "they talk about every round, each shot he hits. And Phil doesn't have that when he's out on the road. That's why he tries to go home whenever he can. He was in a completely different frame of mind here, knowing she was coming, hoping she was coming. Everything about him changed."
The week before that Masters, in Houston, Phil tied for 35th. On the 14th tee Sunday, after three straight birdies, he summoned MD Anderson Cancer Center oncologist Tom Buchholz out of the gallery to relieve Bones Mackay. Amy's doctor was slated to caddie for just one hole, but Phil birdied it. And the next one. And the one after that. Six in a row.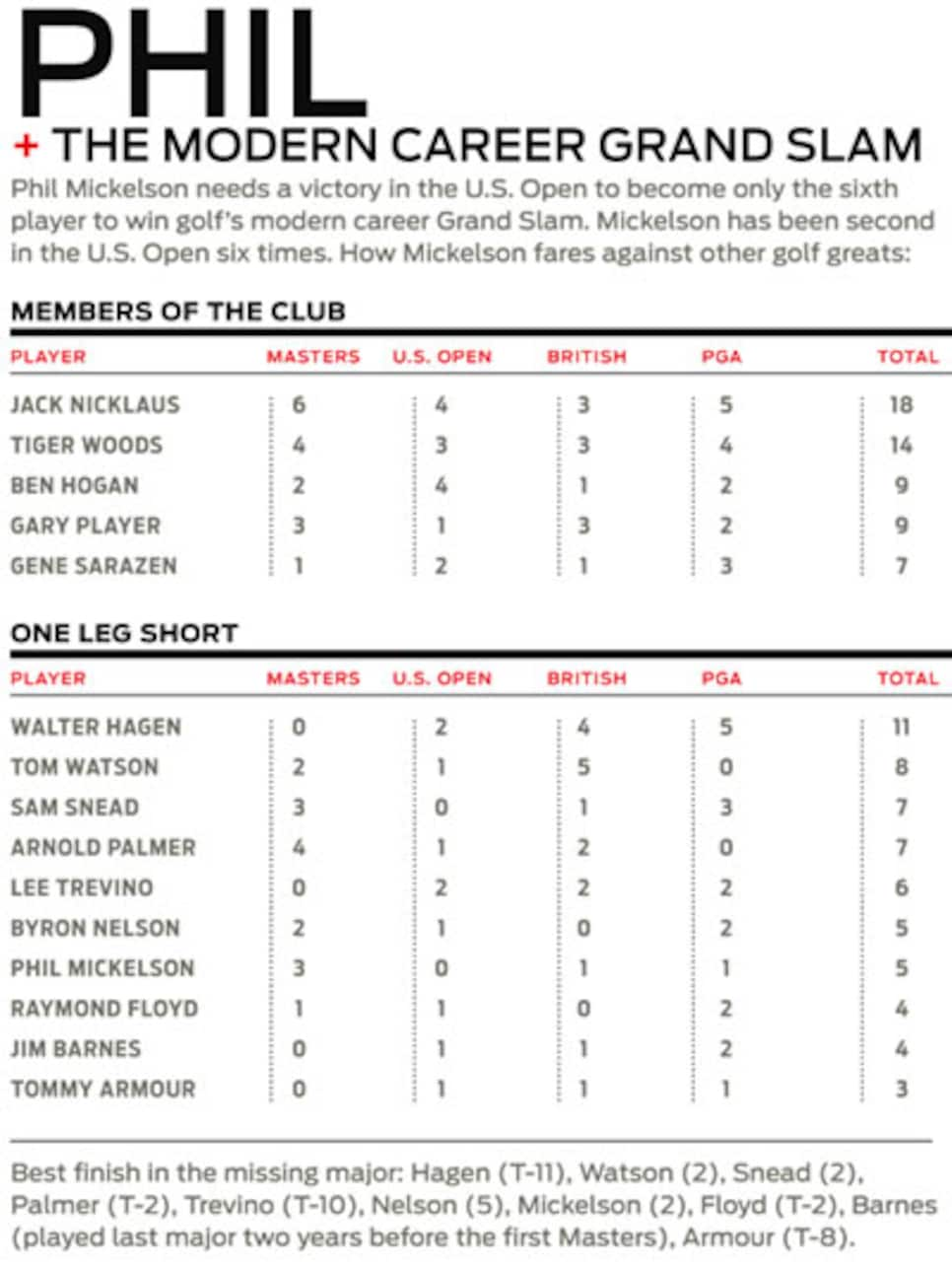 That's why the people love Mickelson. That's why, when he tosses in the occasional missed cut, they recall he has psoriatic arthritis and worry and wonder.
"I want to thank the fans," Phil said at his induction into the World Golf Hall of Fame in 2012, "because the fans have made this such a fun ride. There have been a lot of highs and a lot of lows that we shared together. There have been a lot of times that I struggled, and it's their energy that helped pull me through. I've tried to reciprocate by launching drive after drive in their general direction."
Mickelson's original U.S. Open heartbreak was at Pinehurst in 1999, which might have been an act of God. Three improbable putts won Payne Stewart that Open. One of them moved uphill, downhill, and in several different directions. Of course, Stewart was never able to defend that title. He went out in the frozen cabin of a runaway airplane on CNN's "Breaking News."
Did you know, the U.S. Open returns to Pinehurst next June? Just thinking.