The Loop
Mickelson remains steady -- and in contention -- at windy Pebble
PEBBLE BEACH, Calif. -- On a day when the wind could blow the whiskers off a harbor seal, and anything under par was good for a spot in the diamond lane moving up the leader board, Phil Mickelson had trouble believing his one-under 71 had done him much good at all.
Faced with a chip on the ninth (his 18th) at Spyglass he knew he could make, Mickelson blew it past the hole on the left and missed the putt coming back for his only bogey of the day. It left him T-5 but a distant eight strokes behind the leader Jimmy Walker.
"I played well today. Just that one hole there, it was disappointing," Mickelson said. To him, it wasn't one dropped shot. Mentally, it was more like a two-stroke swing. "That's a terrible, terrible effort on the last hole there, that chip."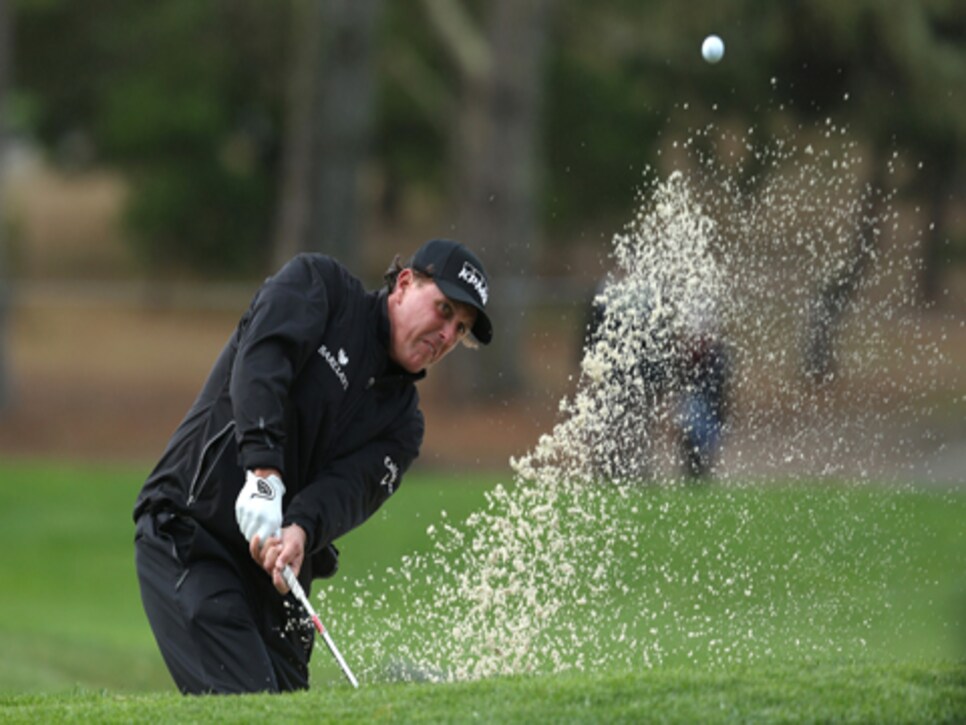 Mickelson hits out of a bunker on the sixth hole. Photo: Jeff Gross/Getty Images
Two years ago, Mickelson went into the final round five strokes behind and shot 64 at Pebble Beach to win. He knows he'll have to come up with something even more impressive if he was to have any chance at all on Sunday. "I've got to go out and get a hot round, like I did a couple years ago," Mickelson said. "I certainly think it's out there. That's what I'll be gunning for. I'm playing and hitting the ball well enough to do it. I'm going to need to get a hot hand on the greens. If you can do that, you can make a lot of birdies out at Pebble."
Mickelson made a long putt to salvage par from a plugged lie in the bunker on the sixth but a similar lie cost him dearly the day before at Pebble Beach. "It didn't plug in its own divot but it plugged, like, on a bounce," he said. "It was weird, it happened yesterday on the second at Pebble, too, where it one-hops in but it plugs." At Pebble he left it in the bunker, then three-putted for a double-bogey 7.
Before he teed off on the ninth at Spyglass, Mickelson was throwing the football around with a kid at the tee. Last week at TPC Scottsdale in the Waste Management Phoenix Open, he was throwing footballs into the stands at the raucous par-3 16th. Maybe it's throwing tight spirals that loosens his golf game.
"I guess it does, yeah," said Lefty, with what passed for a smile.