The Loop
Phil Mickelson and Rickie Fowler stage dramatic comeback against Rory McIlroy on Day 1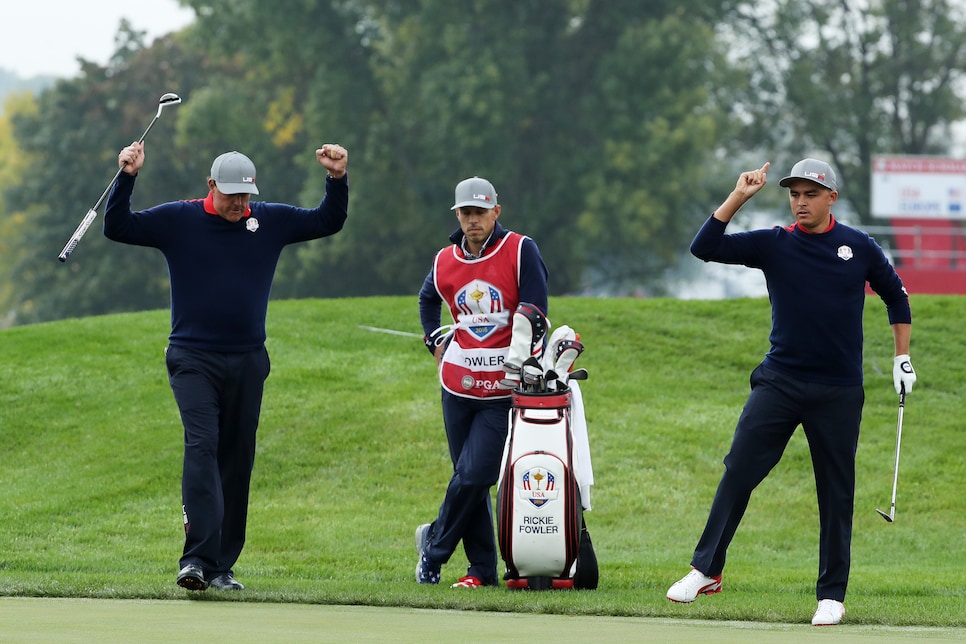 CHASKA, Minn. -- Team USA's most vocal player. The squad's most questioned captain's pick. The Ryder Cup is a cauldron of stress for any player, but the pairing of Phil Mickelson and Rickie Fowler were especially under pressure on Friday morning at Hazeltine.
A 2-down deficit with four holes to play against a team with the world's hottest player didn't make their task any easier. But a furious rally over the final few holes gave the U.S. pair a dramatic win and dealt Europe its biggest dagger during a disastrous first session of the 41st Ryder Cup.
Not that the duo, in particular, Mickelson, who has taken a bigger role within the team than ever before, didn't feel the pressure. On the par-5 16th, Mickelson sliced one so off-line it prompted one fan to remark, "That's going to hit the hospitality tent. We may have just seen the first casualty in Ryder Cup history." Fortunately, it didn't and we didn't. Fowler responded with a solid layup and then Mickelson punched a low wedge to near gimme range to set up a birdie.
"It was a lot of heart to heart that went out with 2 down and four to go and to come back and win the match," Mickelson told Golf Channel's Steve Sands. "It was a match where I didn't drive the ball well. It was a match where I felt more pressure in any Ryder Cup than I felt heading into this one because of the last two years and the build-up. I played a little bit tight and my man got me to hit some shots in the end, hit some iron shots and got the best out of me."
On the par-4 18th, Mickelson again over-cut his tee shot, but it managed to stay out of the fairway bunkers and in manageable rough. Fowler again responded with a solid iron, this time to the middle of the green, and Mickelson's lag putt forced Rory McIlroy to make his birdie putt from 20 feet for the halve. As Rory readied to putt, a fan screamed "Let the American putt it!" -- a reference to David Johnson, the heckler who came out of the crowd on Thursday and made a putt with McIlroy's putt to take $100 from Justin Rose. McIlroy didn't have the same success and the match was over. After shaking hands with his opponents, McIlroy stormed past TV and radio requesting an interview with him.
Fowler, of course, was happy to talk to the media after earning the first full point of his Ryder Cup career.
"To be with someone I've looked up to growing up as a kid and to finally get my first full point with someone like him is pretty special," he said.
Of course, where the European duo really lost the match was on the par-3 17th. Fowler, fresh off converting a short birdie putt on 16 to square the match, went first and stuck his tee shot eight feet left of the pin to draw a loud cheer from the gallery and a fist pump from his partner. Moments later, a different type of cheer erupted when Andy Sullivan's tee shot came up woefully short and found the water. It was another splash landing for a man nicknamed "Sully," but there probably won't be a movie made about this one.
On the flip side, the Americans will enjoy watching highlights of this one. The Team USA Task Force Era is off to a fantastic start. And two of the committee's members have already played a pivotal role.