The Loop
Phil Mickelson after flirting with history: "I want to shed a tear right now"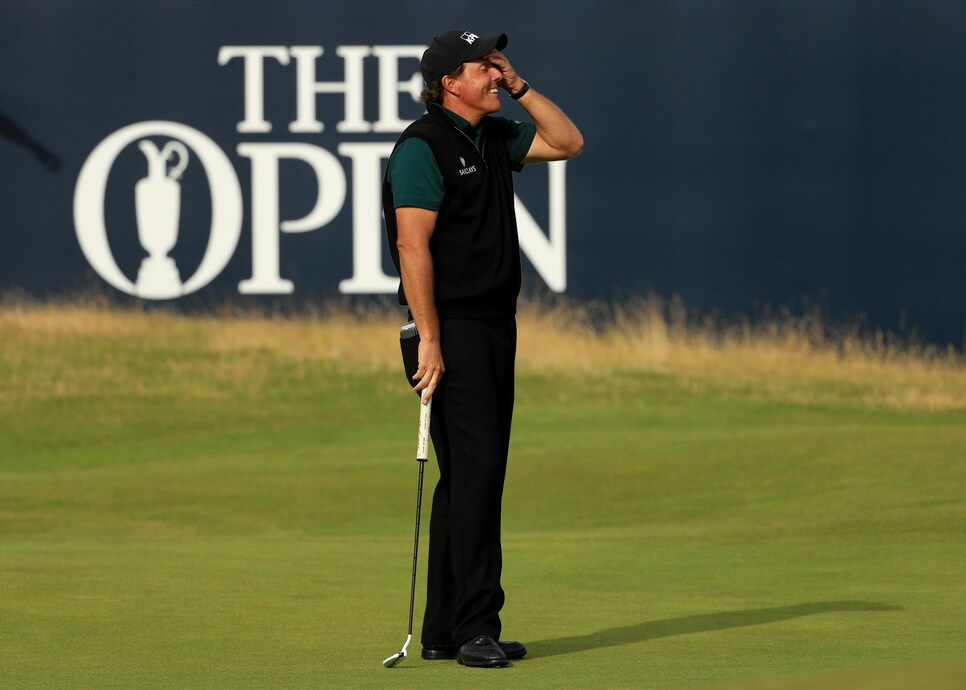 TROON, Scotland -- Shoot 63, feel stung. That was Phil Mickelson's unfortunate plight on what forecasters say will be the last sunny, calm day at Royal Troon.
With a firm grasp of history and realization the chances at a record round are dwindling, Mickelson could only lament his eight-under-par 63, the 28th in men's major championship history.
"That's one of the best rounds that I've played, but nothing will match that final round at Muirfield," Mickelson said in a bittersweet tone. "And yet I want to shed a tear right now."
A 4-iron to 18 feet on Troon's 220-yard par-3 17th left him with a difficult putt to read. Mickelson called in caddie Jim (Bones) Mackay for the read from his lifelong sidekick. Draining the putt for his seventh birdie of the day set up a chance to end what is golf's ultimate curse: 62 in a major.
"I saw that ball rolling right in the center. I went to go get it. I had that surge of adrenaline that I had just shot 62, and then I had the heartbreak that I didn't and watched that ball lip out. It was, wow, that stings."
Mickelson was well aware of the situation as he made the long walk back to the 18th tee. Enjoying the honor after consecutive birdies and his third in four holes, Mickelson switched from the driver he'd resisted using most of the round and to his 13-degree fairway wood, with hopes of taking the left fairway bunker out of play 267 yards away. The tee shot went longer and more left than expected, but somehow avoided the bunker, setting up a clear angle at the hole.
From 181 yards, a "soft" 6-iron set up an 18-footer for a magical number Mickelson knows has eluded many of the game's greatest. On the walk up to the green, playing partner Ernie Els reminded him it was for the lowest round in major history and encouraged his longtime friend and rival dating to their Junior World days. Els even insisted on putting out so Mickelson could circle the putt longer.
Calling in Mackay again, Mickelson could only lament what happened next.
"That putt on 18 was an opportunity to do something historical," Mickelson said. "I knew it, and with a foot to go I thought I had done it. I saw that ball rolling right in the center. I went to go get it. I had that surge of adrenaline that I had just shot 62, and then I had the heartbreak that I didn't and watched that ball lip out. It was, wow, that stings."
Mickelson has three bogey-free rounds in the Open and all have come at Royal Troon. He has a theory for why the seaside links fits his game.
"The golf course plays a lot different for me than I think right-handed players, because going out with that wind off that slice wind for the first eight out of nine holes, I'm more cautious on the birdie holes, and I feel much more comfortable on the inward nine, where the wind is kind of a hooked wind off the water for me. So I actually felt like with the wind being soft I could take advantage of the back nine, which is usually where you're just trying to hold on."
A round this low did not seem to be on anyone's radar, even Mickelson's, though an early birdie at No. 2 on the nine he struggles with helped him relax. So did sudden confidence with the speed of his putts, an issue he's battled all season until his closing 66 at the Aberdeen Asset Management Scottish Open last Sunday.
But a 62 in the Open? The thought only occurred as Mickelson walked to the 17th tee. Even then he wasn't optimistic.
"I was aware that if I birdied the last two after making the one on 16 that that would be the case. But the problem is 17 is such a hard hole," he said. "It's one of the hardest par 3s that I've played that I was not thinking two. So I didn't think about trying to shoot 62."
The 46-year-old's body language all week has been practically ebullient and in no way representative of someone who has failed to return to the winner's circle since the 2013 Open at Muirfield.
When Mickelson practically glided toward the 17th green, a group of fans atop an apartment building bordering the par 3 held out a sign that read "Phil" in giant letters, followed by "Swing by for Scottish pancakes." Mickelson replied loud enough for fans to hear, "Too bad I'm playing in the morning."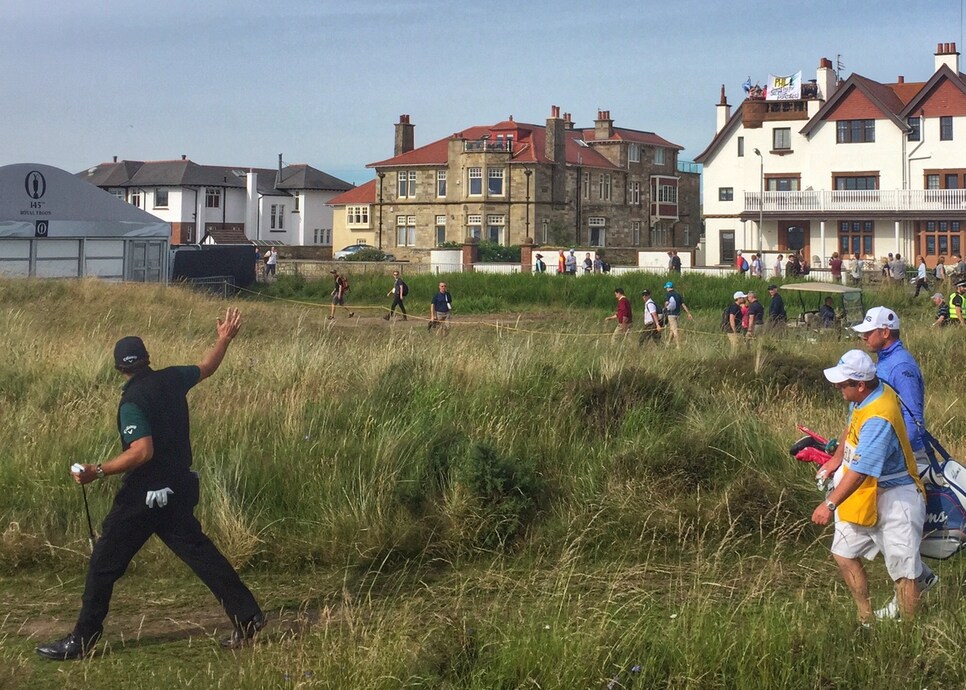 Carrying a three-stroke lead over Patrick Reed and Martin Kaymer, the five-time major winner attempts to follow up his record-tying round at 8:25 Friday with Els and Lee Westwood.
The bogey-free opening round came on a day that Troon was vulnerable, with over 50 players under par as the round wound down. The combination of immaculate conditioning, soft-enough turf and dead-still afternoon conditions set up an opportunity that Mickelson telegraphed last week to Golf Digest's John Huggan.
"When you get soft conditions it doesn't matter how tough the course is. At the PGA they set the course up so that 10-12 under par will win. You get rewarded fairly. They never cross the line in terms of setup. So the guy with the hot hand can go low. What's wrong with that? We're the best players in the world. We're supposed to do that. Besides, if we can't go low in good conditions there must be something wrong with the course setup."
Afterwards, the downbeat Mickelson could not get past his lost opportunity.
"There's a curse because that ball should have been in [laughter]," he said. "If there wasn't a curse, that ball would have been in and I would have had that 62."
Asked if he believed in the Golf Gods, Mickelson confirmed a change of heart.
"I didn't, but I do now."