News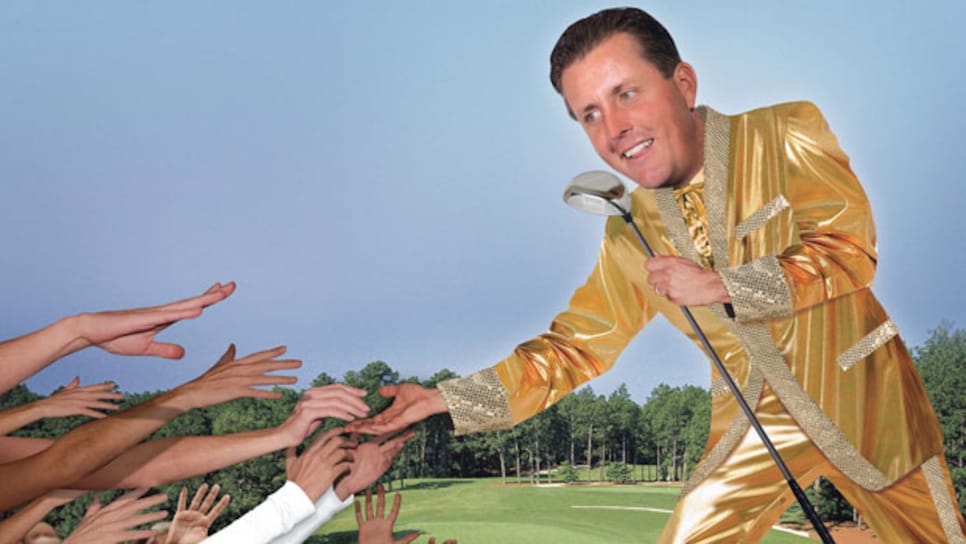 Since 1999, Mickelson has finished out of the top 10 at Augusta in only one Masters.
Phil Mickelson emerged from the clubhouse at Riviera Country Club and walked the short distance to the Northern Trust Open defending champion's parking spot. It was an area free of swarming fans, and it was odd seeing him absolved of making eye contact. Instead, he stared intently at his iPhone, clearly a man with a lot going on.
Inside his courtesy car, Mickelson called the operators of the private jet waiting for him on the tarmac of the nearby Santa Monica Airport to tell them he was en route. Then he pulled out another cell, known among the Mickelson family as the Bat Phone, and called his wife, Amy, whom he had kissed goodbye as the sun was coming up at their home in Rancho Santa Fe, about 100 miles south but at least three hours by car in Southern California freeway traffic. "How's my girl?" he gently intoned. "I'll see you in an hour and a half."
His day at Riviera had been full. After a morning practice session, Mickelson did a press conference, where he attempted to clarify his role at the center of the contentious early-season controversy over grooves. The week before, at Torrey Pines, Mickelson had used a pre-1990 Ping Eye 2 L wedge, grandfathered for play under an old lawsuit despite U-grooves that produce more spin than the grooves conforming to the USGA's new mandate. At first Mickelson gave the impression his goal was the extra spin, but after fellow player Scott McCarron called using the clubs "cheating," Mickelson emphasized that he was playing the club to highlight the "ridiculous" loophole. At Riviera, Mickelson, who claimed he had been slandered, announced that McCarron had apologized to him at a players' meeting the night before, and that he had accepted. Then, citing his respect for his fellow pros and his appreciation for the "Pink Out" they had conducted last year at Colonial in support of Amy's battle with breast cancer, he announced he would stop playing the club. "I do not want to have an advantage over anybody," he said, "whether it's perceived or actual."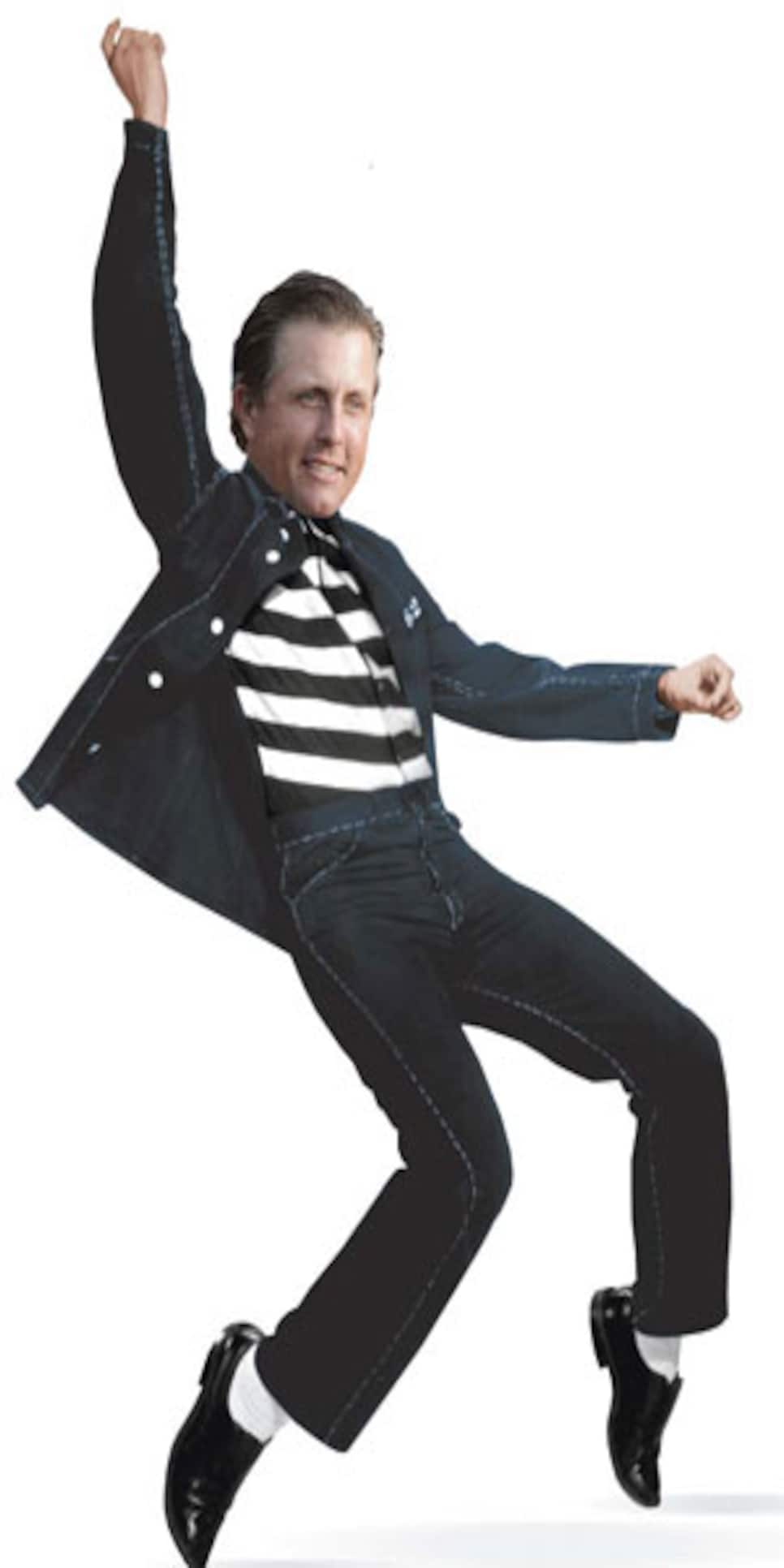 It seemed that loose ends had been tied, but Mickelson pushed on. He threatened to play the club again if the ruling bodies do not demonstrate a commitment to resolve the problem. He then blasted Dick Rugge, the USGA's senior technical director, who last summer ruled that high-spinning wedges developed by Callaway for Mickelson were nonconforming even though they adhered to the groove guidelines for 2010 (but were seen as circumventing the intent of the rule).
"I'm very upset with the way...one man essentially can approve or not approve a golf club based on his own personal decision regardless of what the rule says," Mickelson said. Just to make sure he left nothing in the bag, he concluded that the "lack of transparency" is "killing the sport."
"I don't typically discuss specific rulings in public," Rugge says. "That's a confidential matter between us and the submitter. I disagree with Phil and his interpretation. It certainly is not a one-man decision."
After Mickelson vented, he moved on to a five-hour pro-am round followed by another 15 minutes of signing autographs. By the time he got to his SUV, dusk was falling, and he was probably regretting having agreed to allow a reporter to accompany him on the short ride to the airport. But no sooner had he ended his call with Amy than he gestured at the tape recorder and said, "Go."
This is Phil Mickelson's public way: full schedule, full speed. By his calculation, it's a style that has allowed him to savor a fulfilling private life with his wife and three children: Amanda, 10; Sophia, 8; and Evan, who turns 7 in March. That contrast has never seemed so important, as both Amy and his mother, Mary, carry on their fights with breast cancer after being diagnosed seven weeks apart.
Whether it's accompanying one or both to Houston for checkups and treatment at MD Anderson Cancer Center, flying back and forth from Riviera to be home each night for dinner, or simply being a sounding board for his wife, Mickelson hesitatingly acknowledges that it has been demanding. "It's hard to be the support system," he says, making sure to emphasize that he's not the one who is ill. "Seeing someone you love and care about so much go through such a difficult medical experience, such a difficult fight, is just very hard emotionally to watch.
"Long-term, it looks good for both," he says. "But even in the best-case scenario, it's not easy. We've got precautionary measures and medicines that are to prevent it from coming back for five to 10 years that are having pretty tough side effects. So that's been challenging for both."
What's curious is that since Amy's diagnosis last May, Mickelson has appeared to be more focused when he does play, and he has become a visibly improved player. Against all odds, 2010 is shaping up as Mickelson's time.
Though he is turning 40 in June, his 215 or so pounds are better distributed on his 6-foot-3 frame than they have been in years, his athletically cut shirts less snug on his leaner silhouette. His familiar long swing looks more compact and speedier, the leg action less "saggy" through impact (see the swing sequence on page 42). The drives are longer and straighter -- Mickelson led the field in driving distance at Riviera -- and most notably, big putts are going in. Lefty's latest iteration was on full display at the end of last year when he outplayed Tiger Woods in the final rounds to win the Tour Championship (his 37th PGA Tour victory) and the HSBC World Golf Championship in China, the latter being the first time Mickelson had won a tournament while paired with Woods in the final group.
"I've had some great head-to-head success [against Woods] in the last year or two," Mickelson says, "and I expect this year, with or without him, to be one of the best years of my career."
Mickelson has given off plenty of false-positives in his career, but this makeover looks to be founded in sustained work.
"When I first started with Phil, I thought he was lazy," says swing coach Butch Harmon, echoing a common perception. "His body was soft, and his swing was loose. But I was 100 percent wrong. In three years, the guy has always worked his butt off, and the more progress he's made, the harder he's worked. We're about 60 percent there. He's going to get better."
Adds Mickelson's trainer, Sean Cochran: "Phil has been very consistent with his workouts. He's realized that the quality of the swing he makes is directly related to the quality of his fitness."
Putting guru Dave Stockton, who isn't into grinding practice sessions as much as letting creativity reign, noticed another crucial element: rejuvenation. "As soon as I started telling him why he needed to go back to how he used to putt," says Stockton, "you could see him smile because it brought back things he did as a kid."
Bottom line, something has happened. Is it coincidence, or has the experience of dealing with major life issues given Mickelson a new strength and determination? Is he playing for something bigger than himself? One of the self-professed beneficiaries of his play -- his older sister, Tina -- believes she knows the answer. "More than ever, Phil's victories are a gift to our family," she says. "When he won the Tour Championship, that gave everyone a little glimmer of hope. It was fun and uplifting, and for one moment, life felt almost normal again. He doesn't talk about it, but I believe he knows that."
Tina also sees her younger brother living a more purpose-driven life. "Phil's always made his time count, but I think now he's making it count more," she says. "If he's home with Amy and the kids, his time is about them. But because they can't travel with him now, when he's at a tournament, I think he's got this extra desire that he can channel into his golf."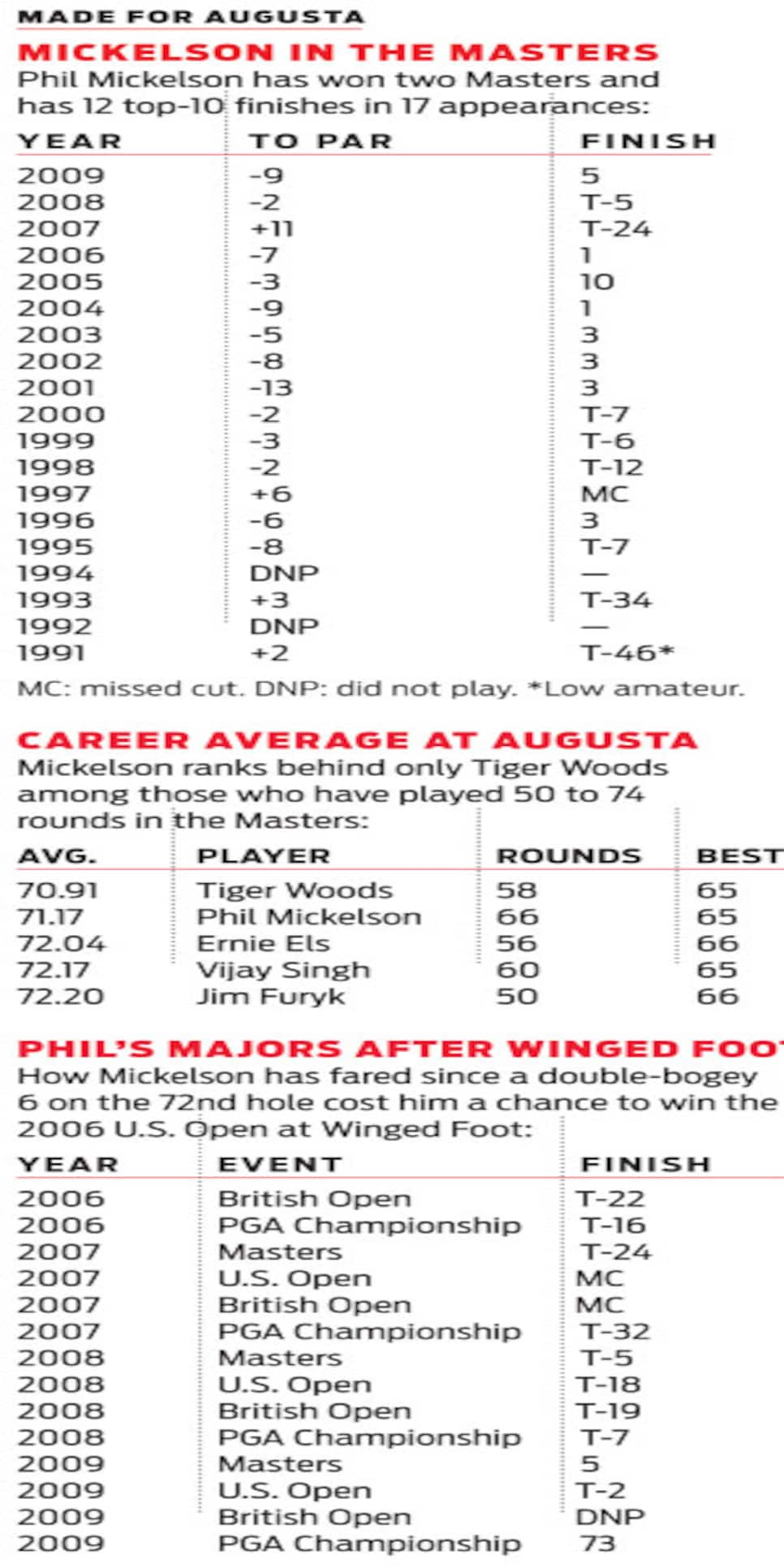 A contrarian by nature -- as he wove his way through L.A. rush-hour traffic, Mickelson even defied the voice coming from the GPS -- it's significant that he doesn't disagree. "To accomplish what I want to accomplish -- be a good husband, a good father to my kids, represent my companies properly and play at the highest possible level and accomplish my goals in golf -- I've got to be efficient in every area of my life," he says. "Amy and the kids not being with me at tournaments has been a tough transition for us. I've tried to address it by doing more workouts, extra practice sessions, what have you. So my days are extremely full when they aren't there. And maybe that has had a benefit."
The first important test of Mickelson's improvement will be the Masters, where he won in 2004 and 2006. (Since 1999, he has been out of the top 10 only once.) Superior driving and putting are needed more than ever at the lengthened and narrowed Augusta National, and barring a run of early-season poor play, Mickelson will be the favorite, with or without Woods.
A victory would give Mickelson four major championships, breaking him out of the pack of 18 players with three, including contemporaries Ernie Els, Vijay Singh and Padraig Harrington. Four majors, which would tie Mickelson with Raymond Floyd, Bobby Locke, Jim Barnes and Willie Anderson among post-1900 golfers, is approaching golf's pantheon. Only 18 golfers in history have won five majors or more.
Mickelson is also gunning for a serious run at becoming the No. 1 player in the world, a position he has never attained. The uncertainty of Woods' playing future makes the possibility more tangible, but Mickelson is taking pains not to seem opportunistic. He directed his opening comments of his first press conference of the year to his concern for Woods, saying "Amy and I are good friends with both Tiger and Elin, and we care deeply how this turns out." When asked if he sensed that people were looking to him to fill a void, Mickelson was again generous. "I haven't thought about it like that...but nobody will be able to fill the shoes that are voided right now."
Others are less deferential to Woods.
"I think Phil is probably the man to beat right now," says Els. "Even if you asked Tiger [at the end of last year], I think Phil got right to his level throughout his game. I think there's a new guy we've got to chase." Hunter Mahan, who often plays practice rounds with Mickelson, says, "We know how motivated Phil is this year. He senses this is his opportunity to step up and be the man. He relishes it, I'm sure."
"Phil Love" -- always in the air with fans -- is also up. Much of it is because of Mickelson's responsiveness to fans, made all the more noticeable by the sometimes off-putting bubble of concentration Woods rarely allows himself to leave during competition. It was telling that in a Golf Channel survey of the top golf moment of the decade, Mickelson's winning putt at the 2004 Masters won, edging Woods' historically epic 12-footer on the 72nd hole at the 2008 U.S. Open.
But knowing what Mickelson is going through has added depth to the affection. He is no longer just the golden California kid, rather a guy who life has knocked around. When he came back to competition in Memphis last June after learning of his wife's diagnosis, he admitted, "I've never felt this emotional. I'll be driving alone and start crying. It's weird." A week later at the U.S. Open at Bethpage, where the fans chanted "Let's go, A-my!" Mickelson played with a raw intensity that carried him into a tie for the lead with four holes to play before he faltered with two late bogeys. This year at Riviera, where Mickelson played indifferently to finish T-45 and was supplanted as No. 2 in the world by winner Steve Stricker, "Good job, Phil!" was the oft-heard cry from the galleries whenever Mickelson holed out, whether it was for birdie or completing an annoying three-putt.
Mickelson's response to fans has seemed more subdued, perhaps a byproduct of his determination to stay steady for his family.
"I'm very proud of him," says his father, Phil Sr., a former Navy pilot who is revered by the family for his stoicism in the face of crisis. "He's staying strong. Whatever it takes to help, and sometimes it's a helpless feeling, he's doing it."
Sometimes the melancholy comes to the surface, as when Mickelson allows, "I think the biggest thing for us is that we kind of had to mourn our old life and accept our new, and that's been...that's tough."
The only comparable moment came in March 2003, when Amy came close to bleeding to death giving birth to Evan, who didn't breathe for a full seven minutes. Phil called the hour he waited before finding out they would be all right "the most agonizing" of his life, and perhaps most important, "I made promises," he wrote in his autobiography. Still, in the ensuing months Mickelson lost enthusiasm for the game and had a winless season. It wasn't until Amy called for a heart-to-heart late in the year that he put the trauma behind him.
"We had a lot of perspective on the year, in a lot of ways," Amy told the San Diego Union-Tribune at the time. "Things happened that helped us really reflect on our lives, to know how lucky we are and what is really important. We sat down and we talked about how to tackle some of the issues we were dealing with. And we decided the best option was to start fresh, totally start over and not just dwell on it."
With a motto that "attitude seems to produce actions," Mickelson started 2004 with a win at the Bob Hope. Later that year at Augusta, his serenity was evident as he won the Masters for his first major.
Mickelson concedes that he experienced similar anguish during the two weeks between his wife's diagnosis and the determination of the exact location of the cancer, and admitted when asked if it led to any internal vows, "Yeah, I had some talks with myself along those lines...I have always understood how lucky I am to have the wife I have, and the mother I have," he says. "I didn't need something like this to happen to really appreciate that. I get it. But when you go through something like this, or what happened back in 2003, it just naturally makes you look at your life and appreciate what you have."
Those close to Mickelson believe that his appreciation for the game has grown as well, and with it he has a clearer vision of the player he wants to be. If so, it's no accident that the most dramatic gains have come with the two most important clubs in the bag: the driver and putter.
Watching Mickelson hit a driver these days is impressive. Launched high, it nevertheless features a penetrating flight that holds its line rather than curving. "It's different, and better, from the way he used to strike it," says Adam Scott, a longtime Harmon student who often has been paired with Mickelson.
Among the anecdotal evidence of Mickelson's improved power and stability is his ability to finally play with plastic spikes rather than the extra-long steel spikes he used to need as a guard against overactive legs. Mickelson has also had to increase the loft on his irons 2 degrees per club because of the extra distance he is hitting the ball. Mickelson's rambling mind can be brilliant when he knows his subject, and his explanation of why he has improved is briskly elaborate.
"Before, I knew I was basically medium distance and very inaccurate," he says. "I wasn't in denial about it; I had just not been able to visualize myself becoming a great driver. Now I've picked up a lot of distance, and my misses aren't nearly as big. What I thought would take a year has taken three years. But it took longer for me to feel comfortable with the shorter backswing, the faster rotation, getting the timing down, working on accuracy, and then getting the speed back so I didn't lose distance. I had to get stronger and develop more rotational speed to make the better swing. And I needed a driver with less loft. [It's now 6 degrees.] My angle of attack used to be descending by 2 degrees, and now it's ascending by 2 to 4 degrees. That means if I hit my old driver now, I'd just hit it straight up with a ton of spin. So it's come together, and I feel as though what has been a weakness and really held me back, I've turned into a strength."
With the putter, Stockton's direction to widen Mickelson's stance and go back to starting his backswing with his hands ahead of the ball appears to have led to that rarest thing in golf, a lasting epiphany.
"Dave has gotten me to putt like I did as a kid," he says. "When I first came out on tour, I didn't have enough loft on my putter, and with my forward press my lag putting would run the ball way by the hole. So I started listening to a lot of people who said, 'Get rid of the forward press and make the stroke more of a straight line.' Now I have about 6 degrees, and I can putt the way I used to putt, with my hands well ahead. The back of my top hand just goes to the hole, and I sort of put a hook roll on it. It was remarkable with Dave, how it just all came right back to me in literally a matter of minutes. My feel and touch on the greens, my seeing the line and the roll of the golf ball is much better than it's been in years."
It was never more evident than in China, where Woods and Mickelson momentarily reversed roles. It was Mickelson, the bigger man physically, who seemed the more powerful and more accurate player off the tee. On the greens, it was Woods who missed the big putts, and Mickelson who made the biggest of all. After Mickelson went completely and embarrassingly under a flop shot and then barely gouged the ball on the green, Woods, trailing by three, looked poised to make up some shots. Instead, Woods shockingly dumped a short pitch into a bunker, and Mickelson, doing to Woods what Tiger has so often done to others -- including Mickelson -- holed an 18-footer to save par and the tournament.
Mickelson has bettered Woods the last three times they have played together in the final round. It could be the start of a pattern that mimics Sam Snead, who never supplanted Ben Hogan during Hogan's peak years but used his slightly more explosive game to build a head-to-head edge against The Hawk.
Still, even given all the questions surrounding Woods, Mickelson has a lot of proving to do before most close observers put him in the same class.
"I think right now, Tiger is still the best player by a long shot, and Phil is the next-best player by a little bit," says Fred Couples, who is friends with both men. "The big difference between them is that Tiger is good every single time he plays. Phil, especially after he takes time off, is only good sometimes. And even when he's bad, Tiger finishes seventh, where if Phil's bad, he finishes 40th. But Phil has incredible skills, and he's definitely improved with Butch and Dave Stockton. Phil likes to do other things and spend a lot of time with his family, but if he said to Butch, 'OK, I'm going to do everything it takes,' sure, he's good enough to be No. 1."
Mickelson has fallen into this kind of Tiger Trap before, and he's making sure to take a sensible approach.
"Whether Tiger plays or doesn't play this year, it shouldn't affect how I play, and I don't believe that it will, " he says, aware that in their careers, despite the more than 100 official victories between them, Mickelson has finished second to Woods four times, and Woods has finished second to Mickelson five times. "If I'm going to compete against him, whether it's head-to-head or not, I've got to play the way I play effectively."
With that, Mickelson pulled up next to the Beechjet, engines running, that would take him to a night with his family. Before ducking into the cabin, he looked back to offer an amiable half-wave. But his face was pensive, a man with a lot going on.