PGA Championship
PGA Championship 2021: Kiawah's range is humbling and scaring off the pros this week, and here's why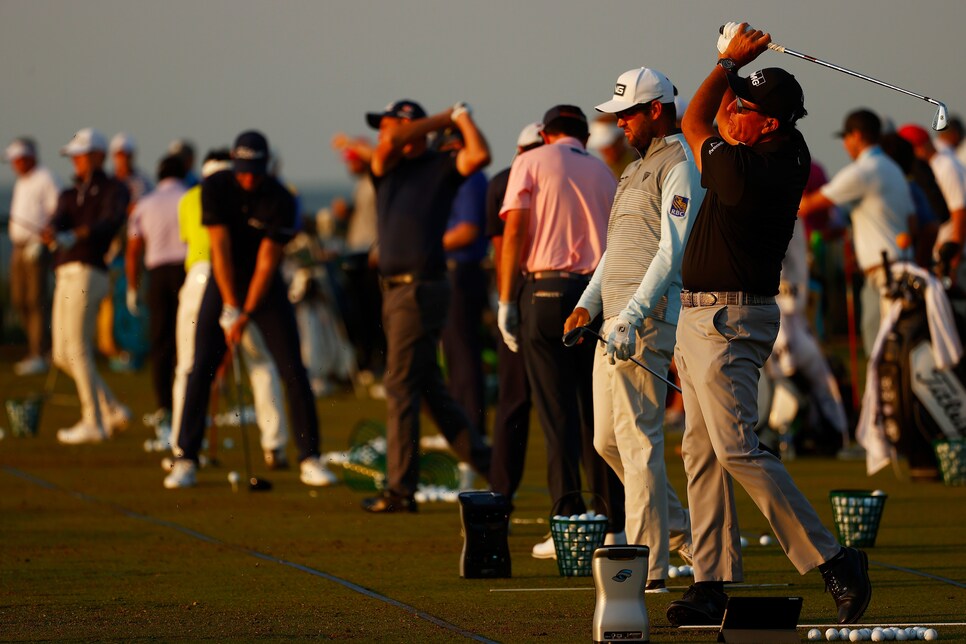 Phil Mickelson and other players hit on the range prior to Round 2 of the PGA Championship.
Maddie Meyer/PGA of America
KIAWAH ISLAND, S.C. — The gauntlet commences well before the first tee. The Ocean Course's driving range really is a lovely piece of property, and with both the first and 10th tee being a hike, it serves as the epicenter for fan mingling.
The turf itself is expansive, plenty wide enough for half of this 156-man field to compress nuggets at the same time. Flags at every yardage you could want, the whole deal. There's a bright-white Cadillac on the right side, just close enough to prompt every single fan to make the same joke about skulling a 6-iron into it. Farther right, there's a jumbotron hooked up to TopTracer. Farther, farther right, the Atlantic Ocean.
Only problem: It faces East. Which, at least so far this week, means it plays dead into the wind.
"You're standing there, and you're hitting your driver, and your numbers are on the screen and the driver has gone 240," said Shane Lowry, who sits at even par after two days of this PGA Championship. "And you're, like, it's going to be a long day today."
In calm, arena-like conditions, a drive coming off at 170-mph ball speed will fly close to 290 yards. This week at Kiawah, it's in the 240 range Lowry suggested. Four-irons are expiring short of 200 yards, a pitching wedge barely cracking the century mark.
But the challenges of a dead-into-the-fan range run deeper than pure cosmetics. Tour pros' egos aren't the most durable, but they've played enough golf to know you can't be phased by carry numbers. As long as it's flying straight, no biggie. But hitting balls into the wind exacerbates any sort of mishit; the more spin on a golf ball, the more affected it is by the wind. This is simple physics. When you're warming up for a brutally difficult test, the last thing you want is to see 6-irons banana-slicing off the planet. So you manipulate your swing to try to produce straight ball flights, and that can be downright counter-productive—particularly if you're starting off the 10th tee, which faces the opposite direction.
"In the past rounds, like at Sawgrass where it's howling off the right on the range and then you turn around and the first hole is a complete opposite direction," said Kevin Streelman, "you see everyone rope-hook it into the left trees. The sole reason is because you've been on the range doing that and you've got to mentally prepare for the important stuff, which is out on the golf course."
Being in his 20th year as a professional golfer, Streelman has a cagey-vet solution: be secure enough in your game to essentially ignore where practice-tee balls are flying.
"I view warmups like, you're just warming up to compete," he said. "You don't see NBA players full-out, 100 percent in their warmups getting ready to play. They're goofing around, getting the body moving. That's kind of how I view my range sessions, getting into a rhythm."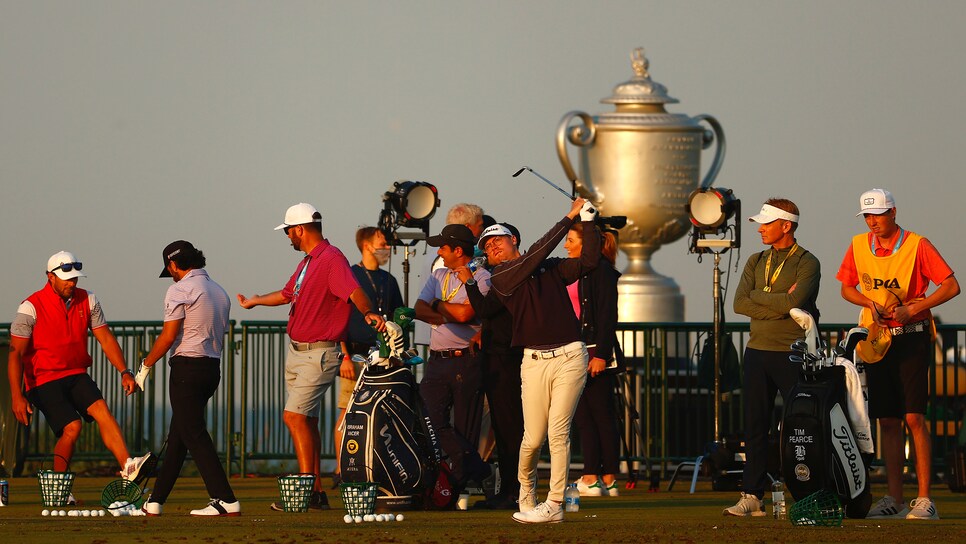 The wind on the range has potential to hurt a player's swing more than help it.
Maddie Meyer/PGA of America
Ranges, of course, don't just serve as a place to warm up. It's where pros grind on mechanics with their coaches early in the week—and, in more dire cases, a few minutes before their rounds. With this in mind, Collin Morikawa made an effort to have all his prep work done before arriving on the island.
"It's a little more difficult when you have crosswinds on a range, and you kind of start swinging and you have winds off your left pushing you," the defending champion said. "It's not the ideal wind to start practicing a bunch."
They're also the go-to spot for distraught pros to flush away bad rounds with some pureness. That's a favorite activity of 48-year-old Padraig Harrington, the European Ryder Cup captain who practices more than at least half the members of his future team. Outside of Bryson DeChambeau, he's perhaps the guy who closes down the joint most often, tinkering away hours after his tee time.
"Even in the position I'm in," he said, even par for the tournament and firmly in the mix, "with the wind on the range, this is not a week to go the range at all. I'll probably hit a few chips and a few putts, and that's it for me."