The leader
PGA Championship 2021: Corey Conners rides hot putter to solo lead in Round 1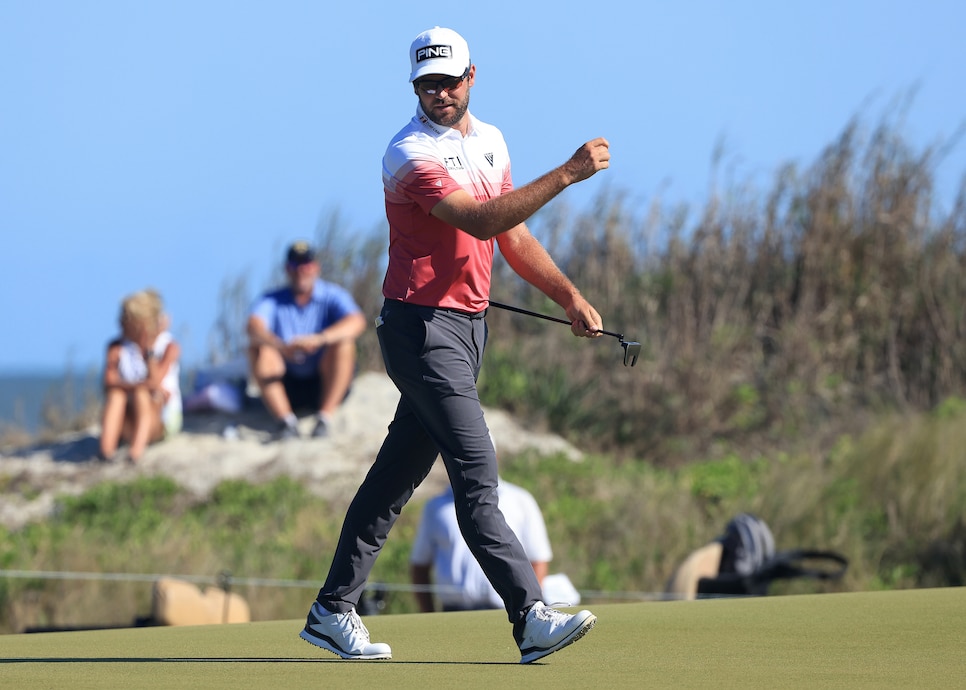 Corey Conners reacts during the first round of the 2021 PGA Championship.
Sam Greenwood
KIAWAH ISLAND, S.C. — Corey Conners didn't see a shot land for the final three hours of his round. Why waste time squinting into the South Carolina sun, trying to follow a white pellet 300 yards away, when you know exactly where it's headed?
These kind of blackout stretches are not uncommon for the 29-year-old Canadian, who hardly ever stops smiling. His ball-striking, on the contrary, does not mess around. The swing is so rhythmic it should come with a warning: Do not operate heavy machinery while watching this man hit tight draw after tight draw. In that department, he's the heir apparent to Louis Oosthuizen. If you prefer more concrete evidence, Conners is the only player on tour ranked inside the top 12 in both strokes gained/off-the-tee and SG/approach. It's not a stretch to think he'd be a top-10 player if the putter would ever cooperate.
The putter cooperated on Thursday, and there's your first-round leader at the PGA Championship. By two.
Conners picked up nearly four shots on Kiawah's paspalum greens in shooting a five-under 67, and he did so while playing in trickier afternoon winds.
"It was a really special round," Conners said. "I did a lot of things really, really well. It's really nice to see some mid-range birdie putts fall in the hole. Really gave me confidence, and felt like I rolled it really well for the rest of the round. A lot of putts had chances to go in and I made some nice saves, as well."
Particularly encouraging, of course, was his work with the flatstick.
"I've seen glimmers of good putting in certain events throughout this year, and I've worked really hard on it," Conners said. "… It's held me back a little bit, I would say, over the last few years, but it's definitely becoming more consistent—and fine-tuning it week-by-week, definitely have a lot more confidence right now."
We don't doubt the veracity of those glimmers, but in the high-leverage moments he's put himself in with his ball-striking, it's been darkness. He elbowed his way into contention—politely, of course; he's Canadian—at the Arnold Palmer Invitational and could not buy a putt. Same story at the Players, and the Masters.
The glass-half full outlook: Those are huge events, on demanding courses, and he's given himself a chance. Conners has been playing at a top-20 level for the better part of a year now, with seven top-10s since October. This is another huge event and this is another demanding course, particularly when the wind's doing its thing.
It helps to have a go-to shot, and Conners' two-yard draw cut through the breeze beautifully on the closing gauntlet that played dead into the fan. On 16, a beauty from 154 yards to a back-left pin. Four feet, birdie. On the devilish par-3 17th, a piercing long iron to the fat part of the green for a stress-free par, The last swing of the day was a 3-hybrid into the par-4 18th—that's a thing this week—to 14 feet, his bid for 66 sliding just by.
"I'd say it's impossible to be stress-free around this golf course," he said. "You can't fall asleep out there on any holes. It's very challenging. Yeah, I was fortunate to have a good day. Made it as least stressful as possible on myself."