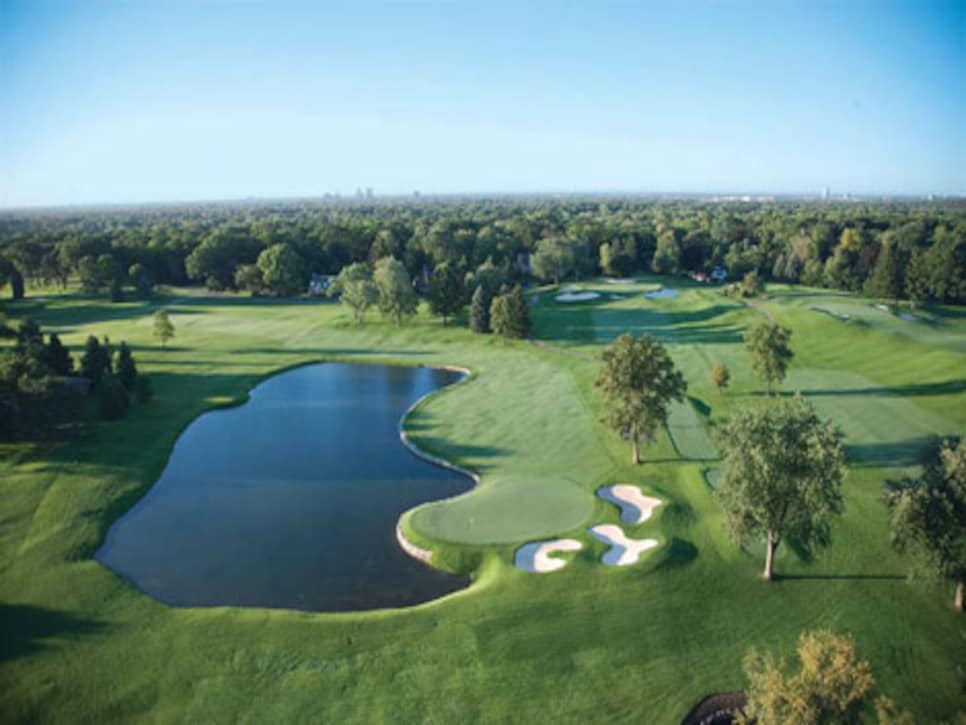 Rees added one wrinkle to his father's 16th (above) by replacing a back-right bunker with a new cove of the adjacent pond, turning the right side of the putting surface into a daunting peninsula, a Sunday pin placement if there ever were one.
TELEVISION (ALL TIMES ET)
Sunday, Aug. 3: preview, 1-2 p.m. (CBS)
Thursday, Aug. 7: first round, 1-7 p.m. (TNT); highlights, 12:37-1:07 a.m. (CBS)
Friday, Aug. 8: second round, 1-7 p.m. (TNT); highlights, 12:37-1:07 a.m. (CBS)
Saturday, Aug. 9: third round, 11 a.m.-2 p.m. (TNT), 2-7 p.m. (CBS)
Sunday, Aug. 10: fourth round, 11 a.m.-2 p.m. (TNT), 2-7 p.m. (CBS)
In the event of a tie for first place, there will be a three-hole playoff on the 16th, 17th and 18th holes. If a tie still remains, there will be a sudden-death, hole-by-hole playoff beginning on No. 18. If there's still a tie, the progression of playoff holes will be Nos. 10 and 18 until a winner is determined.
Tiger Woods shot an eight-under-par 272 at Southern Hills to beat Woody Austin by two strokes for his fourth PGA Championship victory. Woods previously won PGAs at Medinah (1999 and 2006) and Valhalla (2000).
2009: Hazeltine National G.C.
2010: Whistling Straits (Straits)
2011: Atlanta Athletic C. (Highlands)
2012: Kiawah Island (Ocean)
2013: Oak Hill C.C. (East)
2015: Whistling Straits (Straits)
There's nothing like a rivalry. We've always loved this back and forth on golf at Detroit-area clubs, from 1996:
"If you want to sell something, play at Oakland Hills," sniffs a Bloomfield Hills member. "We play golf here." An Oakland Hills member counters, oozing sarcasm, "Bloomfield Hills is a lovely course. My wife loves to play there."
And then there's this on Sam Snead from 1985:
Jim Ninowski, the former National Football League quarterback, worked the grillroom as a volunteer at the '79 PGA and the '81 Senior Open:
"Sam Snead had just birdied 18 in the PGA and came in with a big smile on his face," Ninowski says. "I said hello, and Sam [then 67 years old] said to me, 'Hey, football player, can you do this?' With that he raised his right leg up and kicked the top of the archway. The spike mark is still there."