The Loop
Tour Wife Diary: Erin Walker on selfies, camping out in Augusta, and managing Masters tickets
Erin Walker, wife of Jimmy Walker, will be sharing with GolfDigest.com her thoughts on what it's like to be a PGA Tour wife at the Masters. Follow her musings (@Tourwifetravels) from Augusta National all week.
Last year was our first trip to the Masters and I didn't realize until it was over and we went to another tournament just how special it is. The hospitality, the atmosphere, the course -- nothing compares to it.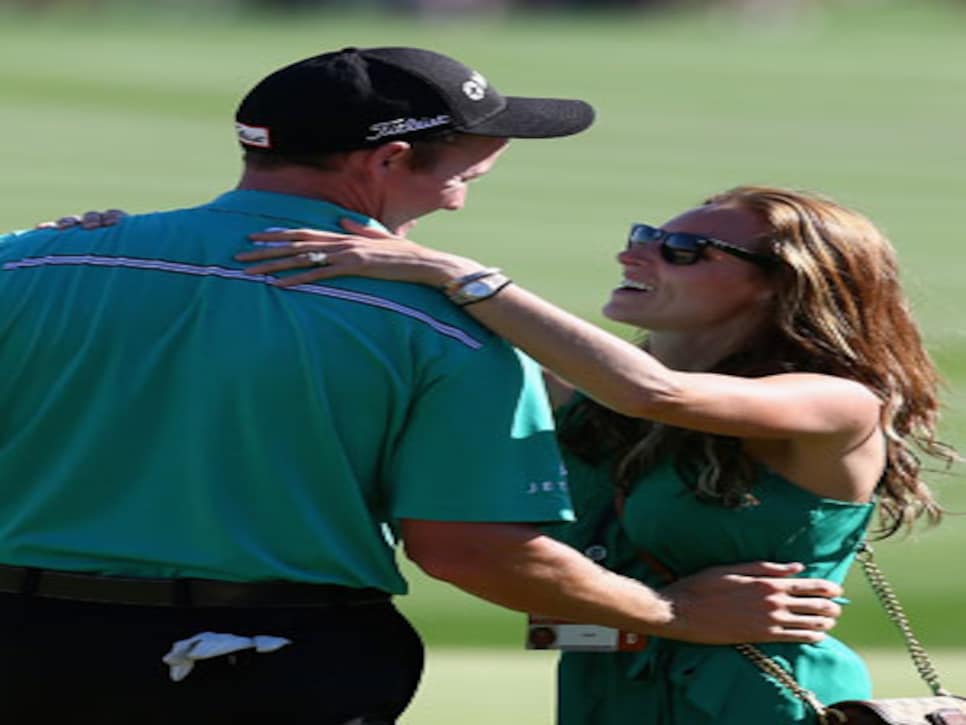 Things are a little different this time for us. Last year, even with Jimmy coming in with the three wins, he was really under the radar. Now that's not as much the case (Walker is a career-high 10th in the Official World Golf Ranking). I just saw he's No. 2 in the PGA Tour's power rankings for this week. It's exciting, but I tell him not to look at that stuff!
Being Jimmy's wife, I had my first selfie taken with some kid at Sony. I think other tour wives, the more famous ones, are more used to it. I know Amanda Dufner had people coming up to her all the time. Most people don't bother me, though. I just cruise along. I walked around with Caroline Wozniacki last year on Sunday and a few people wanted to talk to her and stuff, but she's a much bigger deal!
We have our bus in Augusta like we do at almost every tour stop. And if everybody knew where the bus was parked, everyone would bring theirs. Jimmy walks over to the course every day. We could not be in a better spot. It's awesome. We cook for ourselves and do our own thing. We don't have to worry about renting a house or sleeping in a bed we've never slept in. It's the same routine as it always is.
What's different is the interest from friends and family. I have a flow chart to keep track of all of our tickets. People think it's easy, but it's not. People start asking for tickets for next year as soon as the tournament is over. All 12 of the passes we get are accounted for and I've got to keep track of who gets what each day. Jimmy stays out of it and lets me dictate that. It's a little intense. Next year's Ryder Cup, with it being in the states, will be crazy too, but this is for sure the one event that everybody wants to come to. We get some really off-the-wall requests, too -- people that come out of the woodwork who want to come to the Masters. Yeah, that ain't happening.
Up next is the Par 3 Contest. It was fun last year, but this year will be even better with our two sons, Mclain (4) and Beckett (2), being a year older. This time they'll be out in full force. We've got the outfits, we've got the matching shoes, we're ready. Mclain keeps asking, "Am I going to be daddy's caddie today?" I keep telling him "One more day!" They're pumped.