News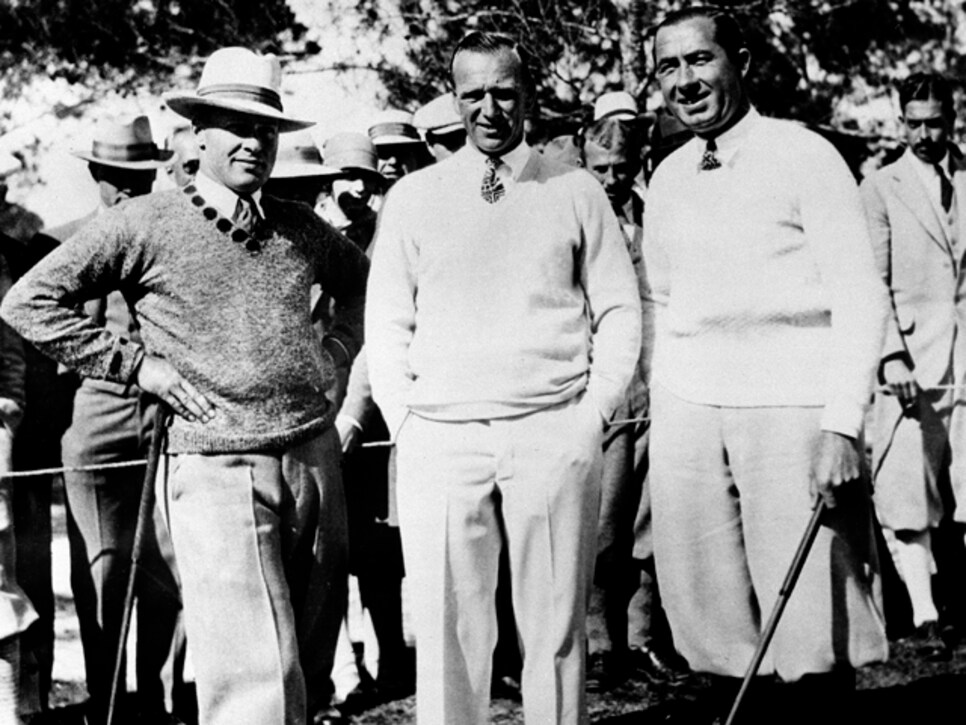 Dominance in match play helped define how fans looked at Bobby Jones and Walter Hagen. (Photo: AP)
Predictability and uniformity are the order of the era in professional golf. Our stars are used to exact yardages, terrific turf and equipment designed with the science of surgical tools. Nobody studies a clover lie in the fairway, wondering if the ball about to be struck with a butter knife on the end of a stick is round. Those days are as long gone as walking five miles in the snow to school.
For the best golfers in the world, the mano a mano of match play and its unpredictability is an endangered species, too. They play it now just slightly more often than they stay in a motel. Occasionally a Sunday afternoon on the PGA Tour will morph into a pale imitation of the real thing if the contenders, like the aspirants in political primaries, have been winnowed to two. But true duels in the sun (or the rain) are rare. Even when they occur, counting strokes isn't counting holes.
Head-to-head play is hunting-and-gathering golf. It's about bringing a victory back to the clubhouse, regardless of method or style. Walter Hagen did this better than anyone, as Bobby Jones found out during the pair's ballyhooed 1926 exhibition in Florida when The Haig, spraying and scrambling like nobody's business, drubbed him, 12-and-11, in their scheduled 72-hole showdown match.
"When a man misses his drive, and misses his second shot, and wins the hole with a birdie -- it gets my goat," Jones said of Hagen, who won a record 22 consecutive matches in the PGA Championship between 1924 and 1928.
Fittingly, they are playing for the Walter Hagen Cup this week in Arizona at the WGC-Accenture Match Play Championship. Forget that Tiger and Phil took a pass. Never mind that the event will be looking for a sponsor and a site after the last unplayable lie by a cactus is avoided at Dove Mountain. Don't get bummed out if a couple of marquee names are among Wednesday's 32 first-round losers, or if someone unexpected makes it all the way to Sunday. It happens. It has always happened.
When match play was resurrected on the PGA Tour in the early 1970s for three years with an event in North Carolina (the inaugural was medal-match), the champions were DeWitt Weaver, Jack Nicklaus and John Schroeder. Nicklaus' victory came on the heels of being bounced -- along with Gary Player -- in the first round in 1971. Player had traveled 20,000 miles to be defeated by Homero Blancas, what he said was his longest journey for a single round.
Some may say the format is a quaint, unessential relic, a vestigial fin of golf's yesteryear. I would argue, though, it is a valuable link to how the sport started and how it continues it be enjoyed recreationally everywhere, every day.
It has been nearly 290 years since a newspaper -- the Caledonian Mercury, on April 6, 1724 -- first reported the results of one golfer squaring off against another. In this case, it was the Honorable Alexander Elphinstone against Captain John Porteous at Leith Links in Edinburgh in "a solemn match at golf." Elphinstone won the match and the 20-guinea bet. The stakes were higher for the winner five years later at Leith, where he won a duel contested with implements more dangerous than a ball of leather stuffed with goose feathers.
No doubt the WGC event could stand to be rejuvenated. A course everyone knows and loves would be nice, but the beauty of match play is that fine drama can occur regardless of the course. There have been plenty of memorable Ryder Cups in Sutton Coldfield, England, despite The Belfry not being regarded as a gem of golf architecture.
Unlike last year there isn't snow on the ground in Arizona, not that the Accenture participants had to compete in those sorry conditions. That wasn't the case in the late fall of 1875 at St. Andrews, where four-time British Open champion Young Tom Morris was lured into a six-day, 12-round match for 50 pounds against wealthy 18-year-old English amateur Arthur Molesworth, who was getting three strokes a side.
The cold weather deteriorated from bothersome to brutal as the marathon went on, the links a frozen, snowy mess the morning of the final day when balls painted red had to be used. "Even with [Old Tom Morris'] workmen shoveling and sweeping, greens were unputtable," Kevin Cook writes in Tommy's Honor. "The players chipped on and then chipped their 'putts,' trying to flip their gutties into the hole as if they were stymied."
Not until the 206th hole did Morris close out his foe, the long, tiring, frosty encounter finally ending when the 24-year-old phenom sank a putt for a 2 on the now-thawed grass at No. 8. Morris would be dead within a month, the victim of an embolism on Christmas Day perhaps hastened by the strain of the match. The stymie left golf for good in 1952, and the PGA Championship became a stroke-play event in 1958.
These days, 200-hole tussles can only be found in the past. For the very best, match play is a sword fight in a drone world. But thank goodness one-on-one at least occasionally offers a glint of what was.