News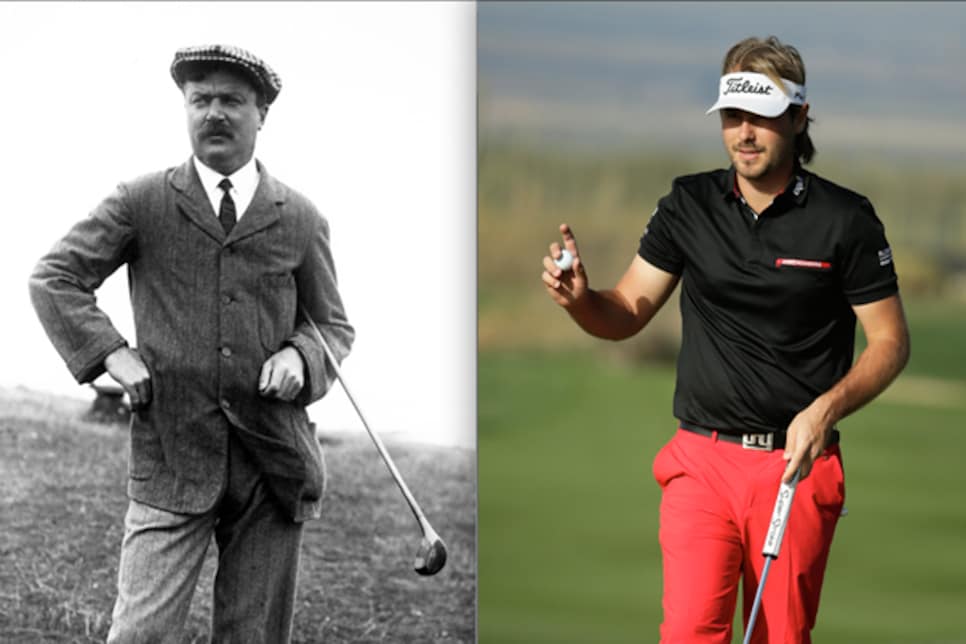 Whether Victor Dubuisson will amount to a modern-day Arnaud Massy, the two Frenchmen share some common bonds. (Photos: Getty Images/AP Images)
Victor Dubuisson will have to climb a palm tree, hang upside-down and punch a one-handed shot into the hole at this week's WGC-Cadillac Championship to out-do his recent recoveries in the Arizona desert.
That is a tall order, even for a player nicknamed "Golden Hands," whose magical escapes in finishing runner-up to Jason Day at the WGC-Accenture Match Play had the golf world buzzing.
"When I was a kid, I used to practice a lot my short game," Dubuisson said Tuesday at Trump National Doral. "But those two chips I managed to do two weeks ago, you know, it could have just stayed in the rocks or in the bush. It was great, but it was like 50-50. It was not really [in] my control."
Dubuisson wasn't only being modest, he was being honest. It doesn't matter if you're Arnold Palmer or Seve Ballesteros or Tiger Woods, there is a layer of good fortune in great trouble shots. To paraphrase Gary Player, another super scrambler who saluted Victor's imagination on Twitter, the better you are, the luckier you get.
And Dubuisson, whose world ranking is now the same as his age, 23, is plenty talented. He was inspired to golf as a boy growing up in Cannes, France, by the televised images of Woods' domination at the 1997 Masters. If you want a Tiger Effect, look no further than this young man.
Thousands of miles and an ocean away from Augusta, Ga., sitting in front of the television in a city known for celebrating stories of the big screen, a boy thought of the possible.
"Well, he had a very poor, a very bad start," Dubuisson remembered of Woods at that historic Masters. "He was four over after nine holes. Everybody was saying, 'OK, Tiger, he made a good start as a pro, but now that it's an important tournament, his first major, he's not going to do very well, maybe because of the pressure.' And then he just completely broke the course, he broke the record."
To be a wonderful golfer, a person has to be a broken record of effort. Whether it was wise in all ways is debatable, but Dubuisson had left school by age 12 to concentrate on the sport he loved and was fascinated with. "I was doing some [school] work at home, but I was more going to the golf every day," he told reporters at Doral, who pressed for details about that stage of his life but didn't get them. "No, just no personal family question. I don't like to think about that, sorry."
Whatever the specific circumstances of Dubuisson's youth, he became a champion amateur and, last fall, a winner on the European Tour when he captured the Turkish Airlines Open with the 1997 Masters champion in the field.
His maiden tour victory, along with his amazing performance at the Match Play, has people talking about Dubuisson more than he likes to talk about himself. Nothing wrong with that -- in the scope of golf history, the sound bite is a relatively new development. Ben Hogan had a hard childhood, including the suicide of his father, and it wasn't something he often addressed.
Gosh knows what Hogan would think of Twitter, but he could relate to Dubuisson -- to a man who immersed himself in a game, who seems to like to let his artful shots speak for themselves, who isn't publicly bubbly.
Dubuisson could just be the Arnaud Massy of the 21st century.
Massy is France's only men's major golf champion, and it has been a very long time since he won the British Open in the wind and the rain at Royal Liverpool (Hoylake) in 1907. He had nine other top 10s in the Open, including a playoff loss to Harry Vardon in 1911, despite missing part of his prime serving in World War I, where he was wounded at Verdun.
No continental male golfer won a major after Massy until Ballesteros in the 1979 Open. Massy had a great short game too, known for his remarkable putting from six to 12 feet. O.B. Keeler observed of Massy's putting stroke that it had a "fascinating absence of hurry," which makes sense for a sportsman who hailed from Biarritz in the land of long lunches.
The French drought in majors could well have ended 15 years ago, of course, when Jean van de Velde needed only a double-bogey 6 on the last hole at Carnoustie to win the claret jug but chopped his way to a farcical 7 instead and lost a playoff. "I just think he was very unlucky on his second shot," Dubuisson said of van de Velde's long-iron second shot that bounced off a grandstand railing and behind Barry Burn, starting the infamy. "I mean, I don't think he made really the wrong decision."
Dubuisson's good friend and mentor, the six-time European Tour winner Thomas Levet, didn't get nearly as much notoriety when he lost an Open playoff at Muirfield to Ernie Els in 2002. But when he won his sixth tour title, the 2011 French Open, Levet broke his leg jumping into a lake to celebrate.
It is with that quirky heritage that Dubuisson is now front and center, not yet "one of the greatest players of the time," as Henry Leach wrote of Massy in 1916 but possessing a "strong and peculiar individuality" just like France's best golfer and his predecessors.
If you're wondering, the Open is at Hoylake this summer.