News
PGA Tour veteran Omar Uresti's win in club pro championship causes stir among PGA of America members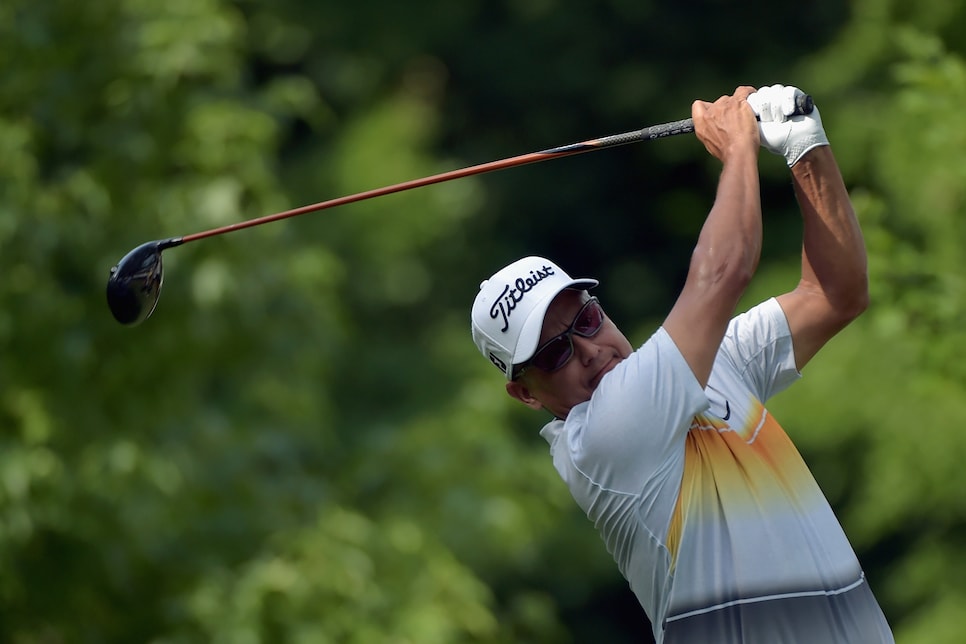 Omar Uresti's victory in the PGA Professional Championship on Wednesday has rankled many rank-and-file members of the PGA of America, who question the fairness of a long-time PGA Tour member, one who has never worked as a club or teaching professional, playing in their national championship.
Uresti, who defeated Dave McNabb, the head pro at Applebrook Golf Club in Malvern, Pa., on the second playoff hole, joined the PGA Tour full time in 1995. He played in 356 events without winning. In addition, he played 209 Web.com Tour events and won twice. He earned nearly $4.7 million combined on the tours.
Twitter was the platform detractors used to express their displeasure. A sampling:
Jeff Crabbe is the head professional at King Carter Golf Club in Irvington, Va.
Wanderscheid is the head professional at Green Valley Golf Course in Sioux City, Iowa.
Michael Powers is a teaching professional.
"It's been interesting," Fuston said in a phone interview. "I guess four years ago he began playing in our section major tournaments. At first I don't think anybody paid a lot of attention to it. Obviously, he played well virtually every week. People didn't understand all the rules. Then he started qualifying for the national club pro championship, taking spots from sectional members and parlaying them into spots in the PGA Championship."
The catch, Fuston said, is that Uresti is in the right to participate.
"For me, it's not about Omar," he said. "To me, Omar hasn't done anything technically wrong. He's playing by the rules as they are established. But it doesn't feel right."
Uresti has an A-3 life member status for having been a member of the PGA Tour for 20 years.
"I don't ever think the PGA [of America] thought an active tour player would come in and play section events," Fuston said.
Uresti has now played in three PGA Professional Championships and finished fifth, second and first, earning him starts in the PGA Championship three straight years. When he was playing on the PGA Tour he never qualified to play in the PGA.
"When I read that it bothered me," Fuston said. "He played in all our [section] majors in '15 and was the player of the year and section champion. He took both exemptions we get … into the Shell Houston Open and one into the Valero Texas Open.
Mike Ray, the executive director of the Southern Texas Section, said "for three years, we've been trying to get something done with the national office. Truthfully it is a membership issue and needs to be addressed."
Fuston suggested the attention Uresti's victory received, notably on the Golf Channel telecast, might be the impetus for the PGA of America to act. "I think, in a way, what happened yesterday was probably a good thing," he said. "It caused a much bigger stir."
A spokesperson from the PGA of America, meanwhile, issued this statement:
"The PGA of America has a diversified membership, which includes former and current Tour players. Omar is eligible to compete in our PGA Professional Championship because PGA Tour pros are eligible for PGA of America 'Class A' membership [which is how he originally became a member].
"He played more than 20 years on Tour. Once he was no longer playing on Tour, like any other PGA Member who had 20+ active years of PGA Membership, Omar became eligible for 'Life Member-Active' [and] therefore eligible to compete in the PGA Professional Championship, and in addition, hold PGA office and vote.
"Omar, like all other 'Life Member-Active Members,' is required to complete the Member Service Requirements of the Professional Development Program (continuing education and Association activities) over a three-year period.
"We congratulate Omar on his victory and look forward to seeing him compete this August at the PGA Championship at Quail Hollow Club."