College Golf
John Pak leads first class of college seniors to earn Korn Ferry Tour cards via PGA Tour University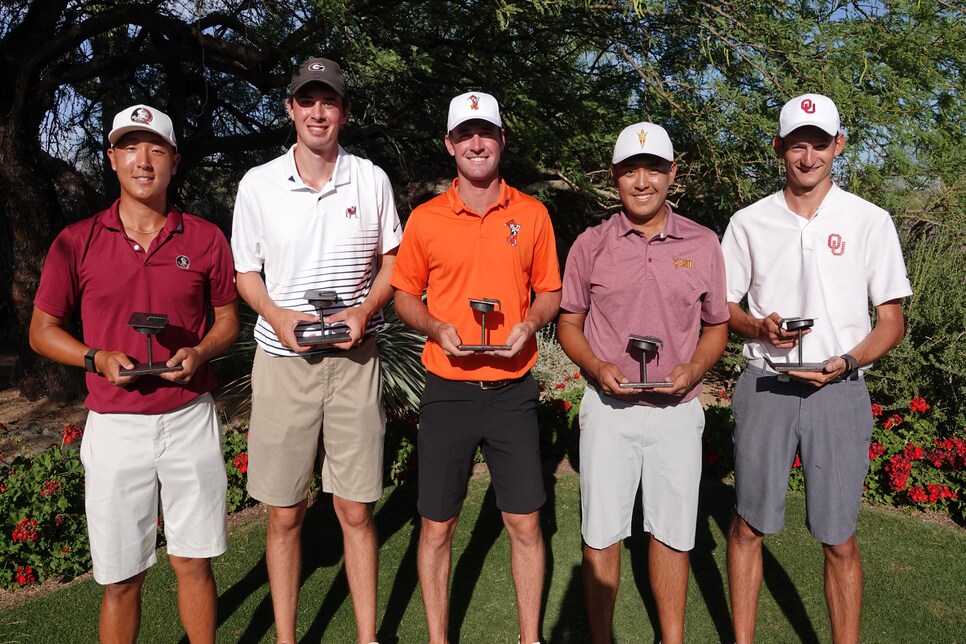 The top five players in the PGA Tour U rankings earned Korn Ferry Tour status for the rest of the 2021 season. They include (left to right): Florida State's John Pak, Georgia's Davis Thompson, Oklahoma State's Austin Eckroat, Arizona State's Chun An Yu and Oklahoma's Garett Reband. (Photo courtesy of PGA Tour U)
If there was disappointment at the end of the stroke-play portion of the NCAA Championship for John Pak, the Florida State senior finishing fifth at Grayhawk Golf Club in Scottsdale on Monday, four strokes back of Clemson's Turk Pettit, there was also some consolation coming with his final college start. The 22-year-old from Scotch Plains, N.J., officially secured his status on the Korn Ferry Tour this summer when he turns pro.
Same for Georgia's Davis Thompson, Oklahoma State's Austin Eckroat, Arizona State's Chun An Yu and Oklahoma's Garett Reband. They join Pak as the first class of college seniors to earn KFT cards through the inaugural PGA Tour University program. All are eligible to compete on the Korn Ferry Tour starting with the BMW Charity Pro-Am from June 10-13.
The fivesome earned their rewards based on tournament performances in college and pro events over the past two years. PGA Tour officials created the program as incentive for college players who remained in school through their senior years, giving them a direct avenue to playing status on the developmental tour.
During the 2020-21 college season, Pak finished no worse that T-12 in 10 starts, winning once to tie Nolan Henke as the Seminoles all-time wins leader with eight titles, and posting top-five finishes seven times. Pak also earned low amateur honors at last September's U.S. Open. He held the top spot in the PGA Tour U ranking throughout the entire season.
In addition to the five KFT cards awarded, college seniors ranking 6 through 15 in the final PGA Tour U points list earned status on the Forme Tour, created by the PGA Tour to help those with status on PGA Tour Canada compete in a series of U.S. events after the COVID pandemic impacted the 2021 season. Those players are:
Quade Cummins, Oklahoma
Michael Feagles, Illinois
McClure Meissner, SMU
Trevor Werbylo, Arizona
Jonathan Brightwell, Oklahoma
Angus Flanagan, Minnesota
Puwit Anupansuebsai, San Diego State
Alex Schaake, Iowa
Benjamin Shipp, NC State
Jovan Rebula, Auburn
The Forme Tour will run from June to September, and the players earning cards can begin play starting with the L&J Golf Championship at Jennings Mill C.C. in Watkinsville, Ga., June 23-26.