Travelers Championship
Patrick Cantlay is at it again, an amateur seeks to make history and don't sleep on a comeback winner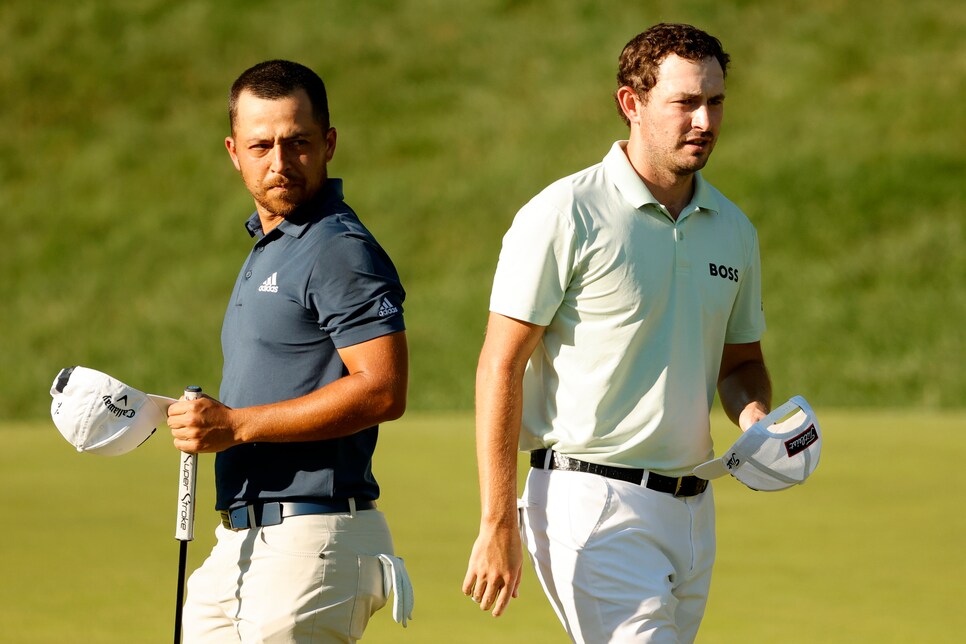 Xander Schauffele (left) and Patrick Cantlay walks off the 18th green after the third round of the Travelers Championship.
Tim Nwachukwu
At a tournament named after an insurance company that provides some certainty and a sense of steadiness for people, Patrick Cantlay is about as steady as they come. And he proved that again during Saturday's third round of the Travelers Championship at TPC River Highlands, where a seven-under-par 63 has him within one shot off the lead headed into the final round.
In his last five starts covering 19 rounds, Cantlay has been under par in 17 of them and over par in just one with a scoring average of 67.11. He has not finished outside of the top 15 in the last four Travelers, but remarkably, he hasn't cracked the top 10 either. Now that's steady!
Also steady was a third round that saw Cantlay produce seven birdies and no bogeys in his 63, which was the day's low round. Of course, when four of those birdies come from inside three feet (including a near ace at the par-3 11th) and only one from outside 10 feet, well, that's pretty steady, too, as is hitting 17 of 18 greens in regulation.
Cantlay, who shot a 60 as an amateur during his first appearance in the Travelers in 2011, is (sorry!) one of the steadiest players on tour, with seven top-10s in 13 starts this year. Still, for the reigning PGA Tour Player of the Year who had four wins last season, this campaign has to feel like somewhat of a disappointment so far.
His lone win on the season came at the Zurich Classic of New Orleans, a team event where he partnered with Xander Schauffele, who holds the lead by one over Cantlay and will be paired with his buddy again for the final round. Cantlay's game also has been scratchy at times, explaining why he is ranked outside the top 60 in driving distance, driving accuracy and greens in regulation.
Working with his instructor, Jamie Mulligan, Cantlay has cleaned up some flaws in his fundamentals. "I'm in Florida all year and when it's blowing 20 you have a tendency to get on your left leg at setup to control the ball into the wind," he said. "So just getting a little more on my right side at setup, and it's cleaned up a lot of stuff in my swing. … My swing feels like it's in a really good spot. The little cut shot with a little off on my 9-iron on the 17th hole really shows how much work I've put in and how it's paying off."
It also has him sniffing at a trophy once again.
A 'comfortable' amateur seeks to make history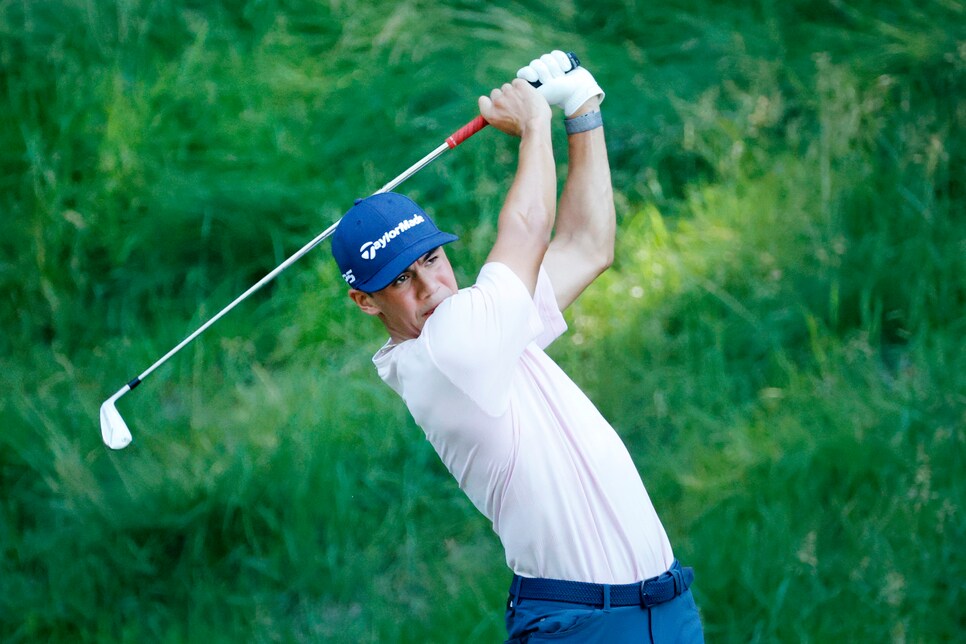 Amateur Michael Thorbjornsen plays his shot from the 15th tee during the third round of Travelers Championship.
Tim Nwachukwu
Those watching the coverage on CBS Saturday probably had a reaction along these lines when "Thorbjornsen (a)" popped up on the first page: Who is this freaking guy?
Well, for starters, apparently a pretty solid player. The 2018 U.S. Junior champion is a rising junior at Stanford, where he led the Cardinal in scoring average and to a berth in the recent NCAA Championship. He also made the cut in the 2019 U.S. Open, becoming just the second 17-year-old to do so in the last decade (Beau Hossler did it as well in 2012 at Olympic).
Those chops were on display Saturday where Thorbjornsen backed up a Friday 65 with a 66 to stand at T-7, six shots back of Schauffele and with an outside chance to become the first amateur to win a PGA Tour event since Phil Mickelson at the 1991 Northern Telecom Open in Tucson. Oh, and if you think six shots is too large a deficit, keep reading.
Thorbjornsen's round included a trio of big putts—a 36-footer on the par-3 fifth hole; a 30-footer on the par-3 11th; and after a 20-foot birdie on the 14th hole, he rose to a tie for second. He fell back with a bogey at the 15th.
Despite the cool European-sounding last name, Thorbjornsen was born in Ohio and lives in Massachusetts, meaning his appearance at last week's U.S. Open was a bit of a home game and the 90-minute drive to TPC River Highlands to take advantage of a sponsor exemption wasn't too bad on gas—not unimportant when it's running five bucks a gallon and you're not getting paid to play.
Thorbjornsen's impressive week is despite battling a nagging wrist injury that has required a fair amount of physio attention. However, while he might be having some physical issues, mentally he's in a good place, thanks partially to some advice from Collin Morikawa.
During a practice round for last week's U.S. Open at The Country Club, Thorbjornsen asked Morikawa for the one piece of advice he would give him. After some thought, Morikawa provided an answer.
"He told me just to stay comfortable," Thorbjornsen told CBS after his round. "Whatever it takes to be comfortable out there, playing with these big guys, these big players, and I kind of took that to heart."
If he keeps that mindset a lot more people will know his name sooner than later.
Theegala continues to show his potential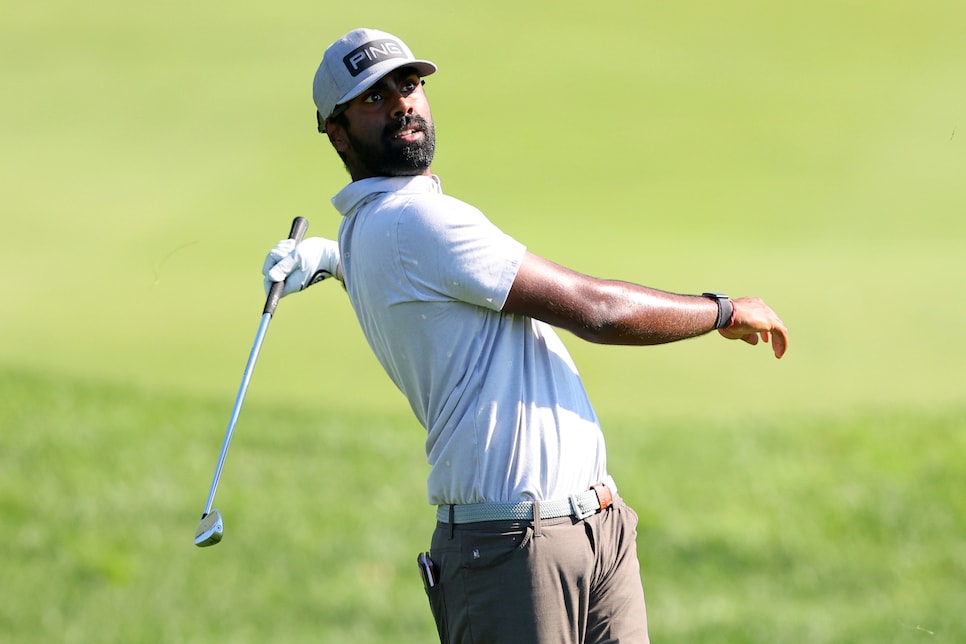 Sahith Theegala reacts to his shot on the 18th hole during the third round of Travelers Championship.
Michael Reaves
After playing 17 holes of relentless good golf, Sahith Theegala made a messy bogey on the final hole, turning a potential 63 into a 64. Still, let's give the man his due.
The score still was the day's second lowest and produced a solid look at a golfer much was expected of coming out of college where he became just the fifth collegiate golfer to win the Jack Nicklaus, Ben Hogan and Haskins awards.
Theegala came into this season having missed more cuts than he had made in his brief PGA Tour career but has played consistently and often—his 86 rounds are the most of any player on tour this season. He's made the cut in 20 of 25 events, including a T-3 at the WM Phoenix Open.
Recharged after a week off because he did not qualify for the U.S. Open, Theegala played a pedestrian but useful front nine, birdieing the short par-4 second and then the par-5 sixth before breaking out with a 31 on the back despite the closing bogey. Key was an iron from 208 yards to five feet at the par-5 13th leading to the only eagle of the day there. In all, Theegala picked up nearly four shots on the field tee-to-green in the third round.
During the COVID quarantine period when the tour was on hiatus, Theegala took the time to improve his chess game and found some useful commonality with golf. "Chess is like golf—your current move sets up the next one," Theegala told Golf Digest last year. "It also helps keep the mind sharp."
His game seems pretty sharp, too, as he seeks his first PGA Tour victory—one that would be special regardless, but more so if it were to happen at the Travelers. Theegala made his professional debut on a sponsor's exemption in 2020. He missed the cut, but his appreciation for having been given a spot has stayed with him.
"It would mean the world to me [to win here]," he said. "This tournament will always hold a special place in my heart."
No lead, no problem (most of the time)
Schauffle might be kicking tail and taking names, but he is no lock to win the Travelers Championship despite a red-hot 63-63-67 start that has him one shot in front of Cantlay. But it's not just Cantlay that Schauffele needs to concern himself with.
That's because the Travelers has a habit of being a haven for come-from-behind wins. And not just one-shot-back type of comebacks, either. In the previous 10 playings at TPC River Highlands, only two 54-hole leaders have hoisted the silverware (and it's a lovely piece of silverware at that). That means eight have made up ground on Sunday. You do the math on the percentages.
Among that group, Marc Leishman (2012) and Bubba Watson (2018) were six shots in arrears after three rounds. Kevin Streelman was four back in 2014. Russell Knox three behind in 2016. You get the idea. It's still anyone's game—at least for those within six shots of the lead, and there are nine players who fit that criteria.
Still, Schauffele, seeking his first solo PGA Tour win since the 2019 Sentry Tournament of Champions and first full-field victory since his inaugural win at the 2017 Greenbrier Classic, was focused on his nearest pursuer, Cantlay.
"I've been looking forward to playing with Pat in a final round," said Schauffele, who is 0-for-4 when trying to convert 54-hole leads into wins. "We don't get paired together very often in regular tournaments, only in those team ones. So there's a certain level of comfort we have playing with each other and hopefully that pays off and hopefully we can make a lot of birdies."
If not, he might find himself looking over his shoulder, too.