The Loop
PGA Tour pro packs no rain gear after hearing there's zero percent chance of rain. So, of course, it rains
Better safe than sorry. You know the old adage, preferred by Mom's since, oh forever. Well, Sung Kang probably knows it now, too.
In the hunt at the Quicken Loans National on Sunday, the 30-year-old South Korean had a four-foot birdie putt on the 16th hole to pull into a share of the lead with Kyle Stanley and Charles Howell III, when suddenly, and unexpectedly, a short rain burst hit TPC Potomac at Avenel Farm. The problem for Kang, and maybe more so for his caddie, Jason Shortall, was that neither had packed an umbrella or rain gear given the forecast they had seen for the day outside Washington, D.C.
"It said zero percent of rain all day. Like no chance of thunderstorms at all," Kang told the CBS crew after Sunday's play.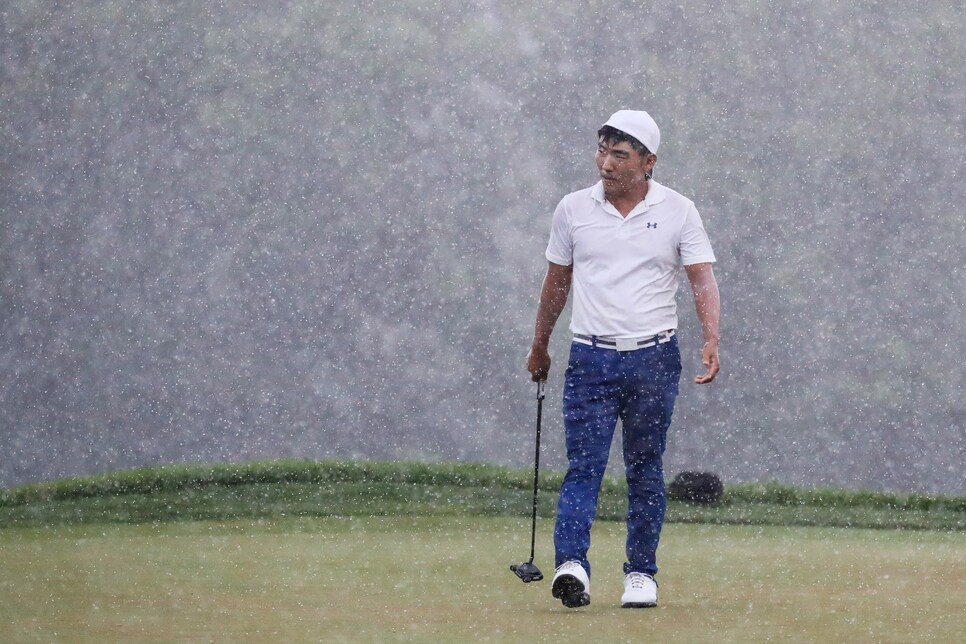 All Kang could do as he lined up his putt was turn his hat around so the rain wouldn't drip from his bill, the trick made famous by Jim Furyk at the Tour Championship in 2010. But even this couldn't help Kang as he painfully missed the short wiggler. The rain continued for only a few more minutes, but was hard enough to cause a short delay. When play resumed, a still-soaked Kang stepped to the 17th hole, hit his tee shot on the par 3 into the water and offered up this exasperated reaction en route to a double-bogey 5.
At day's end, Kang finished in a tie for fifth place, three shots out of the playoff. The bright side remained that it was his third top-10 of the 2017 season and he still earned a spot into the Open Championship thanks to the high finish. Even so, we're guessing Kang and Shortall will not have Rihanna's Umbrella on their play lists any time soon.