News & Tours
Tour commish Jay Monahan meets with players for first time since absence, but many questions about future remain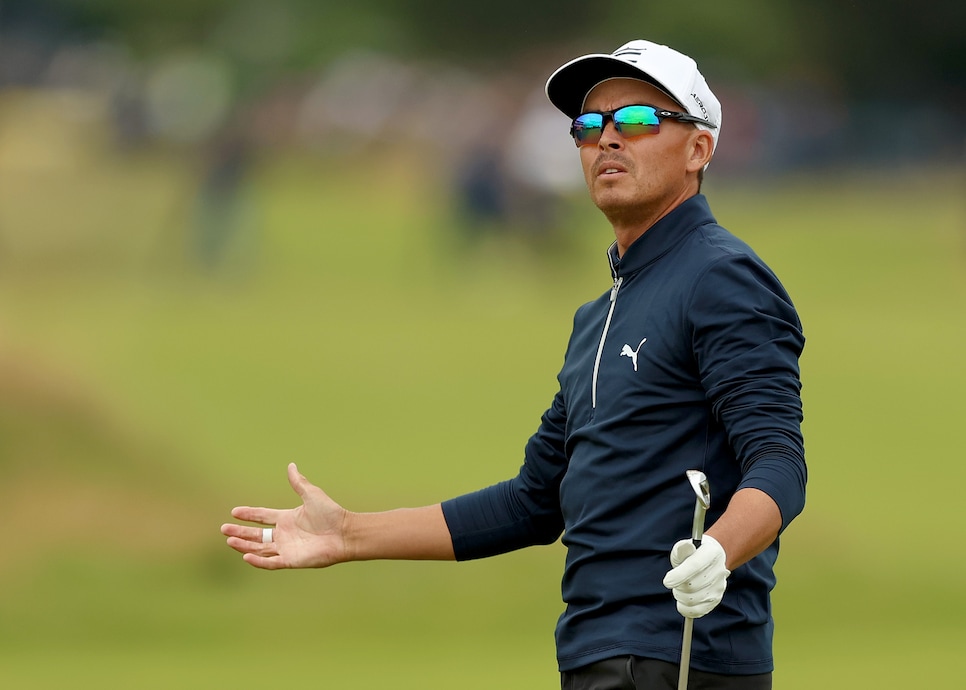 Rickie Fowler attended the players meeting at the St. Jude Championship and said there were many questions still to be answered about what the PGA Tour looks like in the future.
Luke Walker
MEMPHIS — Jay Monahan presided over his first player meeting on Tuesday at the FedEx St. Jude Championship since returning from a voluntary absence, and while the 90-minute gathering was poorly attended and little new information was delivered, several players agreed that it was simply good to see the PGA Tour commissioner back at work.
And, apparently, a lot of work is yet to be done.
Fewer than 30 of the 70 players competing in this week's first FedEx Cup playoff event gathered in the Oaks Room in the clubhouse at TPC Southwind. The majority of the meeting was spent reviewing the framework agreement that the tour announced June 6 in which the tour and the DP World Tour struck a deal with Saudi Arabia's Public Investment Fund. There were questions about how it was rolled out and how a final deal might look.
"I think everyone has a better understanding of how things are operating," Rickie Fowler said. "It was more about the release and how it was broken and how it came out was not how Jay or the tour would have hoped for. … There's still a whole lot that no one really knows, and we [the players] don't know. It's just continuing to trust that leadership and everyone is doing what's best for all of us and the tour moving forward."
Fowler provided a partial list of topics covered: "If the deal doesn't work what are the potentials of moving forward? Does NewCo still stay around? Are there other investors? Is the tour sustainable how we currently are?
"The tour is in a great spot and it's going to continue to grow. The possibility of NewCo and still looking at that, that could be a better option to continue to move forward, whether that's PIF or not. It's more along the structure and what is the best option for moving forward, whether that's with NewCo or without."
NewCo is the proposed for-profit entity under which the PGA Tour and DP World Tour would operate with investment from the PIF, according to the framework agreement.
"It's a lot of unknowns, I guess; a lot of unknowns," said Tom Hoge. "I think it was good just to have Jay there in front of us all and see him again and see that he is doing well, and who knows what the path will be going forward. I guess we're all just wait and see. This is my ninth year on tour going to these meetings, and I understand that not a lot comes from them."
Monahan returned to work July 17 after stepping away for a month for medical reasons.
Among the notable players who skipped the gathering were Rory McIlroy, Xander Schauffele, Patrick Cantlay, Max Homa and Viktor Hovland.
A few players left the meeting early, disappointed to not have learned anything new. "The questions got to be repetitive," said Jon Rahm, who stayed for the first hour. "It was the same stuff we already knew."
"I thought it was pointless," said Denny McCarthy.
The resignation on Tuesday of longtime PGA Tour executive Andy Pazder also was discussed. Chris Kirk said that no explanation was given for his decision. Pazder was the tour's chief tournaments and competitions officer and had been with the tour for more than 30 years.
Brendan Todd and Chris Kirk found the meeting was largely productive in terms of mood as opposed to the delivery of new information. "I think it was just good to hear a lot of questions and see what is on everyone's mind," Todd said. "It was helpful in that regard because whatever we do going forward, we have to do it in as a united front."
"It was important for us to interact with Jay again," Kirk said.
Hoge and Fowler agreed that they got the sense that it's possible the framework agreement does not lead to a concrete deal. The tour is hoping to have something finalized by year's end.
"There are a lot of parts that have to come together," Fowler said. "You'd have to sell everyone on the idea that this is the best option for the tour, for the players, for everyone moving forward. Not saying that's not possible. And I would say for me going through the whole process the last few years, it's a bummer we've had to go through the last few years to ultimately end up here. it would have been a lot easier to three years ago say, 'hey, PIF wants to invest in the PGA Tour,' instead of going through all that and then kind of coming back. So, it's more about how the last few years have gone and the stance of the tour to now be back where we are."