News
The most impressive statistical feats since the PGA Tour restart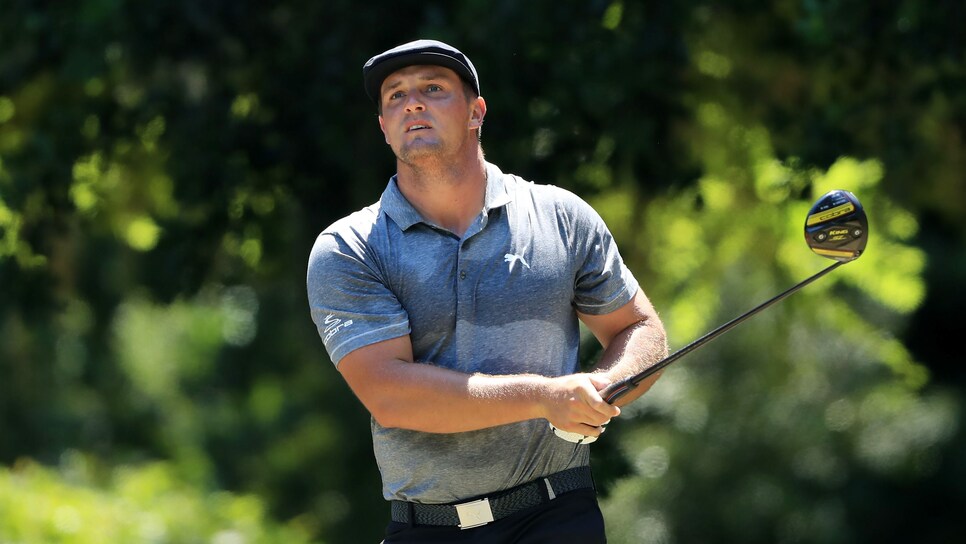 Bryson DeChambeau hits his tee shot on the fourth hole during the third round of the 2020 RBC Heritage.
Sam Greenwood
We're seven tournaments deep in version 2.0 of the 2020 PGA Tour season, and seven different winners have emerged. From the unlikely Michael Thompson to juggernauts like Dustin Johnson, the champs have run the gamut, but the common factor has been low, low scoring. Five of the seven winning scores have been 19 under or lower, and the Memorial is the only tournament that held everyone below double digits.
That means the best players on tour have been firing at will, which makes this an ideal time to drill down into the tourney-by-tourney stats. Within each event, there are statistical feats that might escape the casual fan's notice, and that's a shame; they're mighty impressive. Let's count down the seven best.
7. Keegan Bradley dominates SG/Approach, Workday Charity Open
One of the reasons I like the strokes gained stats so much is that it can highlight both strengths and weaknesses of a player's game, and put a whole tournament performance into context. (For those who aren't in the know, SG represents how many shots better or worse a player is than the field average.) At the Workday Charity Open three weeks ago, Bradley managed a field best 10.752 strokes gained on his approach shots through four rounds, and it's the second-best total for any player since the restart (behind only Abe Ancer at the RBC Heritage). However, Bradley finished in a tie for 39th. Why? Because of awful putting, where he finished almost last (66th) among players who made the cut. Still, his iron play was terrific, putting him in the top 10 of approach shots every single day.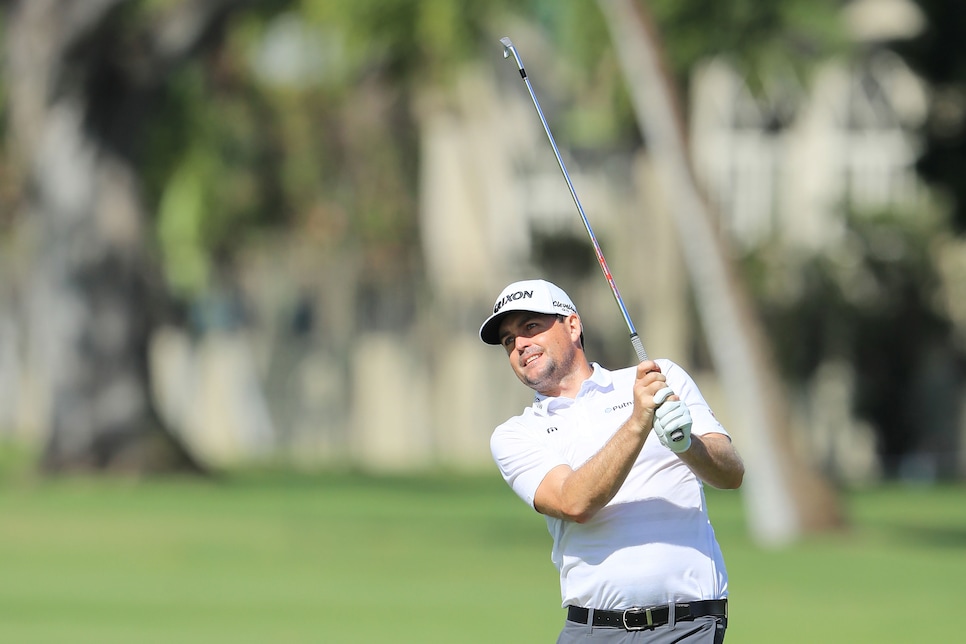 6. Mackenzie Hughes, the Scramble King of Connecticut
Of all the strokes gained categories, "around the green" is probably the least influential just because it's not applicable on every single hole. Players often go from fairway to green without stopping for a pleasant scramble. That's reflected by the fact that the rankings for best scramblers jive the least with the actual leader board. But Hughes, in his T-3 finish at the Travelers, clearly relied on his around-the-green prowess to save his bacon, as he accumulated 7.3 strokes gained for the week, best of any player in any tournament so far, and best at the Travelers by more than two strokes. He was particularly great on Sunday, with an 18-foot par save from off the green on No. 9, and a 43-footer for a birdie from off the green at the 18th, along with several up-and-downs throughout the round. Those skills, on that day alone, earned him about $200,000 more than he would have made otherwise.
5. Abe Ancer and Daniel Berger's almost completely clean cards at the RBC Heritage
Granted, this stat is a slight novelty since going low matters more than being bogey-free, but with Ancer and Berger both making just two bogeys over 72 holes, they deserve recognition for being nearly flawless in Hilton Head. Neither of them won (hat tip, Webb Simpson), but they flirted with a kind of perfection. (Troy Merritt actually made just one bogey at the Rocket Mortgage Classic, but he also made a double, so I'm putting him below his peers.)
4. Collin Morikawa's merciless destruction of the fifth hole, Workday Charity Open
A look at the best performances on a single hole by any winner over the course of an event yields a fun nugget: Morikawa absolutely annihilated the poor fifth hole at Muirfield Village, accumulating 4.24 strokes gained over four days. That's by far the best of that category. And hey, when you go eagle-birdie-birdie-eagle on a hole that isn't that easy, the numbers do get kind of gaudy. Think of it this way: If you took Morikawa scores on that hole and had him make pars on every other hole for the tournament, he'd have finished T-30. In fact, his play on No. 5 was responsible for almost one-third (!) of his 19-under winning score. Having eagle putts of 3'6" and 3'1" helps. Here's Sunday's eagle.
Amazingly, his run on the hole was almost even better—he nearly holed a 55-footer for eagle on Friday.
3. DJ reigns as the Proximity King, Travelers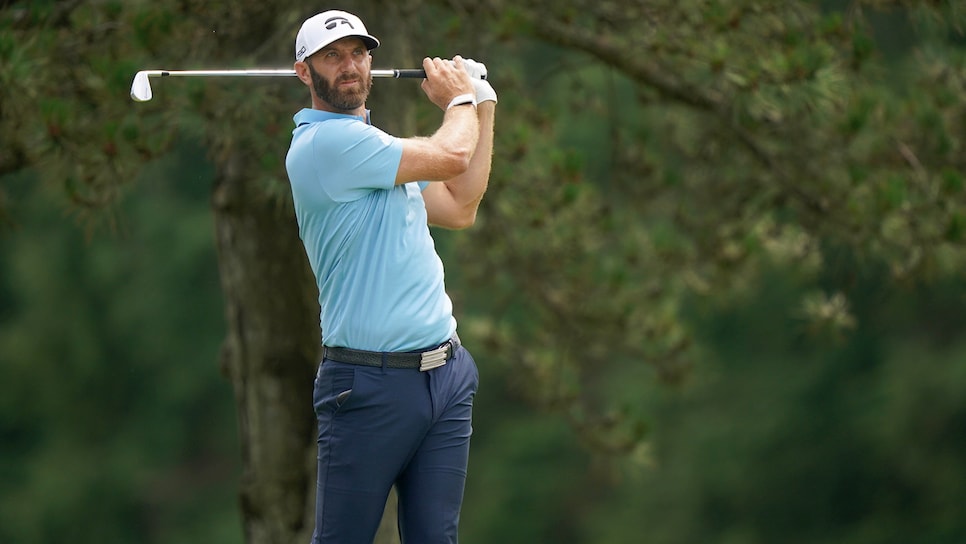 Erick W. Rasco /Sports Illustrated via Getty Images
Among all the winners since the tour restart, Dustin Johnson had the best proximity to the hole, hitting his average approach shot 25'8" from the pin. That may not seem impressive until you realize that it accounts for every single hole, including ones where he missed the green. Taken that way, it's just this side of staggering. He did his best work on the 12th, where he averaged 13'5" from the hole on his four approach shots.
2. Tyrrell Hatton putts the lights out, RBC Heritage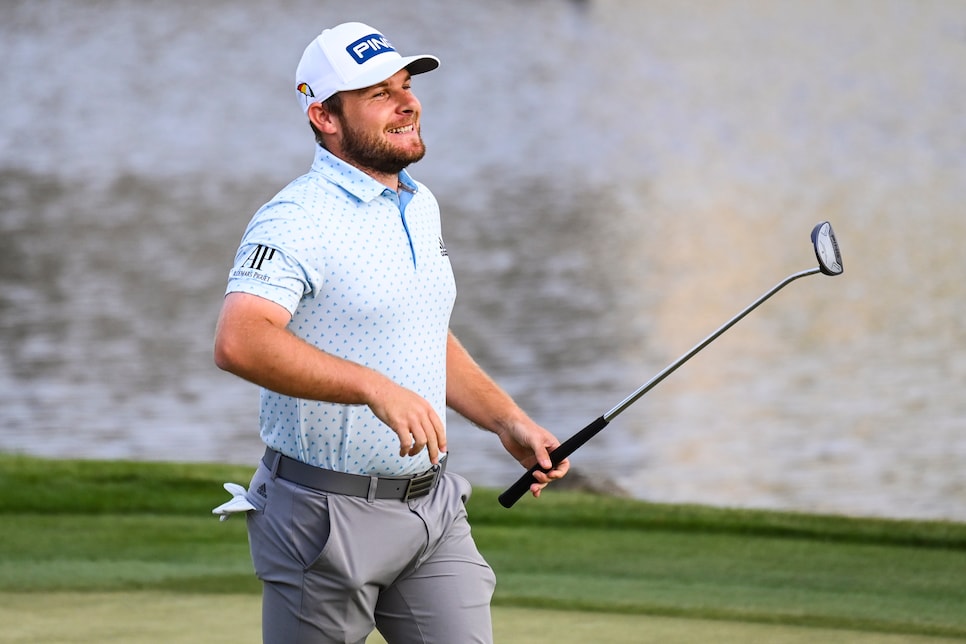 Of all the tournaments played so far, you could argue that the poor, defenseless Heritage was the most like a putting contest. Watching Hatton and Webb Simpson square off that Sunday, it became clear that whoever buried the most mid-to-long-range putts would win, and in fact Simpson seized the opportunity at the right time. But Hatton was the one who putted best for the entire weekend, and it wasn't close—with 9.256 strokes gained on the green, he was almost three strokes better than Simpson, who was second best for the week. It's an astounding total, and also the best of the seven tournaments since the restart. A huge chunk of it came with his ridiculous 3.9 strokes gained on Saturday, where a closer look reveals just how strong he was. It's not just that he shot a 63; it's that he hit putts of 40 feet, 10 feet, 12 feet, 13 feet, 9 feet and 24 feet, while missing almost nothing inside 10 feet. It's about as close to perfect putting as anyone can achieve over 18 holes.
1. Bryson DeChambeau's driver turns lethal, Colonial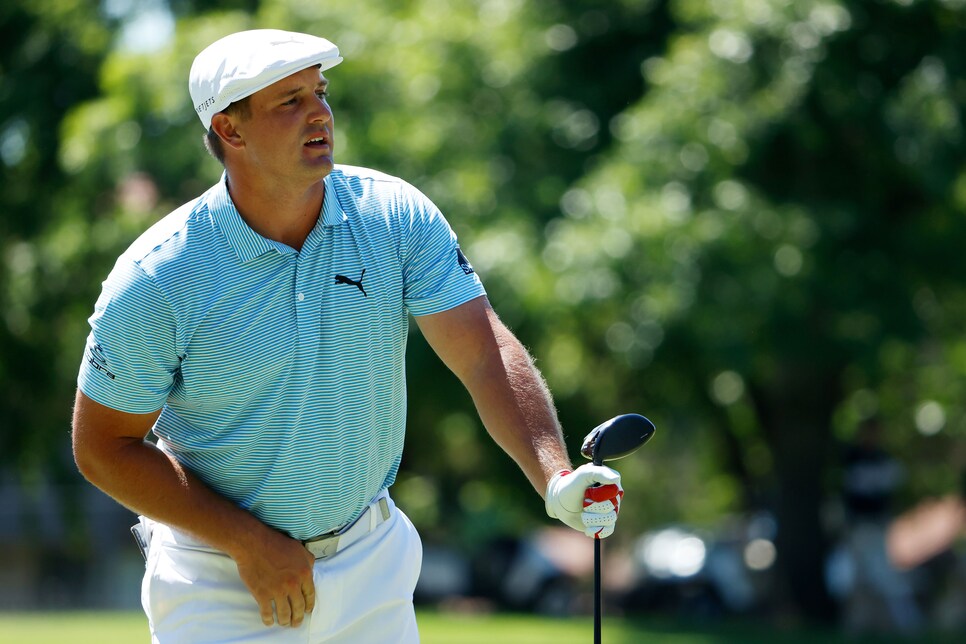 DeChambeau is one of the tour's seven winners, but he actually had his best statistical week off the tee in his first tournament at the Charles Schwab Challenge, where he accumulated a whopping +7.321 strokes gained in four days. That's an enormous total, and he's the only one to break the 7.0 threshold since the tour returned. Even more impressive is the fact that the second-best player in that category, Xander Schauffele, amassed just 4.96. That's a huge discrepancy that shows exactly how superlative DeChambeau was from the tee box at Colonial. After the tournament, he claimed he would have won with better putting, but when you look at those numbers, it's tempting to go further: he should have won, and even finishing T-2 looks like a pretty big missed opportunity. Which, of course, he remedied a few weeks later at the Rocket Mortgage Classic, where he also led the field from the tee. The revolution is real.