LIV vs. PGA Tour
PGA Tour accuses LIV Golf's backers of "ducking" response in lawsuit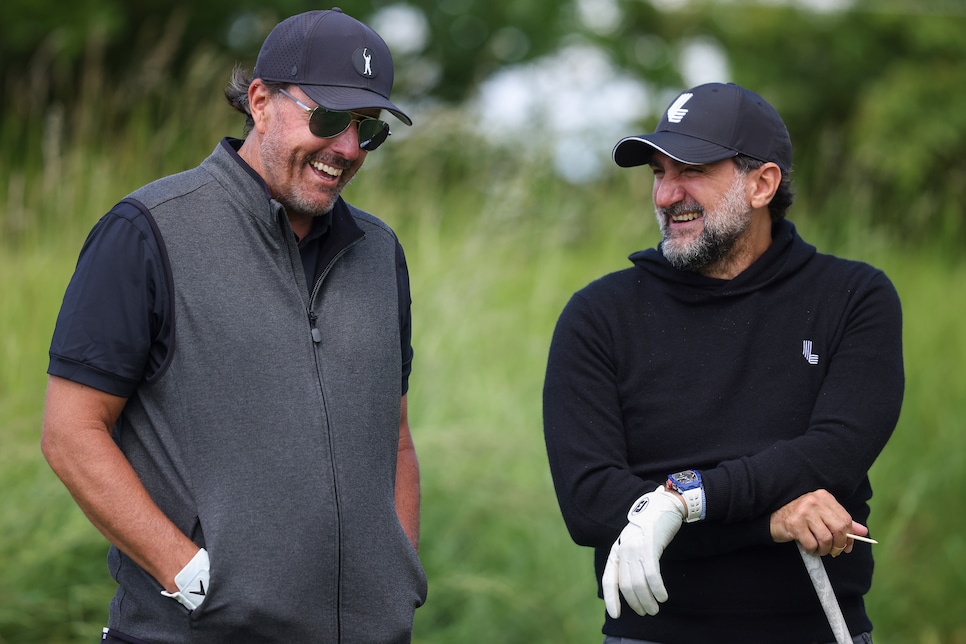 Charlie Crowhurst/LIV Golf
The PGA Tour accuses LIV Golf of stonewalling discovery efforts in the latest filings in federal court, with lawyers for the tour warning they will seek a default order unless LIV responds in a timely matter.
On Monday night the tour sought a motion for alternative service to the Public Investment Fund of Saudi Arabia—which serves as the financial backer of LIV Golf—along with PIF governor Yasir Al-Rumayyan. Last month a U.S. District Court judge ruled the tour could add PIF and Al-Rumayyan as defendants in the tour's countersuit. In Monday's filings the tour states it has properly served PIF and Al-Rumayyan with its amended counterclaims in multiple ways, including serving PIF at its headquarters in Riyadh, Saudi Arabia, with Arabic translations in according with the Foreign Sovereign Immunities Act. The tour also argues that these fillings have been widely reported on across the world. "And PIF and Mr. Al-Rumayyan have never argued that they do not have notice of the tour's amended counterclaims—nor could they with a straight face," the tour's attorneys write.
But according to the tour PIF and Al-Rumayyan have "tried everything possible to duck service and continued to advance meritless arguments challenging service." The tour finds issue with this notion, since, the tour agues, "PIF and Mr. Al-Rumayyan have been deeply involved in this lawsuit since its inception, authorizing LIV to file suit in this court and controlling and funding LIV's ongoing conduct of this litigation." As a counter, the tour is seeking a firm date from the courts for PIF and Al-Rumayyan to respond, and are asking the courts to allow the tour to seek service via email.
A default ruling—in which a party in a legal case fails to respond to a summons—would likely result in a win for the tour in its legal battle against LIV.
In the counterclaim the tour asserts that LIV is the end result of a "long-contrived plan" to take over professional golf as part of Saudi Arabia's Vision 2030, which Golf Digest has detailed here. Documents the PGA Tour obtained in discovery in December allege that PIF and Al-Rumayyan were "instrumental in inducing players to breach their tour contracts." The tour argues Al-Rumayyan personally recruited players, "played an active role in contract negotiations, and expressly approved each of the player contracts—all while knowing that these deals would interfere with the players' tour contracts."
Al-Rumayyan, who is part of Crown Prince Mohammed bin Salman's inner circle, is considered the mastermind of the Golf Saudi and LIV Golf projects. Though Greg Norman has been the public-facing leader of LIV Golf, sources familiar with LIV tell Golf Digest Al-Rumayyan and Majed Al Sorour were the two people who had final say over LIV Golf/Golf Saudi matters. Earlier this year Al Sorour was transitioned out of managing director of LIV Golf.