News
Butch Harmon on Jimmy Walker: "He's ready for the Masters"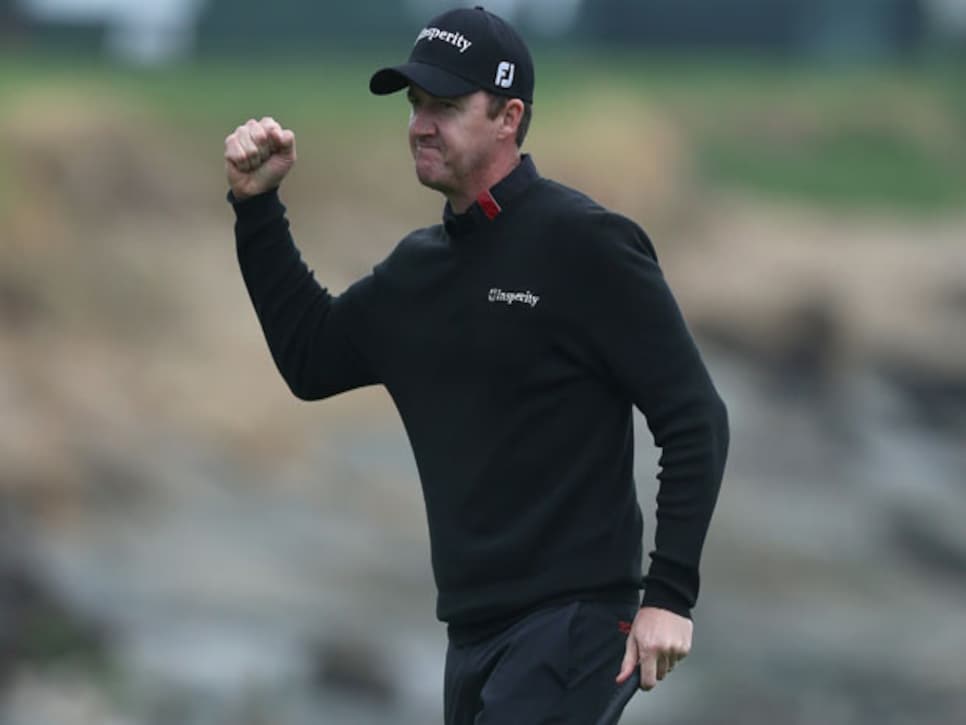 There's a bottle of $1,200 Chateau Margaux in Butch Harmon's wine cellar that the instructor is waiting to open when Jimmy Walker wins his first major championship. Walker gifted it when Harmon wouldn't take payment for their first series of lessons.
Considering the way Walker nearly blew the AT&T Pebble Beach National Pro-Am, Harmon could be waiting a while before uncorking the Bordeaux. Or, maybe not, based on the three victories Walker has recorded in his last eight tournaments of this wraparound season.
"No one said it was going to be easy," Harmon said. "It's not easy to win. He played aggressive all week, and he looked tentative today. It's so hard when you have a big lead."
As Harmon alluded, Walker learned for the first time what it's like to deal with a big lead and a long day of golf. It wasn't like his wins in the Frys.com Open or the Sony Open, where he shot 66 and 63 to win, respectively.
Instead of making putts and closing strong, Walker started three-putting and making bogeys. The clutch putting stroke that everyone raved about after 54 holes looked uncertain. The hottest golfer in the world couldn't find the 18th fairway with an iron.
In full meltdown mode, Jimmy Walker looked like the Jimmy Walker who went 0-for-187, not the one who had gone 2 for 7 to start the season. Even Clint Eastwood made a crack from the CBS booth about a big check going to "whoever chokes this tournament away, or doesn't choke this tournament away."
And then, when it appeared lost, Walker buried a five-foot par putt for a one-stroke win over Dustin Johnson and Jim Renner and had the presence to tell CBS' David Feherty, "Just drama, man. It's good TV."
Besides being good for the telecast, it was good for Walker with Augusta coming up in nine weeks and the Ryder Cup seven months away. "What has to happen, you just have to learn from this and go forward," Harmon said. "It's a great win. Yeah, it was touchy, but he did what you have to do, and that's all you can say. A win's a win."
This is uncharted territory for Walker, who until starting to work with Harmon two years ago this week at Riviera, was considered a journeyman. The upcoming WGC -Accenture Match Play Championship will be his first WGC event and a good gauge for how he would do at Gleneagles in September.
As for the Masters, that may be a big ask considering he has made only two cuts in the majors. Walker traveled to Augusta with friends at the end of the year. He's gifted with body speed to be long without trying to be long and has a reputation for being a clutch putter, whether it was the five-footer he made to finish No. 125 on the 2009 money list, the series of putts he made on the back nine at the Sony or the closeout at Pebble.
"He's ready for the Masters," Harmon said.
Based on the drama, Walker may not know until he gets there.