News
PGA Tour, Discovery announce $2 billion global, Netflix-style media deal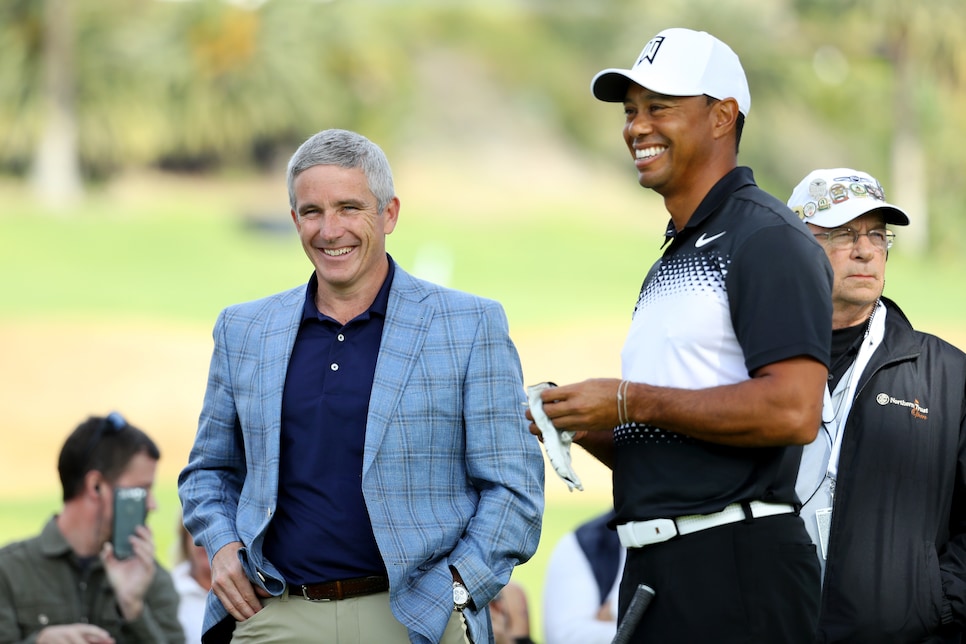 NEW YORK CITY — The PGA Tour announced plans on Monday to form a partnership with Discovery to create a global, multi-platform home for the sport. The deal, beginning in 2019, will include live rights outside the United States to 150 tournaments that operate under the PGA Tour's jurisdiction, including the Players Championship, FedEx Cup Playoffs and the Presidents Cup.
"This partnership aligns very well with the opening of PGA Tour offices in London, Tokyo and Beijing in recent years and will support our long-term objectives of growing the game of golf," said PGA Tour commissioner Jay Monahan in a statement. "It also will deliver more value to our sponsors as it presents a tremendous opportunity to engage new and diverse audiences around the world."
The streaming service will reach more than 220 markets and territories and will act as a Netflix-style direct-to-consumer streaming experience. The platform, which doesn't have a name at this time, will premiere in markets like Australia, Canada, Italy, Japan, Netherlands, Russia and Spain starting on Jan. 1, 2019. Other countries will have to wait for their airing dates, including South Korea (2020), China (2021) and the United Kingdom (2022). Despite this delay, Monahan and David Zaslav, president and CEO of Discovery, singled out Asia has a major target for the product.
Discovery expects to invest more than $2 billion over the 12-year deal, including licensing of the tour's international media rights. Though the Maryland-based company is known for its cable channels like the Food Network, Animal Planet and HGTV, it has been successful in expanding its global sport footprint through the Olympics, securing the IOC's European media rights through 2024 on its EuroSport channel.
"There's no sport more global than golf, and none more local," said Zaslav in a Monday meeting in New York. "The PGA Tour gives us live content for 43 weeks. We will build an ecosystem of golf that will nourish and excite every fan in the world."
Discovery will broadcast the various tour packages on its portfolio of pay-TV and free-to-air channels, digital and short-form networks, while also helping the tour build a platform for non-live and library rights. According to Zaslav, what will constitute non-live product is still being determined, and will ultimately helped shape by consumers.
The announcement comes at an interesting time for the PGA Tour. While the deal does not immediately impact its media rights in the United States with CBS and NBC/GolfChannel, the current contracts end in 2021. The alliance with Discovery constructs a framework with multiple options for the tour to explore when the time arrives.
Regarding future endeavors, Monahan initially downplayed the idea of the tour creating its own network similar to other American sporting entities such as Major League Baseball, the National Basketball Association and the National Football League.
"Discovery has the largest international experience that no one else has," Monahan said. "What they can do for golf, no one can do. We are always seeking how the fan consumes the PGA Tour, and that's where David and his team come in."
Conversely, Discovery also recently struck a deal with BAMTech, the streaming business of Major League Baseball, for a European venture. And as Monahan was quick to point out, this is not strictly a rights agreement.
"This is coming together as partners," Monahan said. "We're going to go out and address our shared needs by a market-to-market basis."