PGA Tour
PGA Tour to hold new tournament at Congaree Golf Club, filling open date left by Canadian Open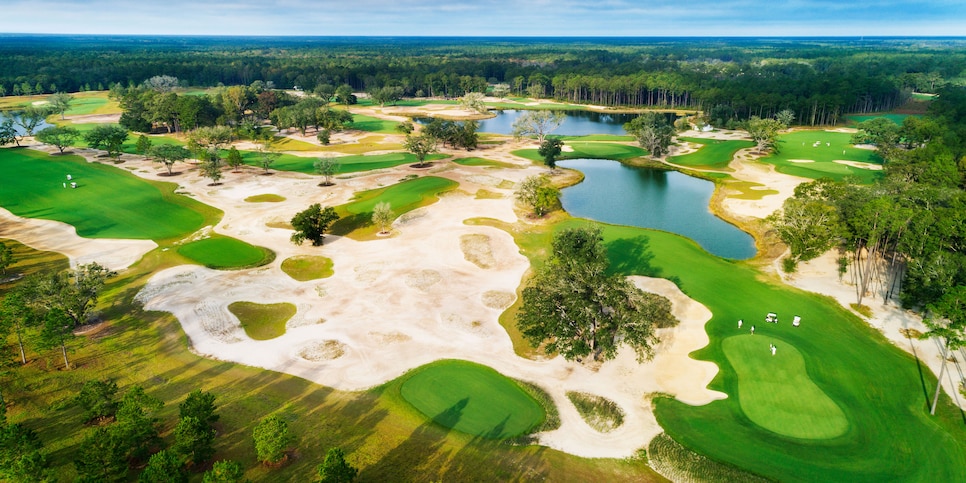 Congaree Golf Club in South Carolina is a Tom Fazio design that was named Golf Digest's Best New course in 2018. (Photo by Edward C. Robison III)
The PGA Tour has already arrived at a solution to fill the open week on the schedule caused by the cancellation of the RBC Canadian Open.
The tour informed players on Tuesday that it will stage a new tournament at Congaree Golf Club in Ridgeland, S.C. An official announcement on the name and sponsor of the tournament is expected in the coming days.
Congaree was a Golf Digest Best New private winner in 2018 and will debut at No. 39 in our 2021-22 America's 100 Greatest courses ranking (the full list will be released in May). Located about an hour inland from Hilton Head, the course was designed by Tom Fazio, who describes the property as a low country version of his Shadow Creek design in Las Vegas. With large oaks and extensively reshaped land among its features, it fits the bill.
"Congaree wasn't a great natural site, though you wouldn't know it by looking," said Golf Digest architecture editor Derek Duncan. "But it has something in abundance that great natural sites do have—and that's sand. Sand forms the cosmetic backbone of the course, sweeping up from deep barrens into sharp, Melbourne-style bunkers. It also provides a pliable material that Fazio and his team used to form ridgelines, slopes and other contours that amplified an otherwise flat property."
Built on the site of Davant Plantation and with the idea of holding a professional tournament from the outset, the ultra-private club was founded by two of the wealthiest men in the country, business magnate Dan Friedkin and the late Houston Texans owner Bob McNair. But Congaree, which will also be No. 2 in Golf Digest's upcoming 2021-22 ranking of the best courses in South Carolina (behind only the Ocean Course at Kiawah Island), isn't just a playground for the wealthy. At its core is a philanthropic element that provides educational and vocational opportunities for underserved youth who have a passion for golf, something that fits well with the tour's own charitable endeavors.
It's also not the first time the tour has had discussions with Congaree. The club previously made a pitch to host the 2025 Presidents Cup before the tour ultimately decided to go with TPC Harding Park in San Francisco.
"It should be an exciting tournament course," Golf Digest's Duncan said. "At over 7,700 yards, the tour can make Congaree as big as they want it to be, but the architecture also offers opportunities for shorter temptations like the par-4 third and par-4 15th—each within reach of driver but protected by reservoirs of sand."
The new tournament will be held June 7-13, when the RBC Canadian Open was originally scheduled to be played.