News
PGA Tour commish: No 'significant or abnormal increase' in distance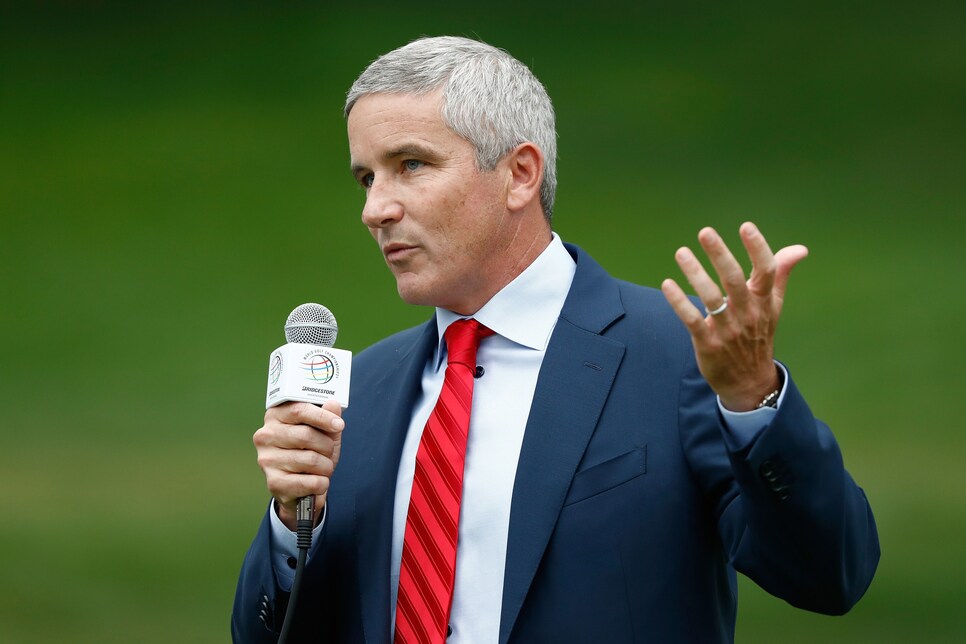 Sam Greenwood/Getty Images
The precincts keep chiming in on Monday morning's release of the USGA Distance Report and perhaps the most important constituency to hear from has spoken. In a letter to PGA Tour players, commissioner Jay Monahan made them aware of the coming report, some of its findings and added his take on some of the data, which did not exactly mirror the USGA's "concern" over distance.
Combined with the statement from PGA of America CEO Pete Bevacqua, Monahan's words would appear to indicate that two of the games most important stakeholders have serious concerns as to whether there is a problem and, if there is, whether something should be done about it.
"Having carefully reviewed the data, we do not believe the trends indicate a significant or abnormal increase in distance since 2003 or from 2016 to 2017," Monahan said. "Rest assured, we will continue to collaborate and share data with the USGA and The R&A—along with other industry stakeholders—in monitoring these trends, as we have since 2003, and are hopeful our perspectives will align."
While Monahan acknowledged the 2.5-yard increase in PGA Tour driving distance from 2016 to 2017, he also cautioned against reading too much into one number. "While this may seem significant when taken in isolation, it has not been uncommon over the past 15 years to see significant gains or losses," he wrote. "Since 2003, there have been three instances where a significant gain was recorded between years, and five instances where the average decreased." Monahan added that since 2007 when the tour started keeping track of player launch conditions, clubhead speed had increased 1.5 miles per hour on average.
"There is a strong correlation between club head speed and the total distance gains seen since 2003," the letter continued. " We believe this increase in clubhead speed is mostly attributable to a combination of factors, such as increased player athleticism and fitness, physical build of the player, enhancements in equipment fitting and the proliferation of launch-monitoring capabilities." Monahan also noted that he has asked the USGA to attend the next Player Advisory Council meeting slated for the week of the Wells Fargo Championship.