Takeaways
An English theme develops at Colonial and Scottie Scheffler's got a Texas-sized chance on the weekend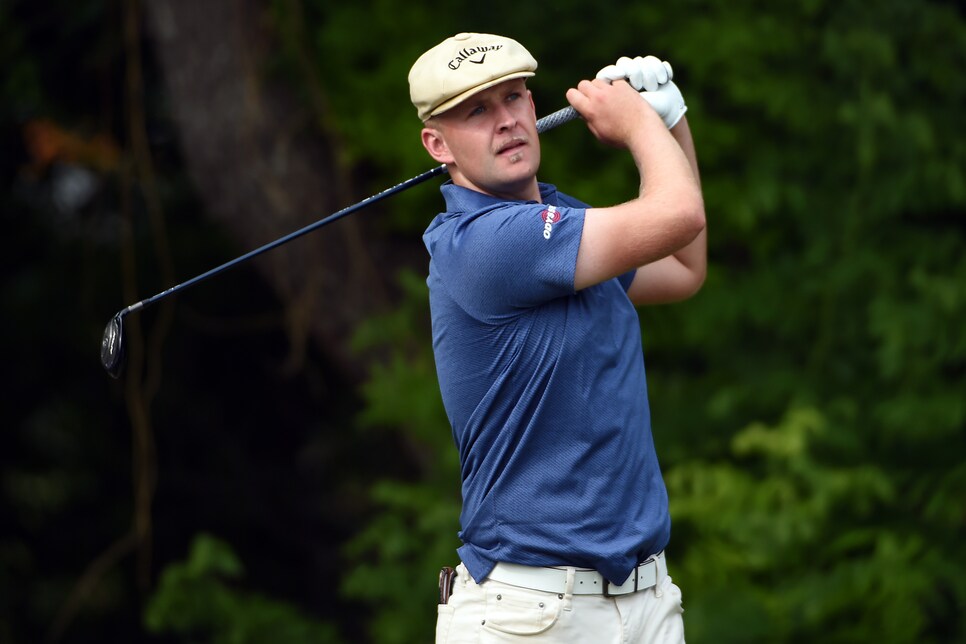 Harry Hall hits his tee shot on the sixth hole in the second round of the Charles Schwab Challenge.
Steve Dykes
An English theme was starting to emerge after two rounds at the Charles Schwab Challenge at Fort Worth's storied Colonial Country Club. There's the leader, Harry Hall, who is from England, and his nearest chaser … Harris English. Sorry, we had to.
After an opening-round 62 at Colonial, Hall, who played at the University of Nevada-Las Vegas, showed no signs of slowing down nor taking off the Ben Hogan-style cap that seems to be contributing to his stellar play through the first two days at Hogan's former home club. Hall carded a 66 at the par-70 Colonial to top the leaderboard at 12 under par.
Hall is a PGA Tour rookie who graduated from the Korn Ferry Tour, where he had won twice, and a quick search through the PGA Tour's media guide reveals Hall grew up playing at West Cornwall Golf Club in England. That's the same club that produced the 22-time PGA Tour winner 'Long" Jim Barnes. Long Jim was an Englishman who won nine championships over a century ago that were considered majors at the time. Among them, he captured four modern professional majors: the 1916 and 1919 PGA Championship, 1921 U.S. Open and 1925 Open Championship. Whether Hall channels Long Jim, or his hat idol, Hogan, who won five times at Colonial, over the weekend, it could be exciting to watch if he keeps his stellar play rolling.
Here are some other notes from round two at the Schwab:
English sat three shots behind Hall at nine under, courtesy of matching his 66. But English's 66 was far more exciting. He made a hole in one at the par-3 eighth using a 9-iron from 170 yards. It was his third career ace on the PGA Tour and first since Round 1 of the 2021 Tour Championship.
"It was just one of those shots where I had to hit a 9-iron really full, and it came off just like I wanted to and luckily went in the hole," a modest English said of the shot, which took two bounces before hopping into the hole as you can see in the video below.
There has been some wonderful contrast at Colonial this week. Before the tournament kicked off, several players, including two-time major winner Collin Morikawa, Max Homa and Sam Ryder, took turns in hitting some of the legendary Hogan's vintage clubs. All remarked that Hogan's 1-iron and driver produced a noticeable fade bias, given Hogan was determined to eliminate the left side of the golf course.
Meanwhile, some very modern technology has also been on display in the form of OnCore golf balls. OnCore is reportedly developing a range of its "Genius" golf ball that will feature a GPS tracking device inside its hollow core, allowing it to pair with a phone app that would help find the golf ball (!) and offer data such as spin rate, carry distance, and so on.
While that's not available yet, OnCore's Genius G50, targeted toward putting analysis, was making the rounds at Colonial this week. As Golf WRX's Andrew Tursky reports, "Multiple PGA Tour players were spotted testing the golf balls on the Colonial Country Club putting green. For now, the new Genius "G50" prototype – meaning "under 50 yards" – is only for putting, and along with the app, it records data points such as spin, skid launch and velocity. Although the company is still making tweaks to the golf ball's construction, one top-50 PGA Tour player told me after testing the ball at Colonial, 'This is going to be huge.'"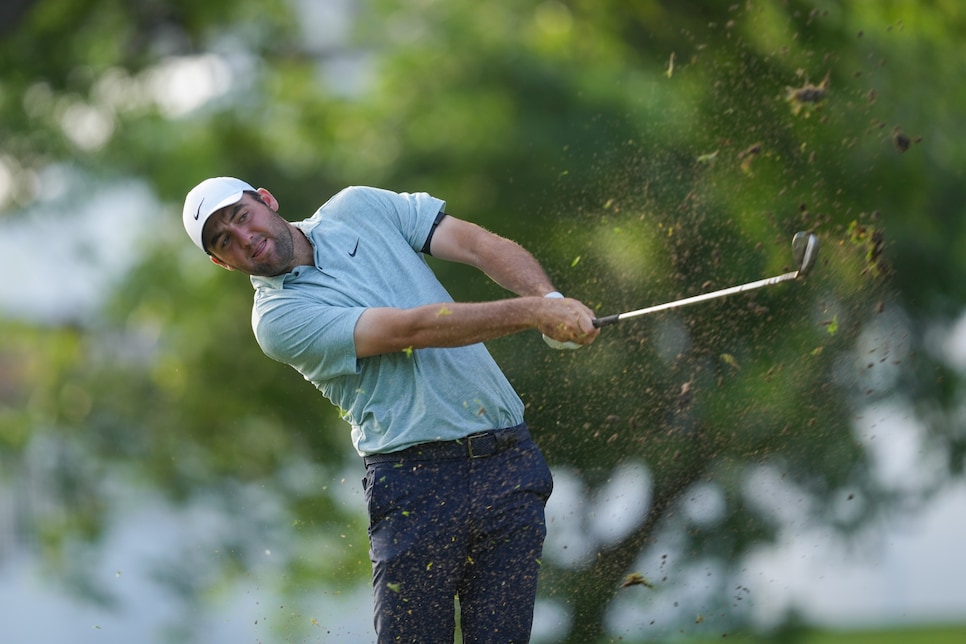 Scottie Scheffler hits his second shot on the fairway of the 10th hole in the second round.
Jason Allen/ISI Photos
Scottie Scheffler is the World No.1 and lives in Dallas, so it's not surprising to see the winner of two PGA Tour events already this year lurking on the leaderboard.
He's six under par and six back of Hall courtesy of two 67s. Scheffler predicts the greens will get spicy over the weekend, which he feels will pay into his hands.
"I feel like I played really well; a lot of good iron shots, a lot of good drives and I hit a lot of good putts today," the 2022 Masters champ said Friday. "Just the greens got pretty chewed up this afternoon, and the grass is dying already. I think they're kind of taking advantage of the fact that they're blowing up the greens on Monday [for a renovation], so they're pushing them as far as they can."
Greens on the borderline? We like it.