News
With pro-ams and protocols in place, senior circuit excited for return at Ally Challenge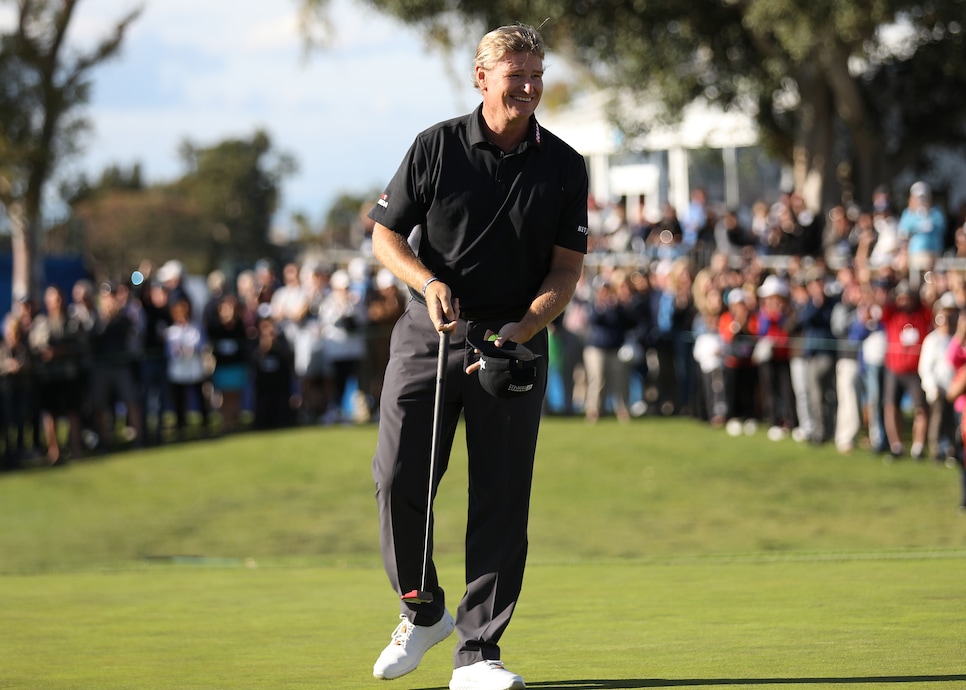 Ernie Els celebrated his first PGA Champions Tour win at the Hoag Classic in Newport Beach in early March.
Jed Jacobsohn
Ready or not, as they say, the PGA Tour Champions returns from its COVID-19 hiatus this week, and put to a vote, ready likely wins in a landslide.
"I've been telling everybody the last couple of weeks, the Ally Challenge week can't get here fast enough," tour President Miller Brady said on Monday. "It's here. It's super exciting."
Driving some of the excitement is that three PGA Tour winners, two of them major champions, turned 50 during the tour's hiatus and are entered in the Ally Challenge at Warwick Hills Golf and Country Club in Grand Blanc, Mich. The threesome—Jim Furyk, Mike Weir and K.J. Choi—will be paired together in the first round on Friday.
COVID-19 threw up a stop sign for the PGA Tour Champions not long after the Hoag Classic in Newport Beach in early March. Since then, 11 tournaments have been canceled, including the U.S. Senior Open and the KitchenAid Senior PGA Championship.
Twelve events remain on the schedule in the calendar year, including next week's Bridgestone Senior Players Championship at Firestone Country Club in Akron, Ohio.
The Ally Challenge will be played without fans, as the PGA Tour has done with its tournaments since resuming play in June. But unlike the PGA Tour, the PGA Tour Champions will resume with its practice of playing pro-ams, two of them, on Wednesday and Thursday.
"The reason why is that pro-ams are paramount to our business on our tour, the pro-am experience for our title sponsors," Brady said. "We're different than the PGA Tour. We're not on network television. We're on the Golf Channel. With the pro-ams, we're providing as much value for our title sponsors as possible, when they're comfortable with it.
"We are testing every amateur. We've also sent out communications to the amateurs, that it's going to be different. We're going to play golf and do it in a social-distance manner. To me, it's no different than everyone playing at their local clubs all over the country. It's fun, but in a safe manner."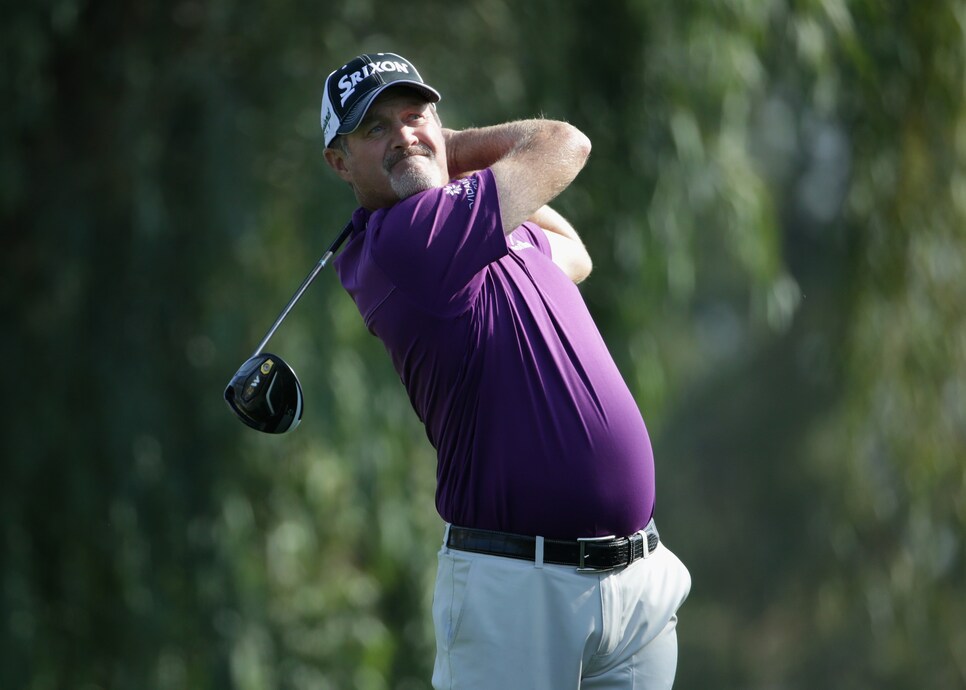 Jerry Kelly is defending champion of the Ally Challenge.
Jeff Gross
On the safety front, the PGA Tour Champions has taken its cue from the PGA Tour.
"We've done a good job in learning form the PGA Tour on their return, knowing there would be some changes made," Brady said. "We'll have the same on-site testing, all players, all the caddies, the club staff that are inside that bubble, making sure we're taking all precautions. When players register, they'll be handed a bag with face masks and sanitization wipes.
"Our guys being an older demographic, there's a heightened awareness around it. There will be a home test for every one of these guys before they arrive on-site. Also, when they get here they'll immediately be tested again. Golf is an outdoor sport. It's proven to be safe. Our guys are healthy. But every market where we play, we'll have on call a local physician and an infectious disease doctor.
"Here's what I've been telling our guys. We're thrilled to be back out here, but we're also on a high wire and we can't afford to fall. We all have to do the right thing. Not only here at golf course, but also at night. Get takeout food, don't go to bars or restaurants."
Among the changes in competition made in the wake of so many tournaments canceled is that the tour has increased its fields from 78 to 81 players and that the 2020 season will be combined with the 2021 season.