PGA Tour
Tour player got a 'kick in the butt' from his wife before shooting course-record 63 in Canadian Open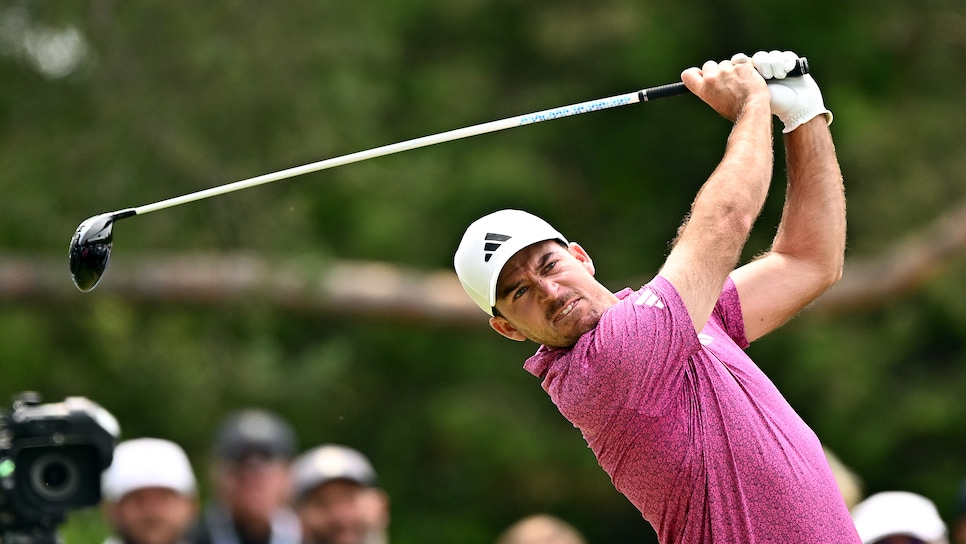 Canadian Nick Taylor hits his drive on the 12th hole during the third round of the RBC Canadian Open.
Minas Panagiotakis
After an opening-round 75 that left him tied for 120th, it's understandable that Nick Taylor—one of the Canadians hoping to end a nearly 70-year drought of countryman winning the RBC Canadian Open—would be a little down. But not for long.
"My wife gave me a talking to Thursday night," Taylor said after a course-record 63 in the third round that vaulted him 46 spots and into first place by two shots when the round finished. "I was just kind of getting in my own way. I probably had a very poor attitude when I was hitting shots that maybe weren't ending up like I wanted to. I knew my game was there, but a little kick in the butt didn't hurt."
Teeing off 4 hours and 45 minutes ahead of the leaders, Taylor's race up the leaderboard (race being appropriate as Taylor's Twitter bio reads: "Top 5 Mario Kart N64 Players in the world.") was aided by a front-nine 31 that included a 35-foot birdie putt at the third and knocking in a five-footer at the ninth to cap off the ninth after a well-struck tee shot on the par 3. On the back nine, a 25-footer fell at the 13th and an up-and-down birdie at 18 finished off the day. Only once did he go three holes without a birdie, that being on Nos. 15, 16, 17. Over his last 39 holes, he has but a single bogey. Impressive.
Taylor's round is the kind that opponents of the proposed golf ball roll back revel in. Taylor hit just two tee shots over 300 yards (with a long of 314) while having six tee shots under 270 yards. For the week he's averaging just 285.9 yards off the tee.
Everywhere else, however, Taylor—a two-time winner on the PGA Tour—was money. For the round he ranked first in strokes gained/approach the green, around the green and tee to green and second in strokes gained/putting (needing just 23 for the round).
As for representing all of Canada, Taylor doesn't shy from the responsibility. You'd expect no less from a man who marks his ball with a Toonie (a $2 Canadian coin) and carried the Olympic torch for a bit during its journey across Canada for the 2010 Vancouver games.
Taylor sounds ready for tomorrow. "I don't think I'm afraid of the moment, per se," he said. "When I get in that chance, I feel like I just keep my head down, let my game keep doing what it's doing. … I'm going to try to win a golf tournament and adding the extra pressure if you want to call it of being a Canadian and winning the RBC Canadian Open would be on top of that. But I think I'm ready for the moment."