PGA Tour
PGA Tour senior official resigns ahead of playoffs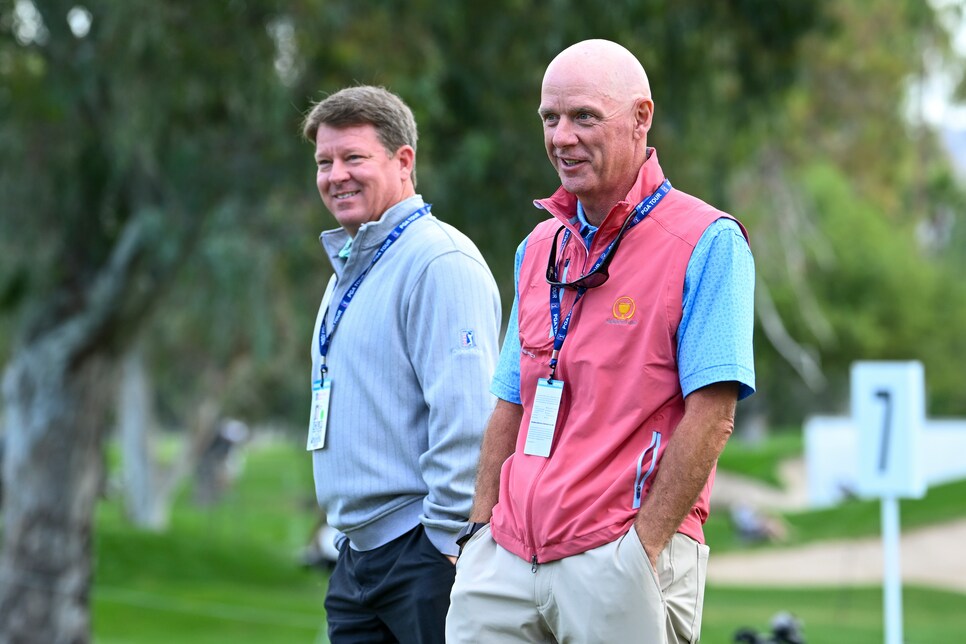 Andy Pazder (right) shown visiting the PGA Tour Champions' 2022 Charles Schwab Cup Championship.
Tracy Wilcox
A high-ranking member of the PGA Tour's leadership team unexpectedly resigned Tuesday.
Andy Pazder, the tour's chief tournaments and competitions officer, is no longer with the circuit. Players were informed via email Tuesday at the FedEx St. Jude Championship, prior to a scheduled 4 p.m. players meeting.
Just two weeks ago, Pazder was put on two important committees as the tour continues to forge a partnership with Saudi Arabia's Public Investment Fund. The first was a task force that would decide what type of penalities, if any, players who defected to LIV Golf would face should they want to return to the tour. The task force was made up of Pazder, Jason Gore and Neera Shetty. Additionally, Pazder and Gore were charged with assembling a compensation package for players who remained loyal to the PGA Tour against the LIV threat.
Pazder was also one of the instrumental figures in helping the tour return from the COVID-19 pandemic sabbatical in 2020. He joined the PGA Tour in 1989 and worked under three commissioners.
According to the memo, Tyler Dennis, who had served as the tour's acting commissioner in the health absence of Jay Monahan, will assume Pazder's responsibilities.