The Loop
PGA Tour agrees to USGA anchoring ban
A vote by the PGA Tour Policy Board on Monday affirmed that the rule banning the use of anchored strokes, announced in May by the U.S. Golf Association and The Royal & Ancient Golf Club of St. Andrews, will be implemented by the PGA Tour beginning in 2016.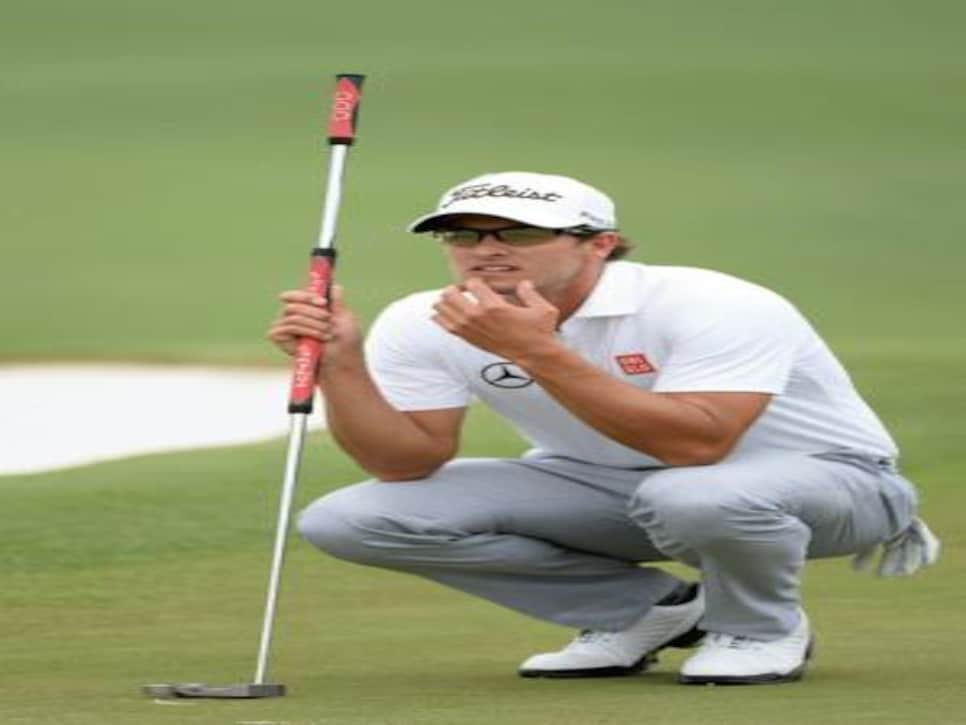 The PGA Tour's decision ends weeks of speculation and months of discord over golf's ruling bodies' efforts to remove from the game the style of putting that has been used to win each of golf's four majors within the last two years. Since the 2011 PGA Championship, an anchored putting stroke has been used to win four major championships (Keegan Bradley, 2011 PGA; Webb Simpson, 2012 U.S. Open; Ernie Els, 2012 British Open; Adam Scott, 2013 Masters).
"In making its decision, the Policy Board recognized that there are still varying opinions among our membership, but ultimately concluded that while it is an important issue, a ban on anchored strokes would not fundamentally affect a strong presentation of our competitions or the overall success of the PGA Tour," Commissioner Tim Finchem said in a statement released this afternoon. "The Board also was of the opinion that having a single set of rules on acceptable strokes applicable to all professional competitions worldwide was desirable and would avoid confusion."
The latter sentence is likely a reference to the fact that both the European Tour and the LPGA Tour immediately endorsed the ruling bodies' ban on anchoring shortly after it was announced in May.
In perhaps a nod to the PGA of America and its president Ted Bishop, who had long decried the anchor ban as potentially having a negative effect on participation, the tour's statement also included a request that the anchor ban only apply to recreational golfers after an extended period of time, similar to the implementation of the rule rolling back grooves, which is set to apply to all golfers no earlier than 2024.
"The Policy Board continues to believe that extending the time period the ban would go into effect for amateurs would be beneficial for golf participation and the overall health of the game," Finchem said.
There was no immediate comment from the USGA, but the PGA of America also released its decision today to adopt the USGA rule for its "spectator events," (PGA Championship, Senior PGA Championship, Ryder Cup), as well as PGA member events. It also stated that it believed the implementation of the rule for amateurs and recreational players be extended.
In a statement, Bishop reiterated his concerns about the rule's potential negative effect.
"While we agree to implement Rule 14-1b, we continue to feel strongly that the amateur player needs a longer period of adjustment to this Rule," Bishop said.
However, in the USGA's original explanation of the reasoning behind the rule, it seemed to make clear that any extension or bifurcation of the rules in this area would be contrary to what it sees as a fundamental playing rule in the game.
Specifically, included in the explanation is this language from the USGA: "Defining the parameters of how to prepare for and make a permissible stroke is at the core of the game and is reflected in many different Rules. To create a Rule that enabled one set of players (non-elite amateurs), perhaps 30-40 times a round, to make strokes in a manner that is deemed to provide a potential advantage, while prohibiting another set of players (professionals/elite amateurs) from doing so, would be to start well down the road of creating two different games. This Rule is a central example of the importance of defining golf as a single game with a single set of Rules."
"For the same reasons, we disagree with the suggestion that anchoring be implemented, either permanently or temporarily (e.g., for an extended period such as 10 or 20 years), through an optional condition of competition that could be adopted at the discretion of any individual club or Committee in charge of an individual competition. Conditions of competition are intended to address specific narrow topics that relate to how a particular competition is conducted, not to permit a competition-by-competition variation in core Rules on how to play the game. An optional condition of competition that would allow a most fundamental aspect of golf -- how a stroke must be made -- to become a permanent or decades-long matter of choice and to differ from competition to competition and possibly from club to club would create chaos and confusion, and undermine the integrity, traditions and global appeal of the game. And to the extent that the suggestion of an optional "condition of competition" was intended to apply anchoring only to elite players, whether permanently or temporarily (so that the effective date of the anchoring prohibition would be delayed for recreational and other non-elite players), it would essentially create bifurcation by a different name."
Although there are no firm statistics on the use of anchored strokes by recreational golfers, it is clear anecdotally that interest in purchasing long and mid-length putters has declined dramatically since the USGA began reviewing anchored putting 18 months ago. Currently, in a typical PGA Tour event, the number of players using an anchored stroke is between 10-15. Estimates from golf research firm Golf Datatech suggest among average golfers less than 5 percent use an anchored stroke. A Golf Datatech survey in January suggested 60 percent of serious golfers supported a ban on anchoring.
The Commissioner also suggested that while the tour was in favor of a single set of rules, it held out the possibility that it could break with USGA rules in the future.
"It is not inconceivable that there may come a time in the future when the Policy Board determines that a rule adopted by the USGA, including in the area of equipment, may not be in the best interests of the PGA Tour and that a local rule eliminating or modifying such a USGA rule may be appropriate.
"Having said that, we have been assured by the USGA that as we move forward we will have an open and effective communication process on a number of levels with the decision makers at the USGA. Importantly, this will include a direct communication between the Commissioner's Office of the PGA Tour and the USGA Executive Committee. Such a process will ensure that our position is fully and carefully considered and addressed in future rule making."
The USGA's Joe Goode, managing director of communications, had nothing to say regarding  the tour's decision: "We have no comment at this time."
Several players who use an anchored style of putting, including Bradley, Scott, Tim Clark and Carl Petterson, have openly opposed the anchoring ban. Harry L. Manion is a Boston-based lawyer who is representing the group. He declined comment, saying he is "awaiting speaking to my golfers."