The Loop
PGA of America places fate of world's best golfers in hands of sadistic fans
The PGA Championship is the year's fourth major, both in schedule and in the minds of the players. But this year it will become the first major to have true fan involvement.
Not that it should cause too much buzz, but fans will have a chance to vote on the final-round hole location for Oak Hill's par-3 15th hole. The fan voting will be hosted by Jack Nicklaus, who won his fifth and final PGA Championship at the Rochester, N.Y., course in 1980.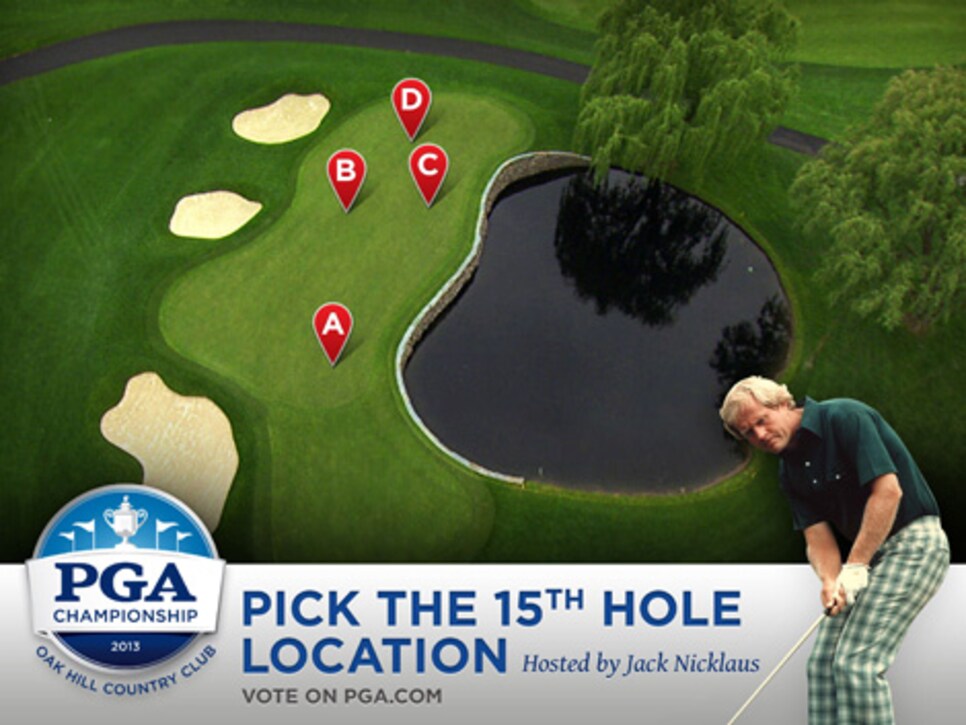 "The opportunity for fans to take part in the interactive 'PGA Championship Pick the Hole Location Challenge' is part of a new era in engagement that connects golf fans with the Season's Final Major in a fun and dramatic way," said PGA President Ted Bishop. "The PGA of America is delighted to present this innovative opportunity, as we believe this is the first time that consumers have been able to make a direct and significant impact on a global sports arena. We are honored that the legendary Jack Nicklaus will lead fans as their host and teacher in understanding the nuances that the greatest players in golf consider and think about regarding course setup and hole locations -- and the effect their selection will have on the eventual outcome of the 95th PGA Championship."
Fans are encouraged to visit PGA.com from July 23-Aug. 10 in order to vote for one of four possible hole locations on the 181-yard hole during Sunday's final round on Aug. 11 (shown above). Of course, those four have been selected by the PGA of America, meaning devious fans can't just say they want the pin cut one yard over the water hazard that guards the green. A video with Jack Nicklaus goes more in-depth about the four options.
While this may be aimed at fans, nowhere does it say players are excluded from participating as well. Phil Mickelson was very vocal about a few of Muirfield's pin positions on Thursday of the British Open, which he ultimately won. Always looking for any edge, maybe Lefty will stuff the ballot box for that right-side location. . .