News
Back For A History Lesson At Oak Hill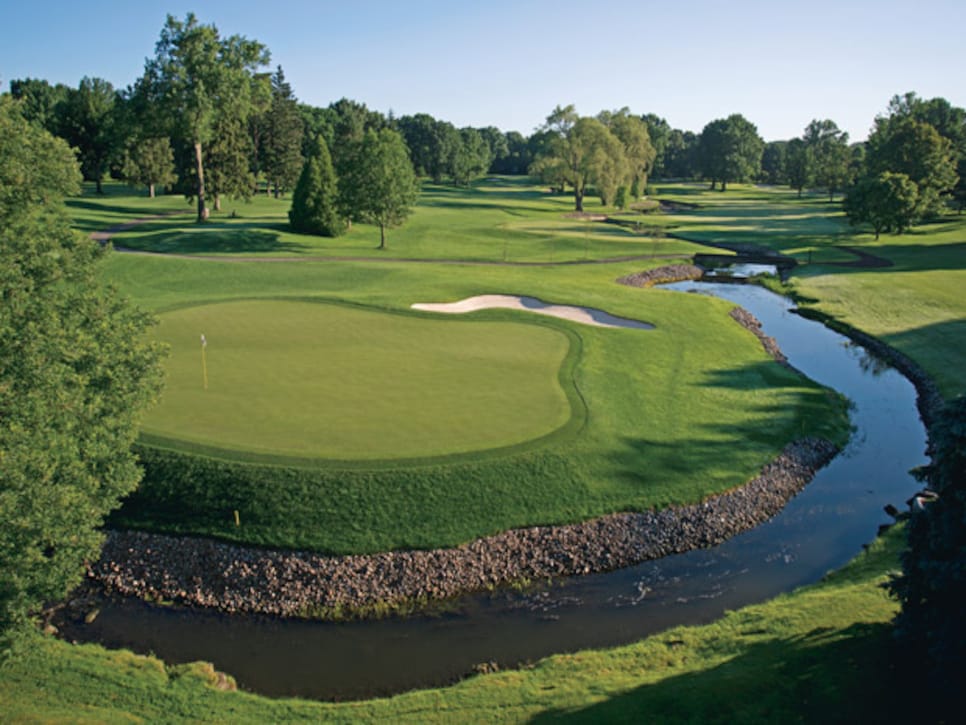 No. 6 / 175 yards / Aced four times in Round 2 of the 1989 U.S. Open
Oak Hill Country Club knows all about major championships. It's the only club that has attracted the U.S. Open, PGA Championship, Ryder Cup, U.S. Amateur, U.S. Senior Open and Senior PGA Championship, and its East Course adds another chapter with the 95th PGA Aug. 8-11 in Rochester, N.Y.
, ranking as high as 10th in 2003-'04. It's also one of just 24 courses included in every one of our national rankings during the past 48 years. And it's tough: Among the 100 Greatest, it ranks ninth in Resistance to Scoring. Ben Hogan once called Oak Hill's first hole, now a 460-yard par 4, the toughest opening test in golf. The best winning total in Oak Hill's three U.S. Opens and two PGAs has been six under par on a par-70 course that will play at 7,163 yards for this year's PGA, only 261 more than the 1956 Open yardage of 6,902.
But great players can shoot great scores at Oak Hill. The course record of 64 was set by Hogan in 1942 and tied by Curtis Strange in the 1989 U.S. Open, when he had 10 3s on his card in the second round and went on to become the first back-to-back winner of the Open since Hogan. In 1968, Lee Trevino became the first player to break 70 in all four rounds of the Open. And in the 1980 PGA, Jack Nicklaus won by a record seven strokes but was the only player to beat par.
One other key stat: Oak Hill ranks 26th among America's 100 Greatest for Memorability in design. It's known for major memories as well: The 1956 U.S. Open included four rulings that had the USGA spinning in a way that might sound familiar after Masters officials gave Tiger Woods a two-stroke penalty instead of a disqualification this year. Oak Hill is also where Arnold Palmer whiffed a crucial putt and owned up to it when no one else realized it.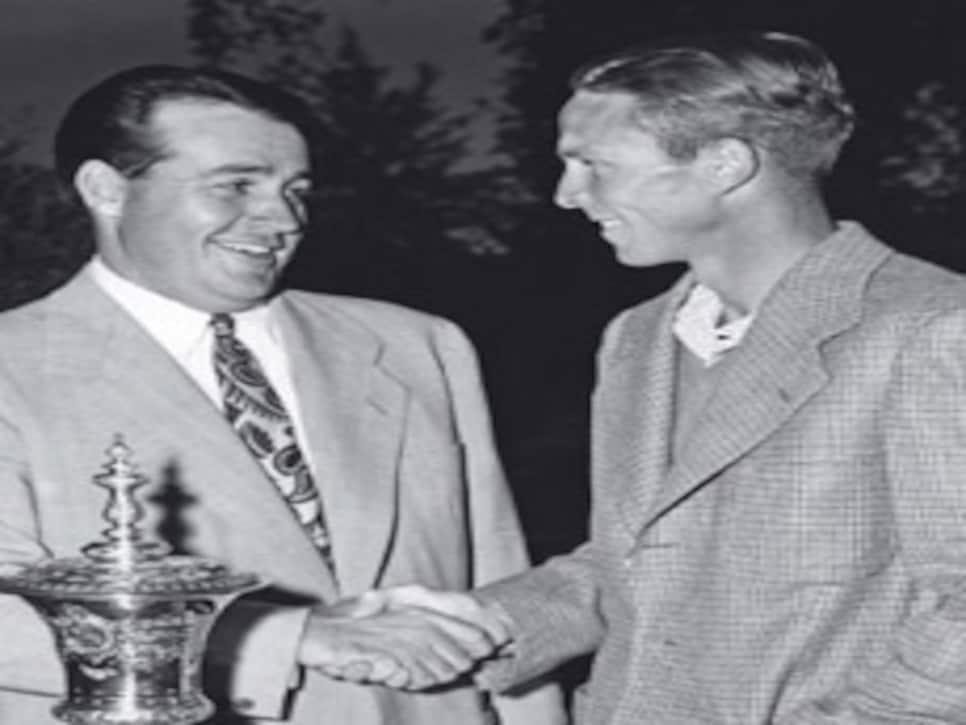 Charlie Coe won the first of his two Amateur titles by beating Bill Campbell, 8 and 7, in the semi-finals and Rufus King, 11 and 10, in the most one-sided final in the event's history. Arnold Palmer, 19, lost in the third round, four years before winning the Amateur.
Cary Middlecoff overcame two 7s in the first two rounds to win his second Open, by a stroke over Julius Boros and Ben Hogan before a paid crowd of 12,714 on the final day. On the 71st hole, Hogan stopped before attempting a 30-inch par putt, set himself again, and then missed.
There were a number of curious rulings that week. In the first round, Walker Inman Jr. showed up 12 minutes late for his tee time but was given a two-stroke penalty rather than being disqualified. Writing in the USGA Journal, executive director Joe Dey said that though Inman breached Rule 37-5 ("Players shall start at the times and in the order arranged by the Committee"), Rule 37-7 (requiring play without undue delay) called for a two-stroke penalty "unless there is repeated offense." Added Dey: "Players who are seriously late will be disqualified." Inman played with a marker after the rest of the field had teed off.
That same day, reigning PGA champion Doug Ford hit his second shot at the 10th and thought it went into a creek. Ford took a drop, but then was told that his original shot had skipped across the pond and was on the bank on the other side. Ford abandoned the dropped ball and played the original (even though he had already abandoned his first ball and should have played the one he had dropped). The committee gave him a two-shot penalty instead of a disqualification. Wrote Dey: "A two-stroke penalty seemed adequate . . . especially since the only strokes Ford made on the hole were with the ball he drove from the tee."
Also in Round 1, Masters champion Jackie Burke Jr., miffed after bogeying the 18th hole, quickly signed a scorecard that showed him with a 4 at 18 instead of the 5 that he made. After seeing his score posted as a 75 instead of the 76 that he shot, Burke pointed it out to officials, but he got a two-stroke penalty instead of a disqualification. "They said I acted like a gentleman, so they bent the rule," Burke said. The next morning, Gil Cavanaugh reported that on the previous day he also signed for an incorrect score. Instead of being disqualified, Cavanaugh also was penalized two strokes. Wrote Dey: "The USGA is reviewing its policy . . . committees would be well advised not to modify the penalty when the intention of the player is in serious question, or when the player does not correct his error promptly, or when the interests of other players may have been affected, as, for example, a qualifying round."
The last incident of Day 1 came after three-time British Open champion Henry Cotton raked at a putt for a bogey 5 while paired with Middlecoff and Jimmy Demaret. "What would you say he made?" Demaret asked Middlecoff, as Dan Jenkins reported in a 1968 story for Sports Illustrated. "Oh, 6 or 7," Middlecoff replied. Cotton said he made a 5.
"I say I didn't have a go at it, but the other two chaps say I did," Cotton said. Demaret's reaction: "I'd guess he had two or three goes at it." Cotton was credited with a 5. Wrote Dey: "Since the Rules assign the scoring to the marker and the player, the Committee accepted Cotton's score as posted."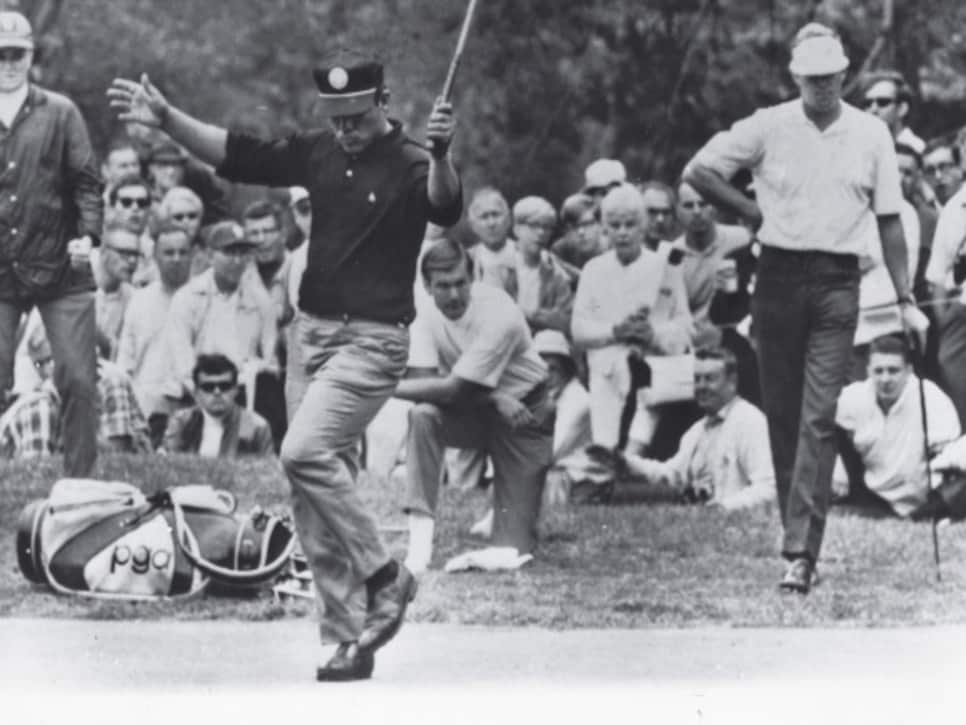 A year after finishing fifth in the Open at Baltusrol, Lee Trevino shot 69-68-69-69 to win his first major title, four strokes ahead of runner-up Jack Nicklaus. Trevino spent the week with a local couple and their five children, then ages 3 to 13, in a three-bedroom, one-bathroom home.
Jack Nicklaus' second major victory of the year and his 17th as a pro came after a putting tip from son Jackie on the Monday before the PGA. "He said, 'Dad, why are you quitting at the ball?' " Jack recalled after his fifth PGA victory tied the record by Rochester native Walter Hagen. Said Ed Sneed of Nicklaus winning two majors at age 40: "Who does he think he is, Jack Nicklaus again?"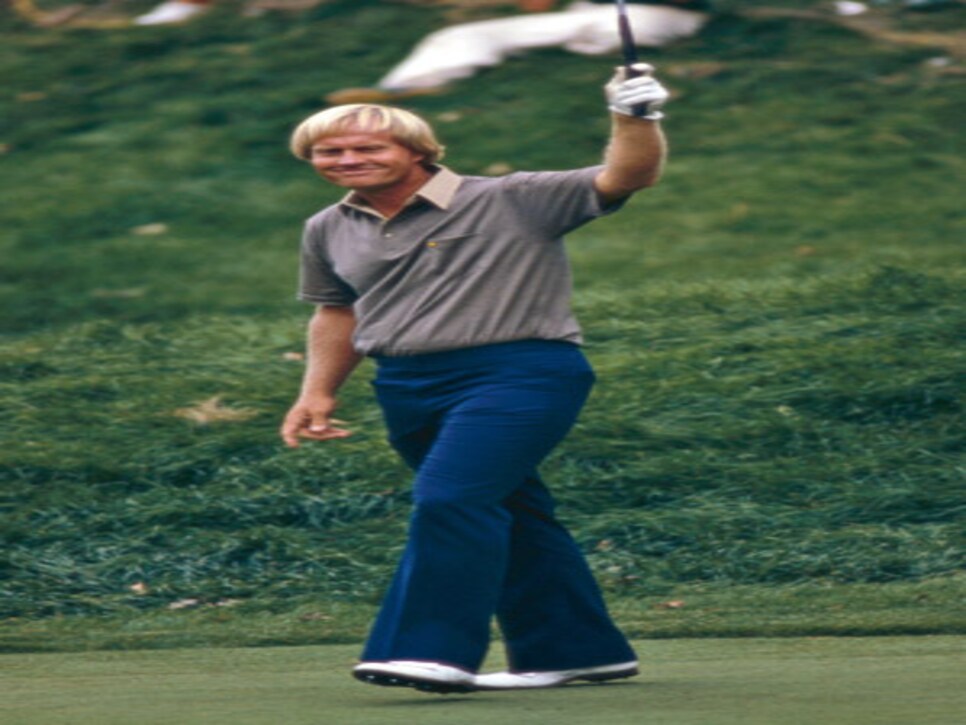 Photo: Golf Digest Resource Center
Miller Barber won after Arnold Palmer stubbed his putter and whiffed a tap-in and made a double bogey at the par-3 15th hole in the final round. "I hit about a quarter-inch in back of it," Palmer said. "There was only one person who knew it. [Barber] looked stunned when I told him I made 5."
CURTIS STRANGE'S DOUBLE__
Curtis Strange, who won the year before at The Country Club, became the first man to repeat as Open champion since Ben Hogan in 1950-'51. "Move over, Ben," Strange joked. Tom Kite led by three strokes in the final round before driving into a creek on the fifth hole and making a triple bogey after missing an 18-inch putt. In the second round, there were four holes-in-one at the sixth hole, then 159 yards. First came Doug Weaver at 8:15 a.m., then Mark Wiebe at 9:25, Jerry Pate at 9:50 and Nick Price at 10:05, all with 7-irons.
Philip Walton of Ireland was 3 up against Jay Haas with three holes to play and lost the next two holes but clinched the cup with a bogey 5 after Haas popped up his tee shot on the 18th. The Europeans rallied from a two-point deficit on the final day to win, 14½-13½.
Hank Kuehne, then 22, won on the 35th hole over Tom McKnight, 44, to become, with sister Kelli, part of the only brother-sister combination to win Amateur titles. (Brother Trip lost to Tiger Woods in the 1994 final at Sawgrass.)
Leading Chad Campbell by a stroke and 175 yards from the 72nd hole, Shaun Micheel hit a 7-iron that stopped two inches from the cup. Some of the other finishes that year: Tim Clark (3); Ernie Els, Jay Haas (T-5); Jim Furyk (T-18); Luke Donald, Adam Scott, Phil Mickelson (T-23); Tiger Woods (T-39); Sergio Garcia, Lee Westwood, Justin Rose (MC).
A measure of revenge for Jay Haas after the 1995 Ryder Cup, though his seven-over-par total was the highest winning score in relation to par in the history of the tournament.