The Loop
That time Mike Ditka played and 5 other things you probably don't know about the PGA Grand Slam of Golf
The PGA Grand Slam of Golf is being played this week in Bermuda. In case you forgot in all this wraparound season madness, it's the one in which the winners of the year's four major championships -- well, at least, in theory -- play two rounds of golf and split a hefty purse. You probably know all that, but there's a good chance you don't know these other facts about this annual event.
1. Mike Ditka once played
Yep, that Mike Ditka. The famed Super Bowl winning coach of the Chicago Bears was a last-minute substitution for an ailing Curtis Strange at Kemper Lakes GC in 1990. Ditka, a 7-handicap at the time, didn't turn in a card, but was a crowd favorite at the Chicago-area course. Andy North, another alternate, won the event. Speaking of Kemper Lakes. . .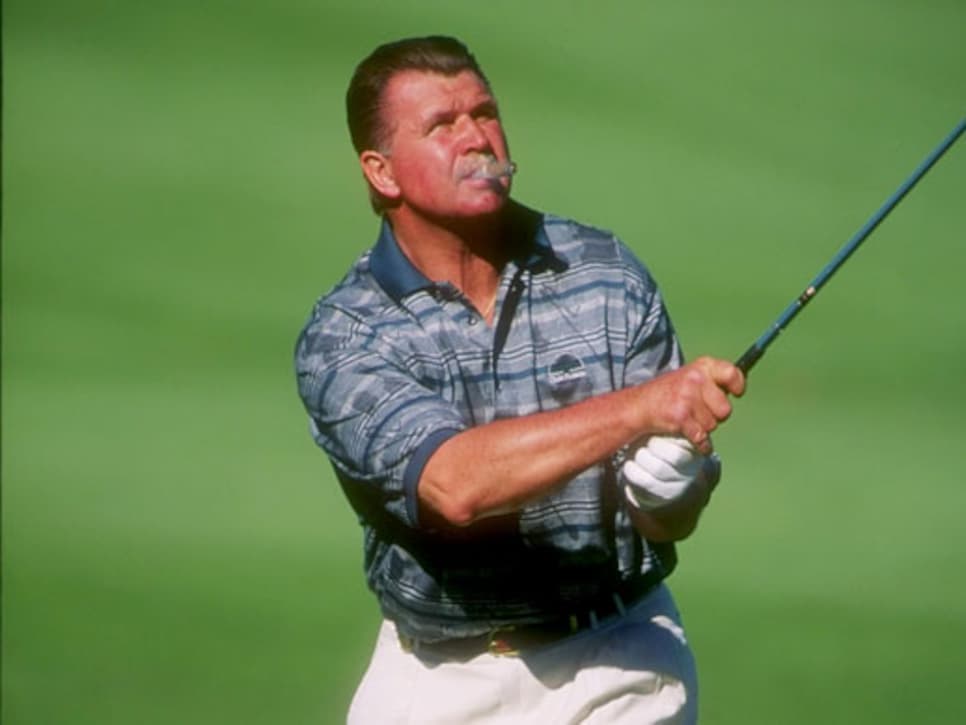 2. They played this off-season event in Illinois?
Uh-huh. Four times to be exact (1986, 1988-1990). Not too surprisingly, the less-than-ideal weather produced less-than-ideal scoring conditions. In those four events, only Larry Nelson broke 70 with a 69 in 1988. And Ditka wasn't the only participant to not post a score. Greg Norman didn't turn in a card in 1989 when Curtis Strange won with a 73.
3. Phil Mickelson shot his lowest round ever
The scores are usually lower when this event is played in a tropical location. Such was the case at Poipu Bay in Hawaii, when Mickelson shot 59 in the second round. He missed a nine-footer for eagle and a 58 on the final hole, but still won his only Grand Slam title.
4. Tiger has been at his most dominant
Woods has great records at most events he's played, but it's tough to top what he's done in this one. After finishing second to Ernie Els in his debut in 1997, Woods won his next seven attempts. Seven for eight! That would be a great free-throw percentage. In 2002, Woods shot 66-61 to set the tournament record and win by 14 shots.
5. The format hasn't always been 36 holes of stroke play
Beginning with the inaugural playing of the event in 1979 at Oak Hill in Rochester, N.Y. (again, what were they thinking with the weather?), the Grand Slam was 18 holes of stroke play until it changed to 36 in 1991. It's been that way ever since, save for two years (1998 and 1999) of match play. Woods (surprise) won both times.
6. Alternates have the most success
The guys that get in because someone wins more than one major or a marquee name chooses to skip actually fare better than the guys who earned their way into the event. In the 19 years that at least one alternate has received a spot in the four-man field, an alternate has won eight times. That winning rate (42 percent) crushes any of the four major winners. Masters champs have been the next most successful with nine wins in 27 tries (33 percent).