News
PGA Championship 2020: Tiger and Long John and the rationale for a pick that is sure to go wrong again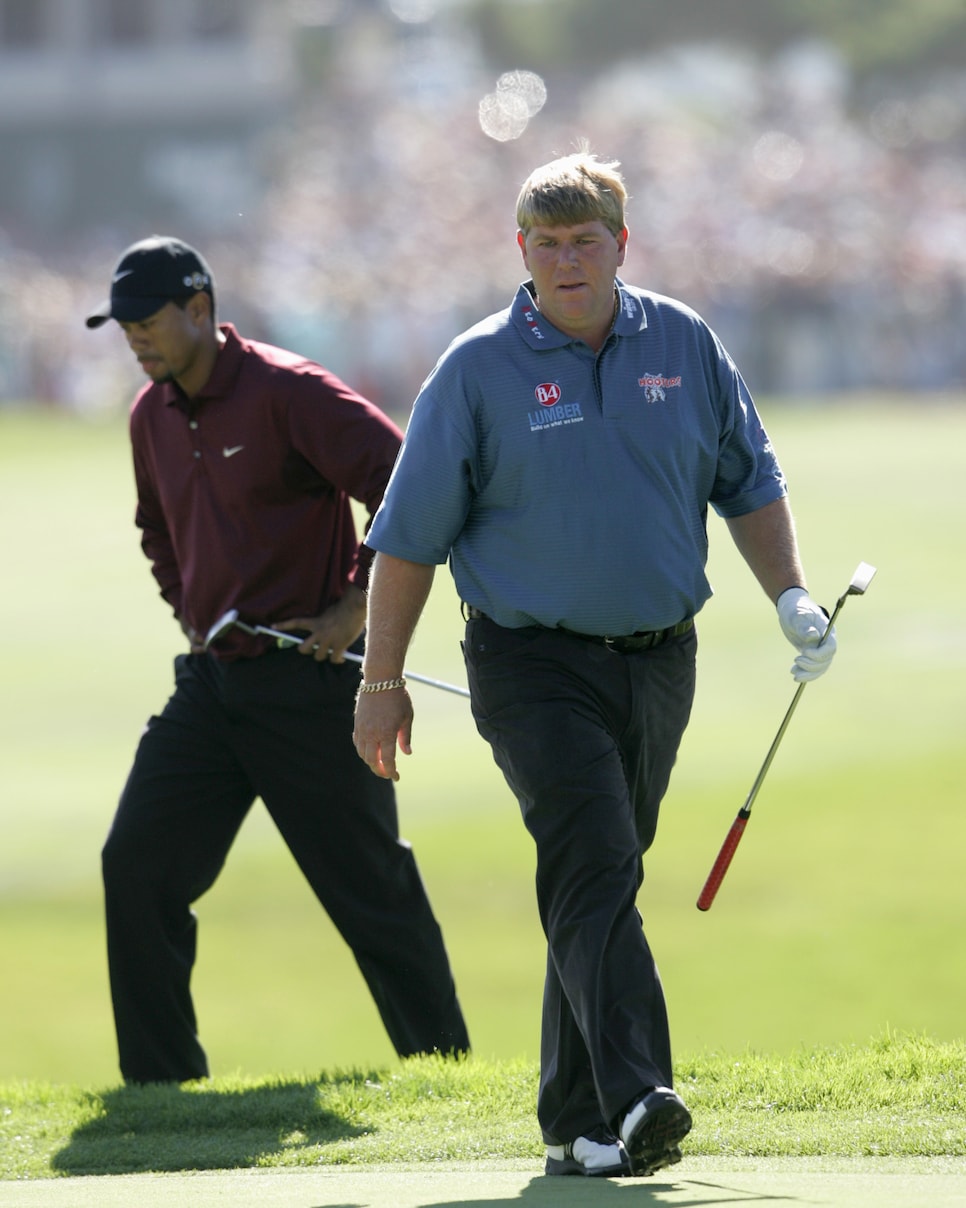 John Daly and Tiger Woods during the final round of the 2005 WGC American Express Championship at Harding Park.
Justin Sullivan
There was a time, the song goes, when hope was high and life worth living. There was no ransom to be paid, No song unsung, no wine untasted. I dreamed a dream in times gone by, the song says.
That time, friends, that dream was 2005. Why? Because it was the last time a stroke play event for the world's best players was played at TPC Harding Park, that remarkable venue of cypress trees and chill winds off Lake Merced and the throaty huzzahs of the working man. [Note: Huzzah is an archaic term for what we politely know now either as "Bababooey" or in some Eastern dialects "Mashed Potatoes."]
Here was a tournament that time cruelly has forgotten but shouldn't have. Just click on YouTube to catch the highlights of the remarkable 1812 Overture of a final round in the 2005 WGC-American Express Invitational that saw Tiger Woods and sweet-Mary-Mother-of-God John Daly throwing haymakers all the way into a playoff. You're transfixed as Nick Faldo and Paul Azinger fill the broadcast with insight and humor and Hamilton-like repartee that reminds you how that old ABC Golf team with the OG Judy Rankin and the graceful Andy North and the unflappable Mike Tirico was as close as TV golf gets to the Howard Cosell/Dandy Don Meredith/Frank Gifford Monday Night Football carnival.
That epic, lost to the protein shakes, launch monitors and flat front performance fabric shorts of now, eventually ended in the worst possible way, a gacked two-footer that wasn't going in the moment Long John settled into it like a rodeo clown dodging a Brahma-bull-bashed barrel. Like the song says, Then it all went wrong.
I sing not with Anne Hathaway's soul-crushing regret [but jeepers, man, that performance will rip your heart out like a Sarah McLachlan ASPCA ad interrupting a Zoom webinar on sea level rise], but more wistfully of 2005 and Tiger's mastery and Daly's majesty to let you know that I've hit upon the perfect formula for picking the victor of this year's PGA Championship. In a year decimated with regret and uncertainty and undeniable and unconscionable tragedy, I figure it's my civic duty to right the world back on its axis and offer you my tried and true prediction based on incorrigibly inane logic. We all need a little more reliability in our world, and there is nothing more restorative than my major championship prediction, which is so consistently wrong I've been contacted by actuaries to forecast other important world events so that they can counsel their clients to do the opposite.
Given that Tiger Woods and John Daly tied in the last stroke play event for the world's best players played at Harding Park, it only seems logical [to me, not to say, someone who "is a statistician" or "knows what the hell he is doing" or "is not on some kind of Cocoa Crispies, Twizzlers and Dr Pepper-infused hallucination"] that the winner of this week's PGA Championship should be sort of a hybrid mix of those two icons. Of course, a mix and match Tiger Woods and John Daly is like putting a case of Diet Coke and a Hooters fried grouper sandwich in a blender with a Porterhouse steak and the teachings of Sun Tzu. I don't know what you'd get, but pretty sure you'd be regretting it, especially that "Tactics without strategy is the noise before defeat" aftertaste.
But then tactics without strategy has long been my governing principle and not just when it comes to prognostication. [You should see me parallel park. Or watch me make an omelet, what I now call "scrambled eggs."] So I just reviewed their combined meaningful statistics for the week, weighted them with some formula I've already forgotten and then melded those numbers with the current rankings in the relevant criteria. The current player actually in the field this week who hits closest to my made up number naturally will be my selection. [And you thought I was just bad at guessing.]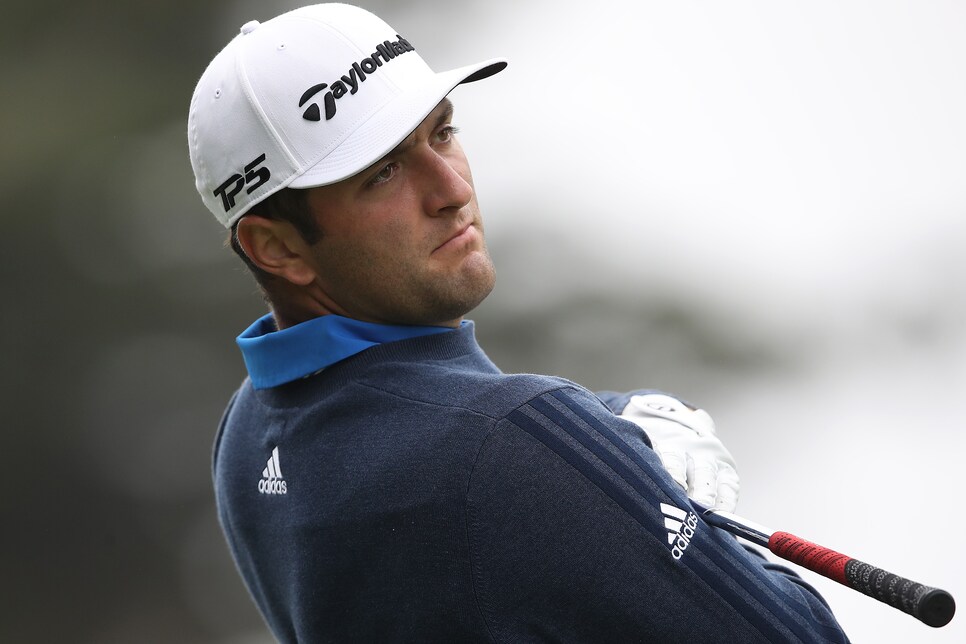 Jon Rahm plays a shot on the third hole during a practice round prior to the 2020 PGA Championship at TPC Harding Park.
Sean M. Haffey
For those playing at home, those criteria are driving distance, driving accuracy, greens in regulation, strokes gained around the green and strokes gained putting. Oh, also weight. I resisted adding another element based on the average number of visible shirt logos because it was biased too heavily on Daly's side. The man, who wore shirts that seemed about the size of a Snugglie, was sporting a Tin Cup-sized collection of eight logos on his shirt, including a lumber company, Hooters, his own brand and a line of golf clubs called Redneck. The only thing more redundant would have been if he had been wearing jeans with suspenders and a belt. [He was not. Indeed, while Tiger looked like he stepped out of a soft-focus black and white fashion magazine shoot, Daly seemed fresh from a NASCAR meet and greet, including the cupped cigarette that he tossed aside and retrieved after hitting his tee shot 370 yards on the first playoff hole. You cannot make this up. If 21st century golf ever had a better moment, I cannot think of it, nor will I acknowledge it.]
The maths, as Faldo would say, work out rather simply. In fact, no one is remotely close to matching Tiger and Daly's array of splendor at Harding Park. Which I realize is like saying no one is remotely close to matching Sonny and Cher or Spongebob and Patrick or Peaches and, obviously, Herb. It came down to two of the more consistent contenders in this bizarro year, Jon Rahm and Xander Schauffele. Both Rahm and Schauffele are basically in the top 50 in distance, accuracy, greens hit and strokes gained around the green. Schauffele hits more greens, Rahm is a better putter. Rahm on a beefy, soft course has more firepower, with almost a quarter of his drives going 320 yards or more.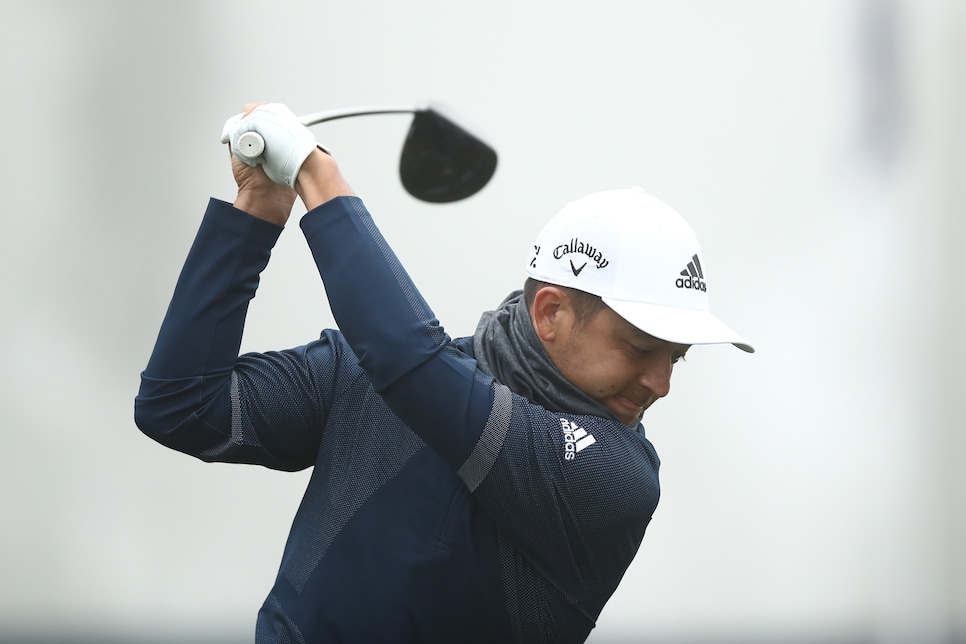 Xander Schauffele of the United States plays a shot during a practice round prior to the 2020 PGA Championship at TPC Harding Park.
Doug Pensinger
Still, as close as it was, I had to use weight as the decider. Schauffele is listed at 175, Rahm at 220. Back in 2005, Tiger was listed at 180, while Daly's weight in the official PGA Tour media guide was 220. Clearly, this is what is known in the trade as "a spit take." John Daly was as close to weighing 220 in 2005 as Beyonce is to having her credit card declined by Instacart. Either way, the beefier Rahm seems a more reasonable approximation of the average of Tiger and Daly than the slighter Schauffele.
So Rahm is the man at Harding Park this week. Officially. From this reporter. Book it.
As the song says, "the tigers come at night. ... As they tear your hope apart ..." And Daly's now not in the field. So can history repeat itself?
I dreamed a dream in times gone by ...