The Loop
Five repetitive things people are saying about the PGA Championship
As we approach the season's final major, some recurring themes have come to the forefront. Let's address five of the most common:
"Rory McIlroy is in a slump." The switch to Nike. The girlfriend. The pressure. The possible reasons for McIlroy's lull this year have been as well documented as his struggles. Still, as "disappointing" as he's been this year, the defending PGA champ has still made nearly $1.5 million in PGA Tour earnings while missing just one cut in 12 events. Plus, it was just a year ago when McIlroy broke out of another slump at this very tournament, winning by eight shots and sparking a late-season run that included two more wins in the FedEx Cup Playoffs.
"The PGA is the fourth major. And it's not even close." Yes, but it's still a MAJOR. "Glory's Last Shot," may not be its official slogan anymore, but to Tiger Woods and others eying golf immortality, this is the last chance for another eight months to add to the most important part of their career resumes.
"Oak Hill is a fair, tough test." Yes, but... OK, since EVERY player is saying this, it MUST be true. Judge for yourself by checking out our hole-by-hole tour of the course that will be hosting its sixth professional men's major championship. Also, there just might be a record set for the most times the phrases "tree-lined fairways," "fast greens," and "it's right in front of you," are uttered by week's end.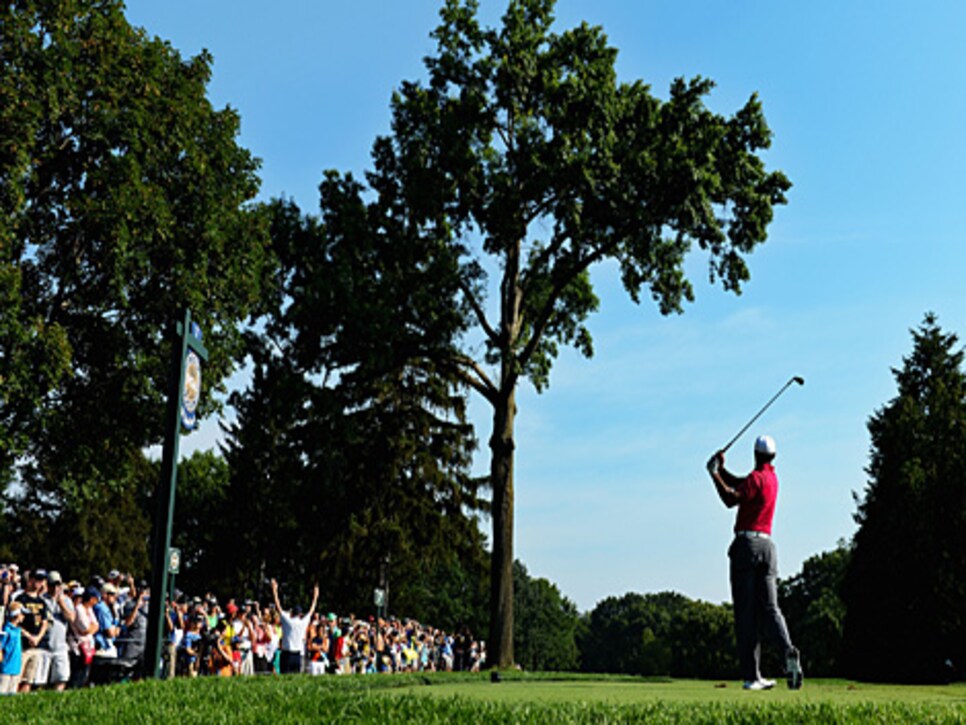 "Tiger is an overwhelming favorite." Yes, but we've seen this story before. Tiger has won the event before a major plenty of times, but his winning percentage at the next major is actually slightly below his overall winning percentage. Still, when a player wins five out of 10 stroke-play tournaments to start the year, he deserves favorite status, no matter what course he's playing on. Woods finished just T-39 at the 2003 PGA Championship at Oak Hill, a course that many feel doesn't suit his game because of its penal rough and lack of par 5s. On the other hand, he's coming off his eighth win on a certain similar (Read: "tree-lined") par 70 in Akron.
"Anyone can win this thing." As much as you've heard the phrase "tree-lined fairways," you've probably heard the name Shaun Micheel even more. By now we've all been reminded that the journeyman pro won his lone PGA Tour title here a decade ago when he became one of the most unlikely major championship winners ever. But that doesn't necessarily mean we should expect another stunning winner. Who are the other major champions Oak Hill has produced? Lee Trevino, Curtis Strange, Cary Middlecoff and some guy named Jack Nicklaus.