News
Whistling Straits: 1,012 Bunkers?! (Yep, 56+ Per Hole)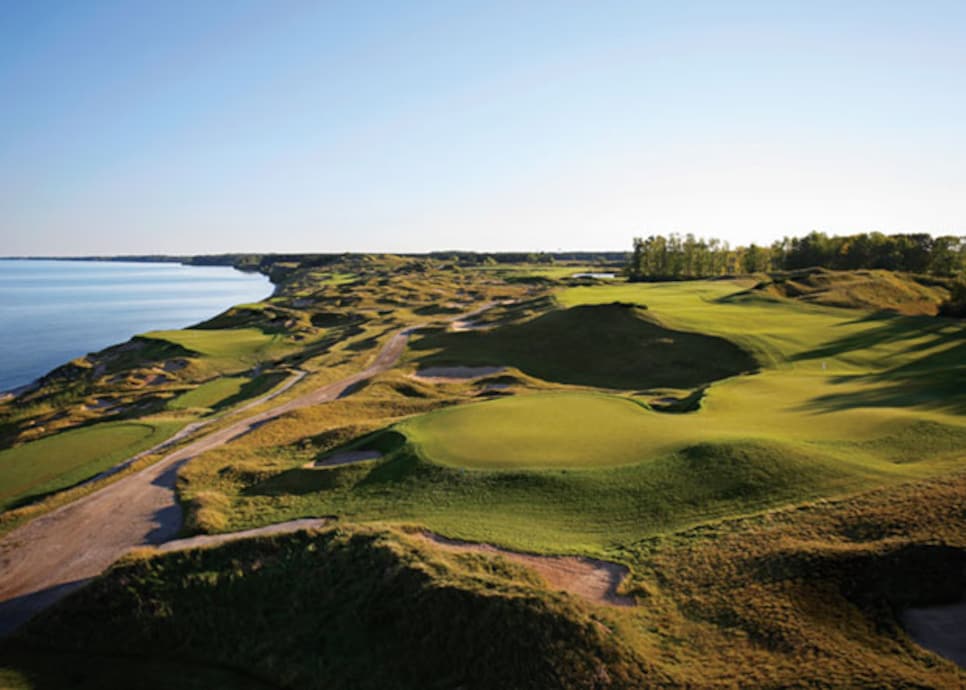 NO. 6 / 355 YARDS / 56 BUNKERS: Here's the shortest par 4 on a course that will measure 7,501 yards, par 72 for the PGA.
is hosting its third PGA Championship in the past 11 years Aug. 13-16 (and will host the Ryder Cup in 2020), but because his Pete Dye-meets-Salvador Dali-meets-Pablo Picasso course design certifiably has more than 1,000 bunkers. In 2010, before that year's PGA, we counted every bunker (a task that took 11 hours over two days), and Kohler was disappointed--make that, in disbelief--that we'd found only 967. "Maybe I'll have Pete add a few more," he grumbled at the time.
Dye insists he never received such a request from Kohler, and though he has dinked around with some holes over the past few years, achieving a threshold bunker count was never one of his goals. Yet, when caddie Bob Palm and I repeated the process before this year's PGA--walking down the right side of every hole one morning, the left side of each the next morning, charting every bunker and marking each to ensure we wouldn't count any of them twice, we discovered the course now has 1,012 bunkers, an average of more than 56 per hole: 535 on the front nine, 477 on the back. The par-4 eighth has the most (109), and the par-3 12th has the fewest (18).
We found big bunkers divided into smaller ones, and a few eliminated, but remaining is the infamous bunker right of the 18th fairway where, in the 2010 PGA, Dustin Johnson grounded his club in the sand and incurred a two-stroke penalty that knocked him out of a playoff and into a tie for fifth. (Martin Kaymer defeated Bubba Watson in the three-hole aggregate playoff for the title.)
Dye was sympathetic but took no responsibility for Johnson's error. "How he didn't figure out it was a bunker, I don't know," Pete says.
In Johnson's defense, although the bunker was certainly in a depression, with a modest front lip, it contained only a shallow layer of sand, which was dotted with patches of grass and was full of footprints from a week's worth of spectators who gave it scant notice. Indeed, in replays of Johnson's shot, spectators can be seen standing in the bunker.
Johnson told officials he thought he was in a patch of rough trampled by the gallery. Trouble is, every patch of sand at Whistling Straits is considered a bunker. The course looks like a links in towering sand dunes along the western shoreline of Lake Michigan, but in a previous life, the site was a flat Army air base, crisscrossed by concrete roadways and runways and containing the type of bunkers in which ammunition was stored. When Dye starting transforming it, he found no pure sand on site. The soil was rocky and mostly clay--even the beach was mostly rock--so Dye had 13,126 truckloads of sand hauled in.
Again, in Johnson's defense, photos taken before the Straits opened in 1998 show some of the faux dunes created by Dye were covered in sand, which had been dumped and spread in an apparent attempt to make them appear as natural sand dunes. But then tall fescue grasses overtook them, and the hillsides went from white and barren to green and wavy (golden in the fall). But in 2010, spectators' wear patterns might well have exposed some of that thin layer of sand.
Still, Johnson (and most definitely caddie Bobby Brown) should have known they were in a bunker: Every competitor and caddie in the 2010 PGA was given a local rules sheet that specified all sand throughout the property was to be played as a bunker. The notice even stated that some bunkers were outside the gallery ropes and would likely contain "numerous footprints, heel prints and tire tracks."
The local rule will be enforced again at this year's PGA, says Kerry Haigh, chief championships officer for the PGA of America. "As in 2004 and 2010, it will be in writing, will be placed in the registration packet, attached to the rules sheets, posted on mirrors in the bathrooms as well as at the first and 10th tees," Haigh says. "If players aren't aware of the rule, it's not for lack of distribution."
The bunkers are so numerous and scattered, Haigh says, that there's no way to keep them off-limits to spectators. "In a couple of tight areas," he says, "the only way to circulate the gallery is to have them walk through a portion of a bunker. But those bunkers aren't normally in play."
Player confusion might lie in the fact that this all-sand-is-a-bunker rule isn't universal. The opposite rule was applied at the 2012 PGA at Dye's Ocean Course at Kiawah Island, S.C., where nothing was considered a bunker. All sand was considered a "transition area," and players could ground their club anywhere. It also differs from the rule the USGA applied at last year's U.S. Open at Pinehurst No. 2, where only sand having rake marks was considered a bunker. All other patches of exposed sand were treated as "through the green," and a final determination was left with the rules official accompanying each group.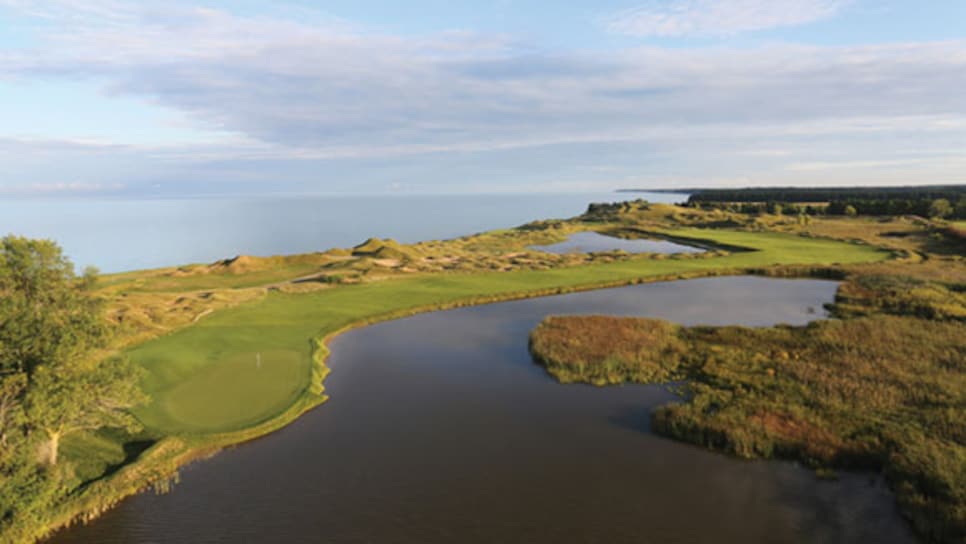 Johnson had a veteran rules official, David Price, with him during the final round of the 2010 PGA. Before Johnson took his second shot, Price asked if he needed any assistance. Johnson simply asked Price to move the gallery back ahead of him. He never asked whether his sandy lie constituted a bunker. To Johnson's credit, after the round, when shown a television replay and told of the penalty, he accepted it without argument.
Bunkers aside, Dye has made only modest changes to the course since 2010. "Nothing most people would even notice," he says, though the 14th can play as a drivable par 4 if desired. Dye also added a tee on the 11th that shortens the hole, making that par-5 a gambling two-shotter that brings into play--what else?--a mammoth bunker so deep that its sides are shored up by Dye's trademark railroad ties.
What type of golfer does the course favor? The last two PGAs there were won by internationals: Kaymer from Germany five years ago and Vijay Singh of Fiji in a playoff in 2004. That trends well for defending champion Rory McIlroy, who missed making the 2010 playoff by failing to sink a 20-foot birdie putt on the 72nd hole.
VISITING THE AMERICAN CLUB
Rates for the four courses at the American Club range from $190 to $385 at Whistling Straits' Irish and Straits courses (plus $65 for a caddie at the Straits) and from $190 to $275 at Blackwolf Run's Meadow Valleys and River courses. Peak-season accommodations at three locations are $192, $282 and $342.--Sara Garmezy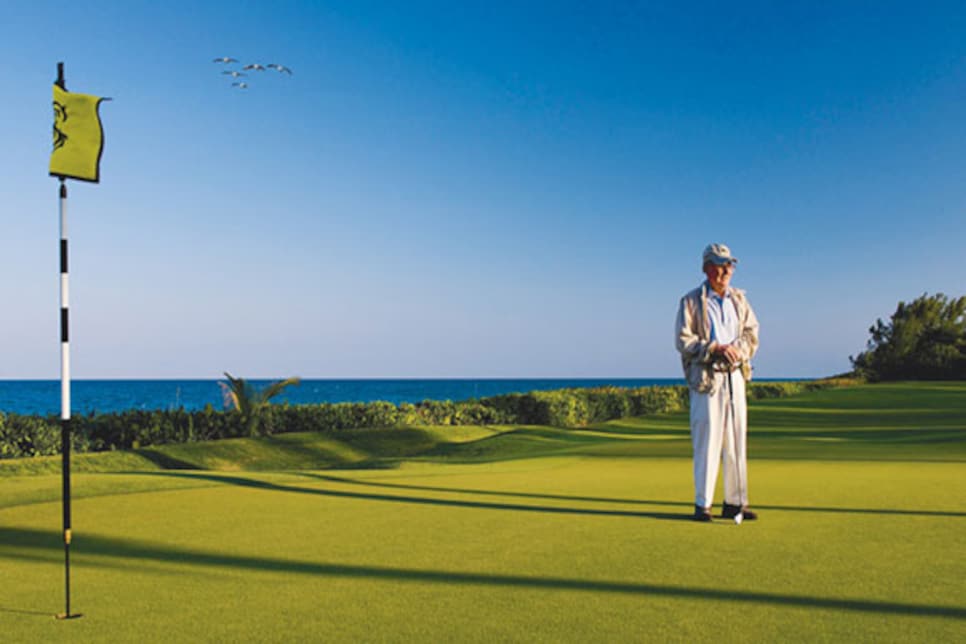 __Business is on the uptick in course construction,
and Pete's not the only busy architect__
Last winter, I played a round with golf design's royal couple, Pete and Alice Dye, at their home club, Gulf Stream, a South Florida layout Pete had just totally remodeled. (Yes, Pete convinced fellow members to let him eradicate their classic Donald Ross design in the name of playability. How's that for salesmanship?) It was a breezy round in light breezes, with interesting conversation throughout.
On one tee, Pete listed his current design work: the new Chatham Hills north of Indianapolis; the new White Oak Plantation near Jacksonville; a third nine at Nemacolin Woodlands in Pennsylvania; a fifth 18 for Herb Kohler in Sheboygan, Wis.; transformation of the South Course at Purdue University; remodeling Taboo in Canada; more changes at Crooked Stick in Indiana; regrassing at Long Cove in South Carolina; remodeling Des Moines Golf & Country Club and so on. "He can't say no," Alice said.
After the round, I asked for a tour of nearby Delray Dunes Golf & Country Club, Pete's first Florida design, now nearly 50 years old. We headed to my car. "Whatever you do, Pete," Alice called out, "don't let them talk you into remodeling their course."
Sure enough, within minutes of arriving at Delray Dunes, two club members approached us. "Hey, Pete," said one. "When are you going to rebuild our course?"
Pete shrugged. "You'll have to ask Alice about that," he said.
That Pete Dye has such a full schedule at 89 is testament to his stamina and his Hall of Fame status. It's also evidence that the golf-design industry is healthier than it has been in a decade.
All of a sudden, plenty of architects have plenty of work. Gil Hanse, who finally completed the new course for next year's Summer Olympics in Rio de Janeiro, is working on Mossy Oak Golf Club in West Point, Miss., and a remodel of the South Course at Los Angeles Country Club. He'll also design a third course at Streamsong Resort in Bowling Green, Fla., and has committed to build a 27-hole public course on dunes south of Bandon, Ore.
Bill Coore and Ben Crenshaw are doing Sand Valley near Wisconsin Dells, Wis.; Trinity Forest south of Dallas (scheduled to become the new home of the PGA Tour's Byron Nelson Classic); and a second 18 for Buffalo Ridge near Branson, Mo.
Tom Doak is thrilled to be working close to home in Michigan, doing a second 18 for Forest Dunes in Roscommon. The wrinkle there is that Doak convinced the owners to let him build a reversible 18-hole course that resort guests can play clockwise one day and counterclockwise the next. Though the idea is as old as the Old Course at St. Andrews, it's a refreshingly new concept in the 21st century. At Silvies Valley Ranch in Oregon, former-club-pro-turned-designer Dan Hixson is building a reversible 18 on hillier terrain, incorporating extra fairways and greens to avoid playing up steep climbs when the direction is switched.
Exciting new projects are on everyone's drafting table. St. Charles, Ill., architect David Esler just finished turning Mount Prospect Golf Club in Illinois into a public version of an old Seth Raynor design (with handmade landforms and geometric features) and is only a permit away from turning shovels on his dream project, Pacific Gales Golf Links, south of Bandon on the Oregon shoreline. Arthur Hills and Steve Forrest have a cliffhanging stunner at The Wyoming Club in the Black Hills of Wyoming. Tiger Woods is finishing his first American design, Bluejack National, north of Houston, and Phil Mickelson is doing his first Canadian course, Mickelson National Golf Club of Canada, near Calgary. There's talk it might host the Canadian Open.
All this activity in America is encouraging to designers who'd spent the past 10 years seeking work in China. Though the communist government banned course construction in 2004, many provincial officials ignored the edict, and development resembled the U.S. boom of the early 1990s. But last year, Chinese President Xi Jinping began cracking down on capitalist activities he claimed were corrupting his government. Along with gambling, drugs and prostitution, he included golf. So officials shut down 66 courses, including several new designs. At least one was turned into a tree plantation.
Undaunted, some Chinese investors turned to America, and over the past 18 months they've purchased nearly two dozen courses along the Myrtle Beach Grand Strand, including such notables as Pine Lakes, Long Bay, Sea Trail, Wild Wing, Myrtlewood, Myrtle Beach National and TPC Myrtle Beach.
Some of these investors will probably be persuaded to fund new golf-course projects in this country, too. If so, it's a good bet they'll be trying to convince Alice Dye to let Pete build some of them. --Ron Whitten