News
PGA Championship 2018: Adam Scott is in contention for the first time in two years, but has reasons to feel confident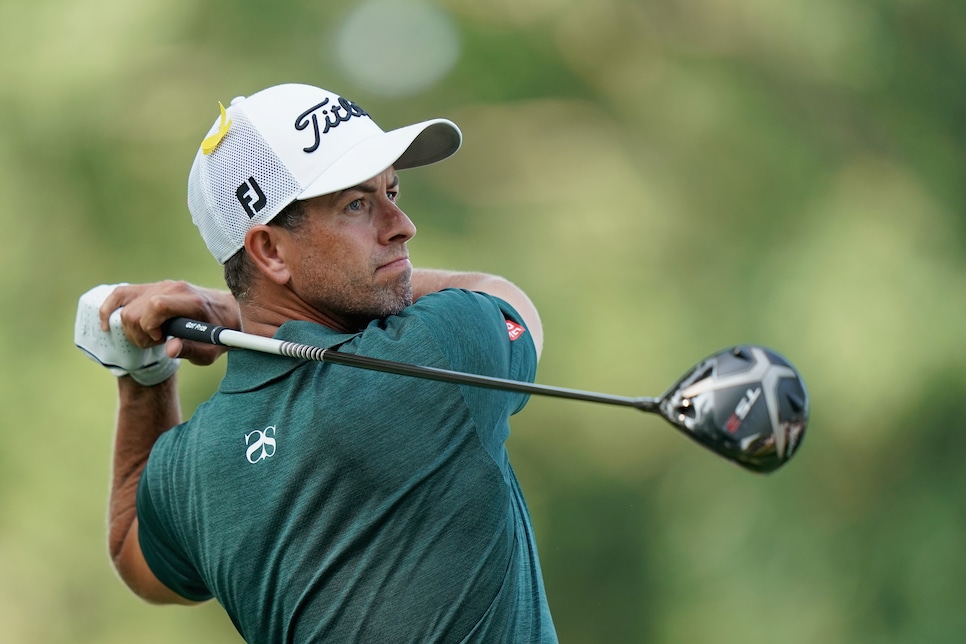 ST. LOUIS — Technically, Adam Scott isn't even supposed to be here. Scott got into the PGA Championship by way of a special exemption. "I guess it's not written," Scott explained, "but generally, if you're in the top 100 you're expecting that kind of exemption." Scott, ranked No. 76 in the world, has taken full advantage of the opportunity. He sits alone in second place after three rounds at Bellerive Country CLub, two shots behind leader Brooks Koepka.
The last time Scott finished in the top five in a PGA Tour event was in 2016. His last, and only, major win was at the Masters in 2013. Put that up against Koepka who won the U.S. Open and has two second-place finishes this season, and the advantage sways heavily, almost totally, towards Koepka. From the outside perspective, his top golf hasn't appeared to be within reach of late. Yet here he is at Bellerive, shooting the low round on Saturday with a 65, preparing to tee it up on Sunday with the reigning U.S. Open champ.
But from Scott's perspective, there have been a few moments this season to be excited about. Most importantly, the British Open.
With the other storylines at the British Open (ahem, Tiger), it was easy to miss Scott poised after Saturday at four under. Come the final round, he shot two over on Sunday and finished T-17. The mistake he thinks he made was getting ahead of himself. He put it in his head that he wanted to shoot a low number. That strategy backfired, but he's using that misstep as fuel for a more successful final round Sunday.
"I think what I'll learn from the Open Championship is not to really put a number in mind," Scott said after his third round at Bellerive. "Just go out and play and if I can hit fairways, I think I can give myself enough chances to shoot a low round tomorrow."
Another factor that's playing in Scott's favor is that he's played with Koepka before. Kopeka can be an intimidating force to play with side-by-side. He's big, powerful, and appears to be in control of his vast abilities at the moment. Not to mention, he's riding the confidence of that U.S. Open win at Shinnecock. But Scott's familiar with Koepka's game, saying they play some practice rounds together; and he beat him in a singles match in last September's Presidents Cup. That win could end up helping him on Sunday.
One final factor in Scott's current game is an emotional one. With the recent passing of his countryman Jarrod Lyle, Scott is playing for more than himself at Bellerive.
"It would be more than twice the thrill for me [to win as an Aussie in honor of Jarrod], but I think no matter who wins tomorrow, I think if that person has met Jarrod Lyle, then they will have felt something with him passing this week," said Scott on Saturday. "I don't even really know if we have all really had time to reflect on it and let it sink in. But I think that a part of everyone's playing for Jarrod out here this week."
Adam Scott is a lot of things in this evening before the final round of the PGA Championship. He is an underdog, he's winless in two seasons, he's an exemption, but he's also on the rise. He's had a couple seasons that he describes as frustrating. But nothing alleviates those types of frustrations like the opportunity to win a major.
"It's been quite awhile since I was really in contention. Which is, has been quite frustrating, but I'm glad I got a dose of it today because I want a whole lot tomorrow."