News
PGA Championship: A 19-year-old is already among the game's best. Meet Joaquin Niemann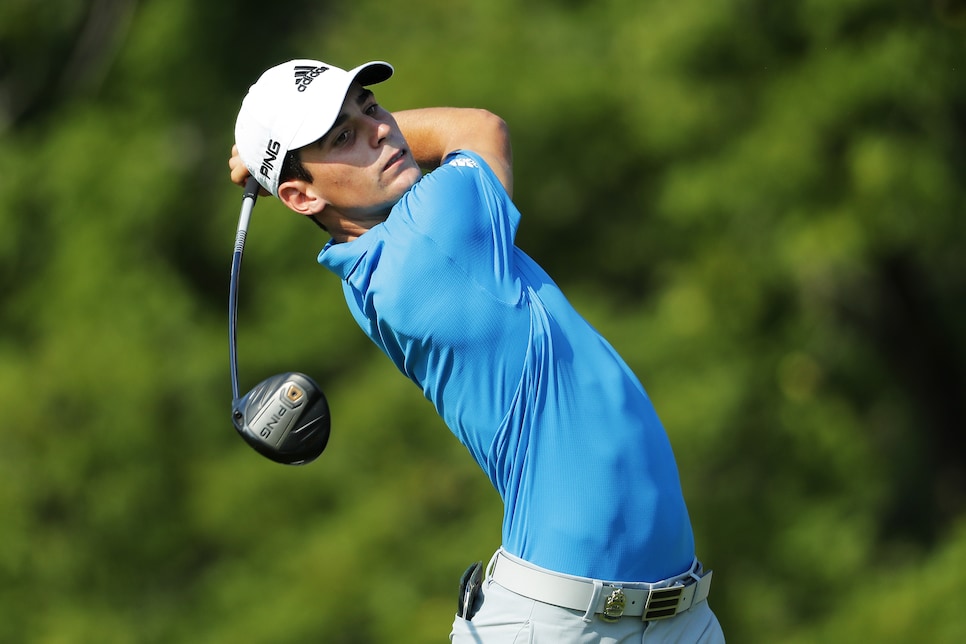 Photo By: Richard Heathcote
ST. LOUIS — From way down there, Joaquin Niemann could see maybe the top third of the flagstick. From the right rough to the flag, perched atop the mountain that held the ninth green, what was his distance?
"Two hundred two, adjusted," the kid said.
Meaning, I presume, that the number was adjusted from, say, 180, to account for the rocket launch necessary to carry a shot that far hitting it that high. It had been a long day. It was Niemann's last hole. He'd come out of the drive so badly that, as the shot flew right, he dropped the cursed driver behind him. Once four under par and among the second-round leaders in the PGA Championship, Niemann had fallen back to even par. Fifty yards behind his playing partners, he stood way down in that valley with an iron in each hand.
"Hit a 6," his caddie, Dean Elliott, said.
"I like 5," Niemann said.
He seemed to weigh the clubs, raising one, then the other.
"A really good lie," he said.
"A flier lie," the caddie said. "But if you like 5, hit it. There's plenty of room behind."
So the kid hit the 5. From that valley to the mountaintop, 202 yards, adjusted, he hit it to three feet. He made the kind of birdie that gives a guy reason to live. The birdie also gave Niemann a round of 71 and a two-day total of 139, one under par, not good enough to stay among the contenders but good enough to be big news in Chile.
The Friday morning edition of El Mercurio, Chile's version of the New York Times, carried an action photograph of Niemann with the headline, "Shines on the first day of the PGA Championship." (My best 10th-grade Spanish translation.) More telling, the teenage golf prodigy's striking pose appeared at the top of the front page. Lesser stories involved the nation's president shuffling his cabinet and an avalanche that buried a town.
Niemann is 19 years old. He's 6 foot, 155 pounds, one of those flat-bellied limberbacks we all wish we were. The PGA press guide tells a cute prodigy's-beginnings story: "At age 2, his father gave him a plastic golf club and some balls. He played around the house until he graduated to real equipment at age 4. He remembers hitting shots in his backyard and during a family barbecue hit a 40-yard shot that hit his grandmother in the leg." ("Didn't hurt her," he told me today, "but she did bleed.")
And while Niemann stood in that valley, weighing the virtues of a 5-iron against a 6, what, pray tell, was your 19-year-old doing? Mowing lawns? Maybe he asked drive-through customers, "Want fries with that?"
This year Niemann has earned $1,156,857 on the PGA Tour. That nice number is likely chump change to whatever Adidas and Ping pay him to use their stuff. Someday, maybe sooner than later, Niemann will be in all the papers, not just in Chile's, for he is a star-being-born in the fashion of Phil Mickelson, Sergio Garcia, Jordan Spieth, maybe Jon Rahm. (No, he is no Tiger, the one and only of his kind.)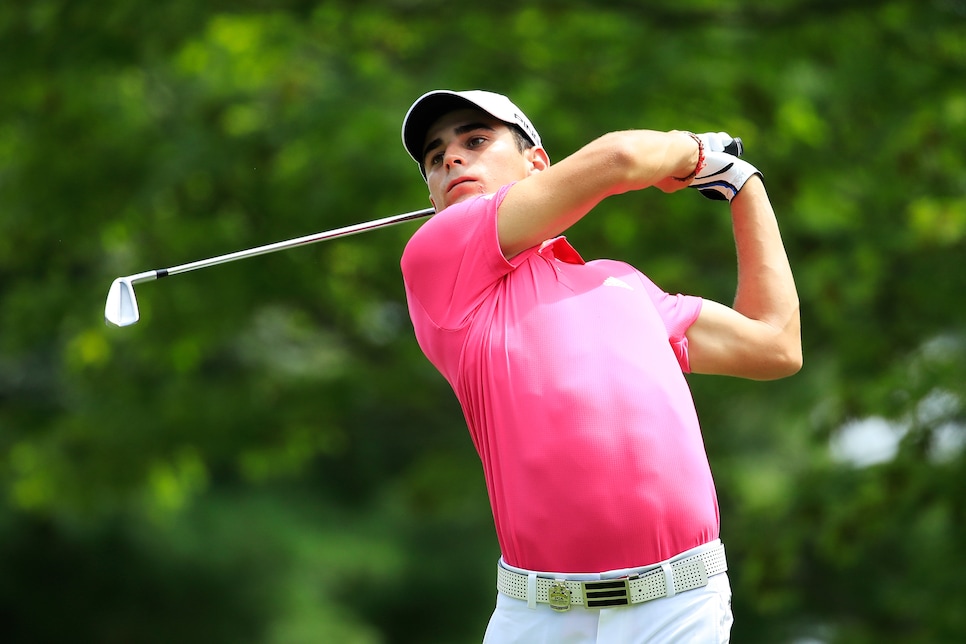 The world's No. 1-ranked amateur through most of 2017, Niemann thought to attend the University of South Florida. He was turned away from that Harvard of the Everglades because he failed an English literacy test. (Wonder of wonders, USF somehow fields a football team). His plan became simpler. Go to the Web.com Tour qualifying school. Go to the Web.com Tour. Grind his way to the real tour—except he turned out to be too good for prelims.
The week after missing the cut at the Masters, he made his pro debut in the Valero Texas Open. He finished sixth. He now has four top-eight finishes and has earned enough FedEx Cup points to become a Special Temporary Member on the PGA Tour, the youngest to do that since Garcia in 1999. At Greenbrier, he locked up next year's card. Niemann has been extraordinary on weekends; nine of his 14 weekend rounds have been in the 60s. Sundays, he has shot 67, 66, 65, 64, and 66.
"Amazing," he said of his year. "I hoped to make the Web.com finals, and here I am in a major. It's just getting better and better."
I know little about Chile, except it's on the Pacific side of South America, and on a map it looks like a Pete Dye par-13 with the Andes running down the middle of the fairway. So I moved down my row in the press tent and asked Raul Andrade, El Mercurio's reporter here, "Who is Chile's best golfer ever?"
"Felipe Agular," he said. "Winner twice on the European Tour. He is 43 years old. For a long time, he has been Chile's No. 1 golfer. Now he is No. 2. Joaquin is No. 1."
Well, that made more sense than what I'd learned by putting the question to the Google machine.
Google's top answer came back in a nanosecond.
It said, "Best Damn Chili Recipe."