FIRE PIT COLLECTIVE
PGA Championship 2022: How Justin Thomas roared from way back to win the PGA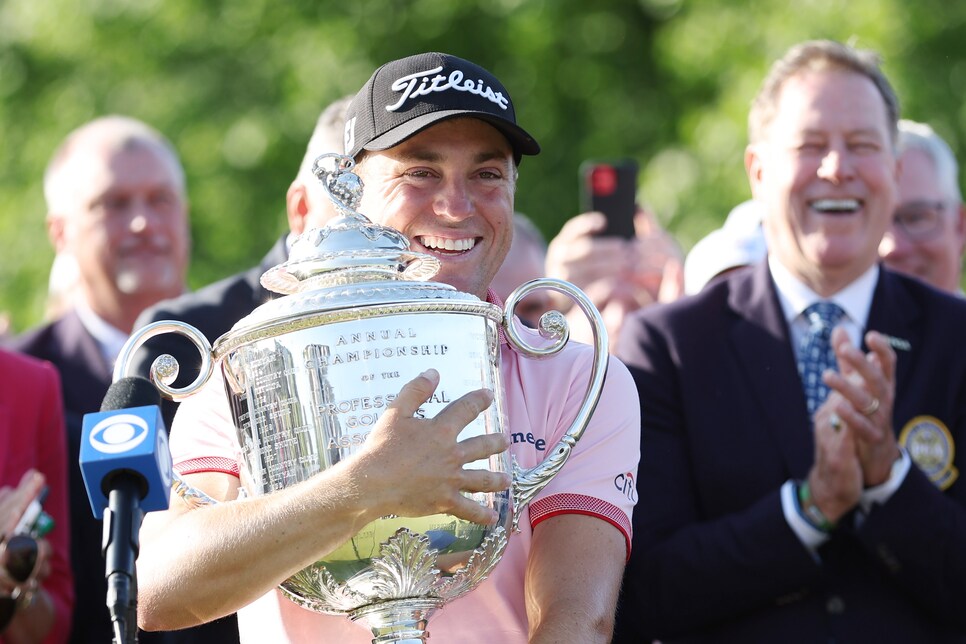 TULSA — One by one, Southern Hills muddled their putting strokes, compromised their swings and stole their souls. The final round of a major championship is supposed to be a war of attrition, but Sunday at this PGA Championship turned into full-blown carnage. Callow Cameron Young took five to get down from the fairway on the par-4 16th, ending his bid. After a flying start, Rory McIlroy was within one of the eventual winning score, but he made nary a birdie over the final 13 holes and got blown away by a Sooner wind as if he were a member of the Joad family. Having spent all week crowing about his new power, Matt Fitzpatrick timidly laid up on the short par-4 17th and then chunked a wedge, leading to a fatal bogey, his third of the back nine. And then there was poor Mito Pereira. The young Chilean limped to the 72nd tee leading by one despite four bogeys in the preceding 11 holes, and then grew T. Rex arms on the most important tee shot of his life, slashing his ball into a creek. When the hole mercifully ended, Pereira had taken the most crushing final-hole double-bogey since Phil Mickelson came undone at Winged Foot 16 years ago.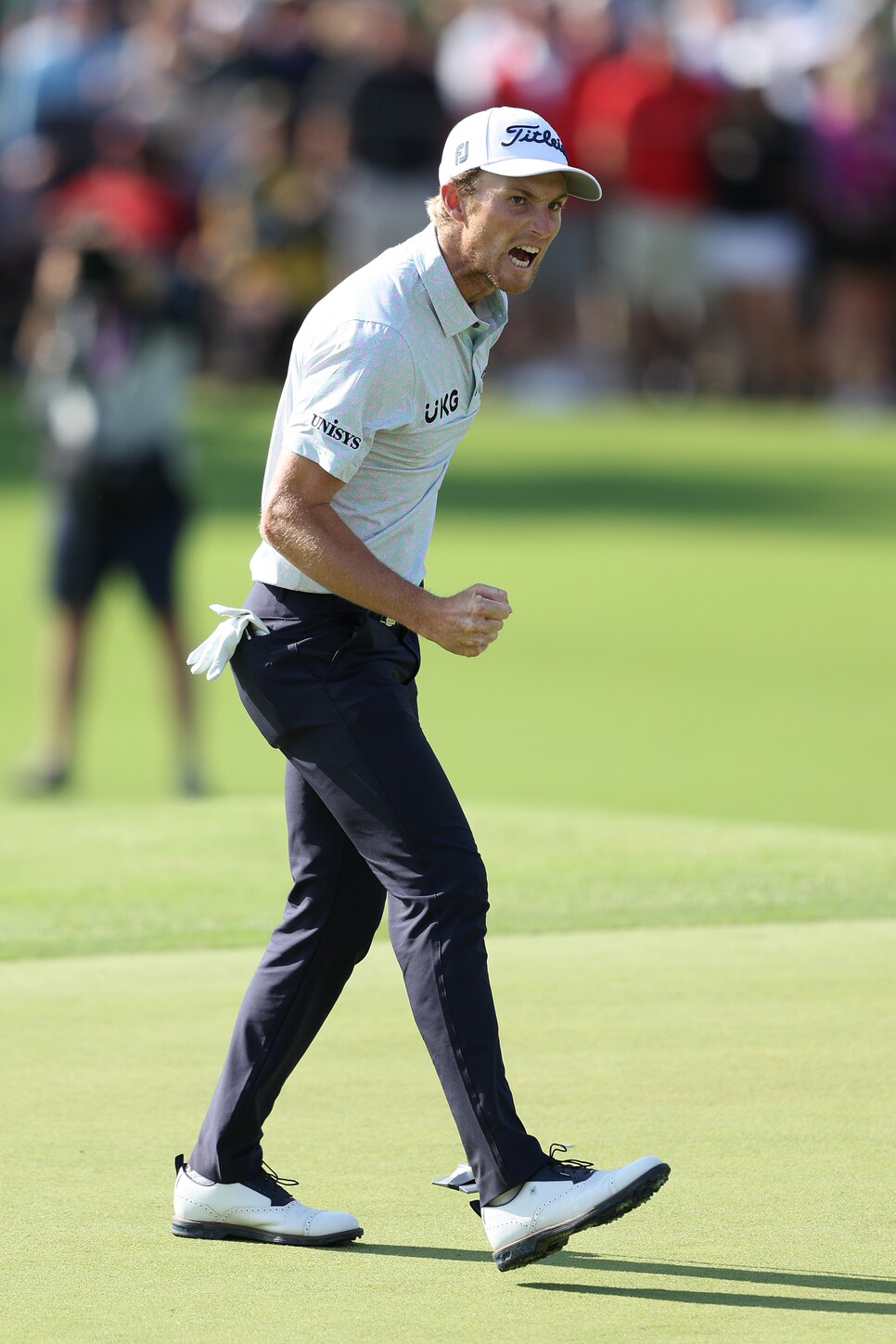 At a PGA that seemingly no one wanted to win, it was left to be decided by the only two players who didn't shrink from the magnitude of the opportunity. Will Zalatoris, already emerging as a big-game hunter at age 25, made a couple of miraculous up-and-downs in the middle of his round to stay in the fight, and then, with the most scrutinized putting stroke in golf, rattled in a couple of must-makes on the final two holes: a 7-foot birdie putt and then an 8-foot par attempt. That sent him into a playoff against Justin Thomas, who began the final round seven shots off the lead but roared home by playing the final 10 holes in four under, capping a 67 that tied for the low round of the day. Thomas looks and occasionally acts like a country club brat, but deep down he is a cold-blooded killer, which partly explains Tiger Woods's affinity for him. On the par-3 6th hole hole on Sunday, Thomas hit a cold-shank off the tee and had to make a 20-footer to save bogey. Who has the mental fortitude to overcome that? As Thomas would later shout in the ear of his caddie Jim (Bones) Mackay, "I have to be the first guy who's ever shanked the shit out of one and won the PGA!"
But first he had to survive the playoff. Marching to the first tee of the three-hole aggregate playoff, Thomas had a faraway look in his eye. "Let's get it," he growled to Bones, Mickelson's wingman for a quarter-century before the two parted ways in 2017. Thomas came into this PGA Championship with a whopping 14 wins at age 29, but it had been five long years since his breakthrough at the 2017 PGA. Thomas was supposed to be the future of the game, but since his triumph at Quail Hollow, had been usurped by Brooks Koepka, Collin Morikawa, Jon Rahm and Scottie Scheffler, among others. In overtime against Zalatoris, Thomas played with the seething intensity of a man who knew his reputation was at stake.
On the first extra hole, an errant drive forced Thomas to lay up on a gettable par-5, but he matched Zalatoris's two-putt birdie with a gorgeous wedge. Then Thomas stepped to the tee of the 17th hole and hit a 3-wood that was every bit as sweet as the one that led to a walk-off eagle and a record-tying 63 at the 2018 U.S. Open. As his son was eyeing his eagle putt, Mike Thomas slouched against a TV tower behind the green. Asked about his heart rate, he said, "Pretty good…for the moment." His kid's stress-free two-putt gave him a one-stroke advantage, which JT expertly protected with two perfect swings on the exacting 18th hole. Happiness is a tap-in par to win the PGA, but in victory Thomas exuded more relief than joy. "I just haven't had the trophies to show, and I'd fallen in the World Ranking, and that just kind of shows how strong the game of golf is," Thomas said on Sunday evening. "I think it's easy to start letting some doubt creep in and just kind of like, all right, what's going to happen? When is it going to happen? Is it going to happen?"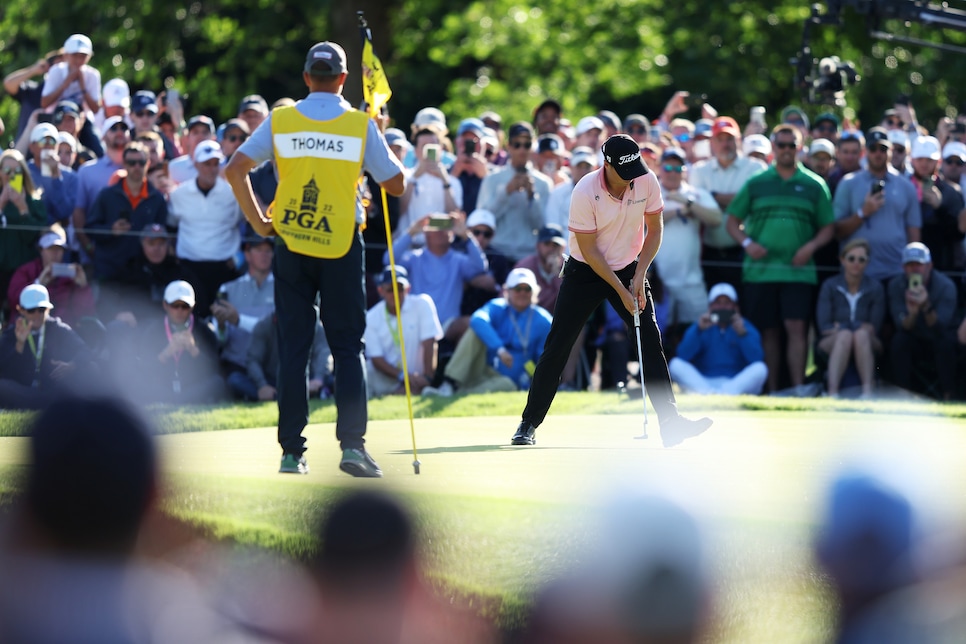 The win was a testament to Thomas's growth—he has gained 15 pounds since Quail Hollow, but the real maturation has come within. At Kapalua in January 2021, a hot mic picked up Thomas berating himself with a homophobic slur, which led to him being dropped by his most visible sponsor, Polo. In the self-reflection that followed he was belatedly forced to grow up, guided by his mentor Woods, who knows a few things about surviving scandal. Since then, Thomas has become engaged to his college sweetheart and committed to two important new relationships, with Bones, who came on the bag late last year, and putting coach John Graham, who has made Thomas both more consistent and dangerous on the greens. Meanwhile, the veteran caddie's unflappable cool is a nice complement to Thomas's hot-blooded, emotive play, and Mackay's best read of the tournament came following the third round. His man had opened 67-67 playing on the wrong side of the draw, calling upon his peerless shot-shaping to navigate strong winds on a demanding setup. But on Saturday, Thomas labored to a 74, the kind of mystifying slippage that has compromised him in so many recent major championships. He was the last man standing at the driving range in the twilight, largely because Bones called for an impromptu therapy session.
"Yeah, I'm fully confident in saying that I wouldn't be standing here if he didn't give me that—wasn't necessarily a speech, but a talk, if you will," a victorious Thomas said on Sunday. "I just needed to let some steam out. I didn't need to bring my frustration and anger home with me. I didn't need to leave the golf course in a negative frame of mind. I just went down — I played pretty well yesterday for shooting 4 over, and I felt like I'd played terrible. And he was just like, dude, you've got to stop being so hard on yourself. You're in contention every single week we're playing. I've had a lot of chances to win tournaments, and it's a hard golf course; it's a major championship. You don't have to be perfect. Just don't be hard on yourself. Just kind of let stuff happen, and everything is trending in the right direction. So just keep staying positive so that good stuff can happen. I left here [Saturday night] in an awesome frame of mind."
Indeed, during crunch time on Sunday, Thomas looked like the only player who was having fun. That allowed him to pull off the kind of clutch shots that left him with what he called "a full-body-chills-type of feeling"—notably a high-risk bunker shot on the 71st hole that led to a crucial birdie and then an 8-iron into 18 that would have immediately passed into legend had he holed the 8-foot birdie putt.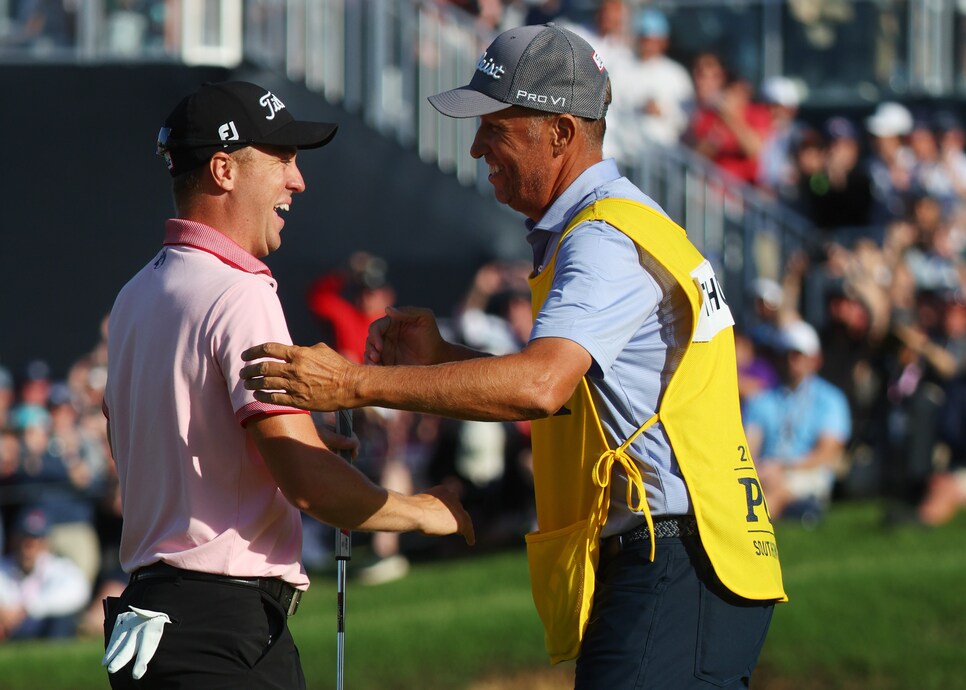 The only person who felt better in victory was Bones. In his breakup with Mickelson, one of Mackay's grievances was that Phil always insisted on keeping the 18th hole flags from their victories, violating long-standing tradition. Walking off the final green on Sunday, Bones carried not only the flag but the stick too. I said to him, "Looks like you've got a death grip on that thing."
He wiped away a lone tear and then loosed a long, deep, satisfied laugh.