'This is like a miracle'
Jim Nantz recalls the time John Daly kicked an NFL FG the night before winning the PGA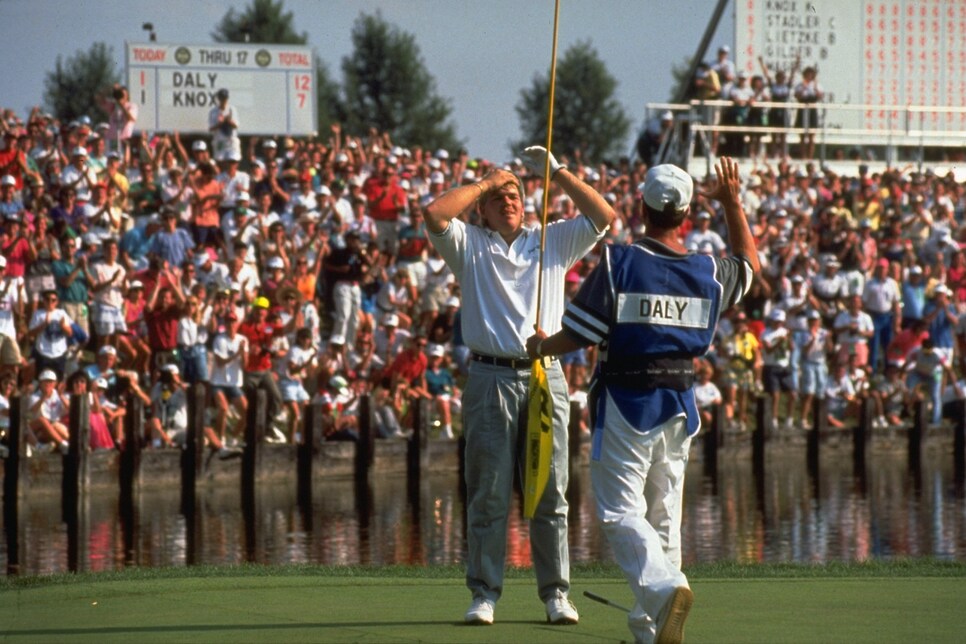 No one's better at telling a tale than Jim Nantz. With his sultry voice, thesaurus-esque vocabulary and encyclopedic memory of sports minutiae, the man has called the PGA Championship for decades for one reason and one reason only: He was born for it.
His stories are even better when centered on an enigmatic character and if you look up enigmatic in the golf dictionary, it will show a picture of John Daly rocking sunglasses, dangling a cigarette from his mouth.
Preceding this year's PGA Championship, Nantz sat down with the great Bryan Curtis on The Press Box to discuss some of his favorite PGA memories and calls for the vaunted major. It's well worth a listen, but one Daly tidbit stuck out as so unbelievable that it must be true.
Around the 10-minute mark of the interview, Nantz sheds some light on the night before Daly's PGA Championship triumph in 1991, when his David vs. Goliath(s) legend was made manifest.
"On Saturday, he was right there. I wish I could tell you the scores but the point is that he was going to be in contention. He was relishing all of the media attention … One of the stories that came out was that he was a high-school place-kicker. So, the Colts were playing pre-season game number one on that Saturday night at the old Hoosier Dome, and the Colts invited John Daly to come to the game as their guest and kick a field goal off a kicker's tee between the first and second quarters. And he accepted. Gonna try to go blow out my hamstring trying to kick a field goal from 40 yards and have to WD the next day. So of course I went over to cover it … I was just there for one purpose, to see this kick, and John Daly came out and kicked the football and got away uninjured. He was a straight-on kicker by the way. Not a side-winder. Knocked it through and we headed to Sunday to cover one of the great Cinderella Stories sports has ever known."
There's so much to dissect here.
At 25 years old, the Blonde Bomber seems to have already been the man we'd get to know. The chutzpah on Daly to put himself at risk to kick a meaningless field goal hours before trying to win a major …
Whether he nailed the kick with a cigarette in his mouth is still up for debate.