The real No. 1 and 2
PGA Championship 2021: The common bond that makes Rory McIlroy and Jordan Spieth Kiawah's most-talked golfers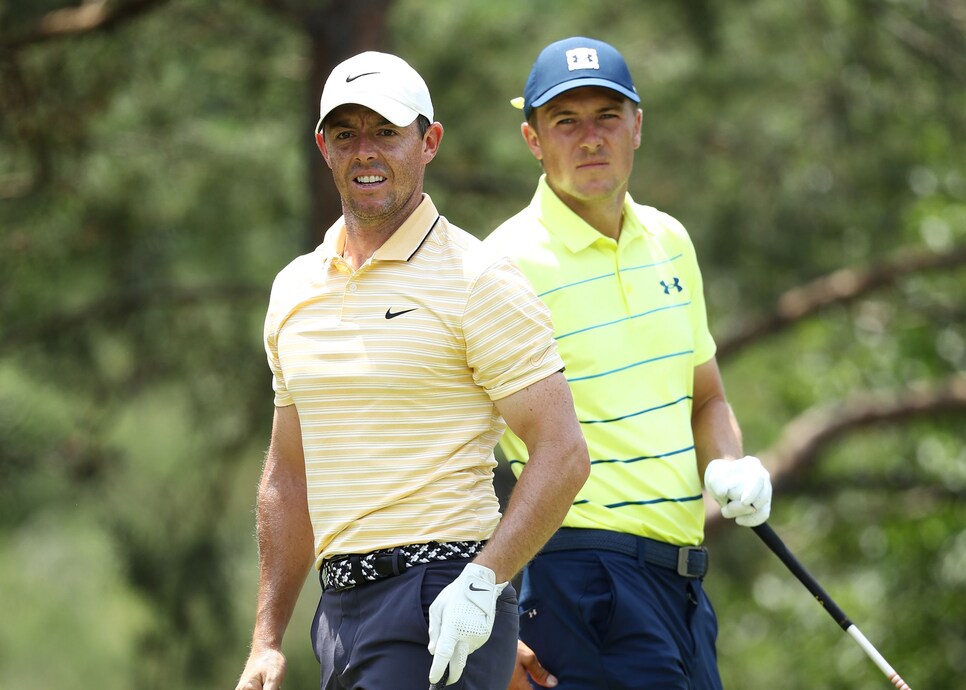 KIAWAH ISLAND, S.C. — Ninety-nine of the world's top 100 golfers are here, but the same two faces keep popping up everywhere—on social media, on the TV promos, on the signage. One of these men hasn't won a major in nearly seven years; the other isn't even a top-25 player.
The all-powerful World Ranking is derived from a formula that incorporates two years' worth of results. A rolling average, so to speak. It's the polar opposite of the AP Poll in college sports, which serve as a snapshot in time: Here are best teams, right now. Such a heat-of-the-moment system jives much better with the goldfish-like memory of sports fans. The computers may care what you did in the 2019 Northern Trust, but the people don't. This is a what-have-you-done-for-me-lately business, and Rory McIlroy and Jordan Spieth have done plenty.
We'll start with McIlroy. Just nine days ago and just north of the South Carolina border (and just after missing three cuts in a row), he suddenly looked like the Rory of old in winning the Wells Fargo Championship. Not so much his game—gone is the push-draw off the tee, banished to the bench in favor or a baby fade—but his presence. When McIlroy gets going, his gait morphs into a beautiful mixture of childlike bounciness and grown-man assuredness. He hadn't walked like that in more than 18 months, the time since he last won before that, a barren stretch that saw him drop to No. 15 in the World Ranking.
The context surrounding the win, the 19th of his career, gave it some extra oomph. After looking totally and completely lost in shooting 79-75 at the Players in March, McIlroy summoned whisperer Pete Cowen—a proverbial other set of eyes, but an older and wiser set, too. We will not presume to fully comprehend the X's and O's intricacies of what a generational talent and his instructor are working on, but Cowen has clearly pushed the right buttons. To go from where McIlroy was at TPC Sawgrass, to where he was at Quail Hollow suggests progress that goes beyond an impact position. Belief has returned to the McIlroy camp.
"When you're in the thick of it," McIlroy said Tuesday, "it always seems further away than it is.
"The big thing that I was really encouraged with at Quail Hollow is it's my first time really getting myself into contention in a while, and to have those thoughts and movements sort of hold up under that pressure, trying to win a golf tournament, coming down some really tough holes, that's what I was really pleased with."
The location of this week's golf tournament has certainly aided the hype machine. Kiawah's Ocean course has hosted just one major before this one, the 2012 PGA Championship. Rory McIlroy won it by eight. None of us are the same as we were nine years ago. His hair was longer then and less grey. His swing was loopier, his body looser. He was dating Caroline Wozniacki at the time, now he has a daughter with wife Erica who he'd meet for the first time a little more than a month after that win. He celebrated victories as young men do; on Sunday, after winning at Quail Hollow, he was in bed by 10 a.m., sober as a judge.
Put simply: "I feel like a completely different person."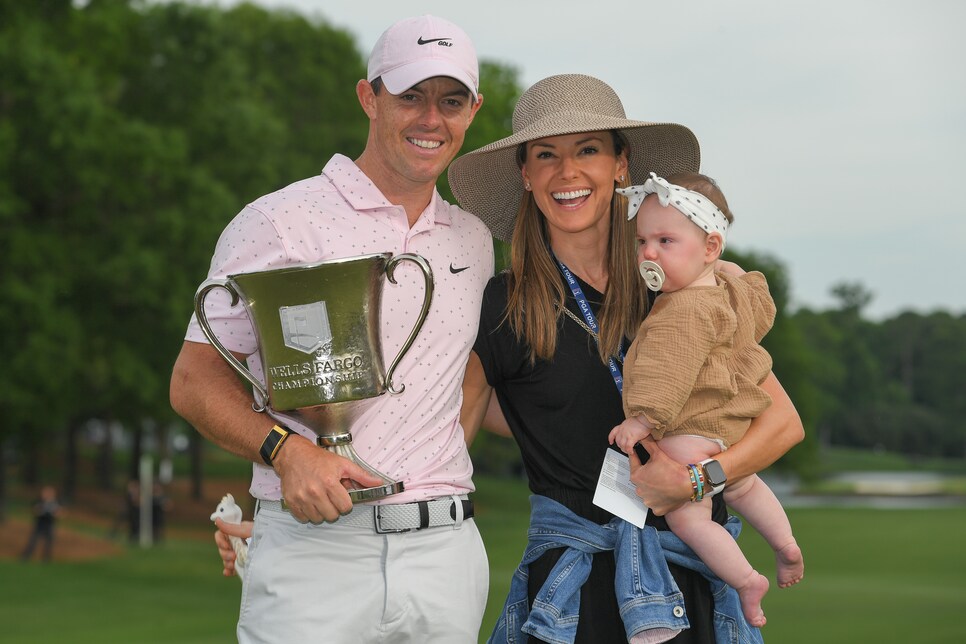 McIlroy's victory at the Wells Fargo ended a 18-month winless drought.
Ben Jared
Golf courses change, too, especially when you visit them in different times of the year. Rory's romp came amid oppressive August heat; this week calls for high 70s with a steady breeze. May looks good on Kiawah. Still, only one person in the field has won a golf tournament here.
"Probably going to be a different wind than we played in the last time," he said, "so it's going to play like a completely different golf course. I played great here last time, obviously, and won my first PGA and my second major, but just because I did that doesn't mean that I'm going to find it any easier this week than anyone else."
Spieth's build up has been more of a slow burn. To be fair, he was starting from a much darker place. Rory's winless streak lasted 18 months; Jordan's lasted 44. Spieth came dangerously close to dropping outside the top 100. No serious person dared to label Rory done, but plenty went there with Spieth.
The first real signs of progress came at TPC Scottsdale in February, where his electric 61 on Saturday at the Waste Management Phoenix Open gave him a 54-hole lead for the first time in forever. He didn't leave with any hardware but that was fine, because his T-3 the following week at Pebble Beach made it clear he might be on to something. And after a T-4 a few weeks later at Bay Hill, he was back. Then came a win in Texas, a T-3 at the Masters and last week's T-9 in at the Byron Nelson, and now we're talking about the Career Grand Slam again. It was an annual occurrence in the years immediately after winning claret jug in 2017, but journalists did him the professional courtesy of laying off the CGS talk last year at TPC Harding Park. He had no chance, and he knew it. His T-71 came and went without a second glance.
It's on our minds. Is it on his?
"It's not," he said. Perhaps his ability to block out noise is a reason he excels at a sport like golf, but we're just spit-balling here. "I think as we get into the weekend, if I'm able to work my way into contention, I think it's something that'll obviously be asked and come up, and it's something that I certainly want."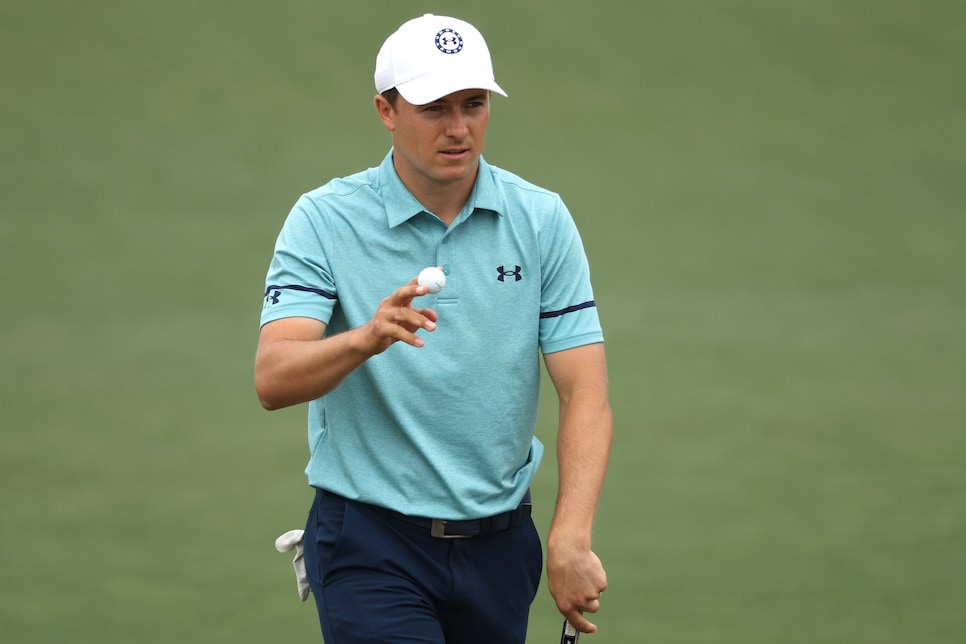 Spieth says he's not thinking about the career Grand Slam this week ... yet.
Kevin C. Cox
Him, and everyone else. Rory McIlroy and Jordan Spieth aren't the only two coming into this week in fine form. Xander Schauffele is playing well, and Justin Thomas, and Patrick Reed, and Viktor Hovland. Heck, Sam Burns might be the hottest player on the planet. But McIlroy and Spieth are finally playing well at the same time, and they're two of the very few players not named Tiger that have proven to strike a note with fans.
Each has an opportunity to do something remarkable this weekend: Rory to re-ignite his major count, Jordan to accomplish something only five other men ever have. And so they enter this tournament as a clear No. 1 and No. 2, algorithms be damned.