News
PGA Championship 2020: Tiger Woods struggles again with his putting as his title hopes slip away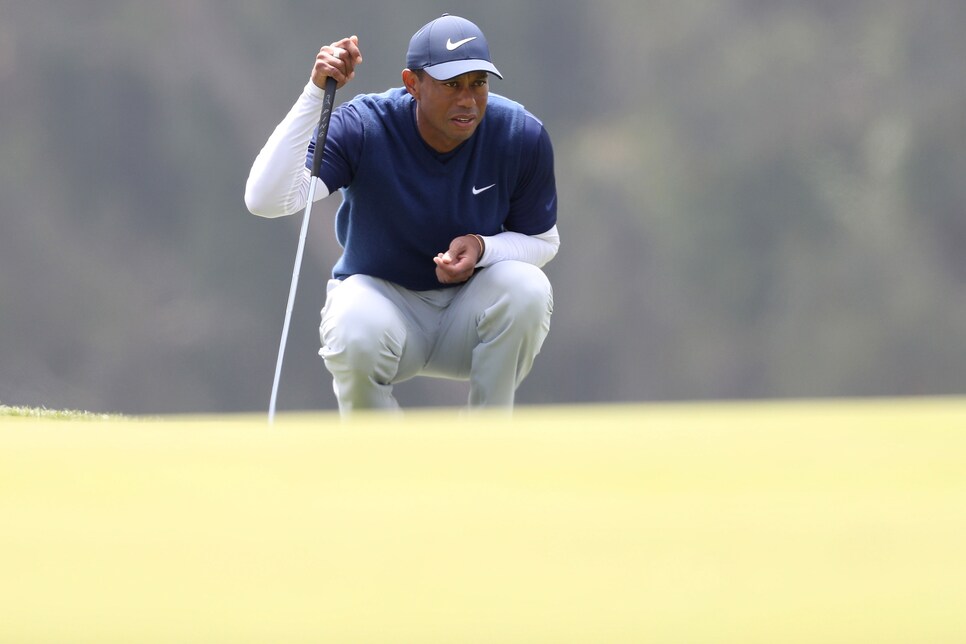 Tiger Woods lines up a putt on the 16th hole during the third round of the 2020 PGA Championship.
Jamie Squire
SAN FRANCISCO — Golf frustrates. It vexes, and it perplexes, and no one is immune. Not the beginner, playing for the first time. Not the leader of a tournament, who can always think of two or three shots he wants back. And not Tiger Woods, who has come as close as any to mastering this un-masterable game.
Woods trudged through yet another maddening round on Saturday at the PGA Championship, squandering some solid early ball-striking and needing a late fightback for a second-straight two-over 72.
"I didn't make anything early," Woods said. "I had a couple opportunities to make a couple putts, and I didn't. They were burning edges. I had a couple lipouts, and just nothing really got … got the round going. It's just like yesterday. I just didn't get anything going, and had to claw and fight to get my way back, and didn't really get anything going until the last few holes."
His biggest problems came early in the round, on TPC Harding Park's greens, which are gradually starting to perform like major championship greens. On Thursday, guys were able to stick mid-irons and spin back wedges. More Desert Classic, less U.S. Open. On Friday afternoon, they were a bit more discerning. By Saturday, spurred on by a sturdy breeze and the Bay Area's attempt at warmth, they had become downright cranky, holding only perfectly struck approaches and seemingly urging balls to keep. On. Trickling.
"A little crusty," is how Woods put it. "They are not that quick but they are definitely crusty coming in with the approaches, and the wind is definitely moving the ball on the greens when you're hitting putts."
Woods has a new putter in play this week—a longer, slightly heavier Scotty Cameron model that looks identical to the model he used to win 14 of his 15 majors to the untrained eye—and was pleased with its debut on Thursday, when he made 114 feet of putts and shot 68. But he failed to convert a number of early opportunities during Friday's 72, often times struggling to drill the putts with the kind of "oomph" that he became known for in his younger years.
It was the same frustrating story on Friday. Woods had putts for birdie on nine of his first 10 holes. He missed all nine. When he three-putted the par-3 eighth from just 26 feet, any possibility of a Moving Day charge had evaporated like the San Francisco marine layer.
"Definitely didn't hit them hard enough, that's for sure. Again, the putting green is a little bit faster than the golf course, and I made sure I hit a lot of uphill putts to make sure that I try to counter that going out there. I just didn't trust it."
Woods also struggled with a right miss off the tee on Friday, and that block was the main culprit for back-to-back-to-back bogeys on Nos. 11, 12 and 13. Once the round had gotten away from him, the putter did eventually heat up—funny how that always seems to be the case—and he canned a 10-footer on 14 and a seven-footer on 15 … but both were for par, which aren't much help when you're 11 shots off the lead.
There was then the very-real possibility that Woods would play his first PGA Championship round without making a birdie. But Tiger Woods never, ever stops fighting, even when he can't buy a putt and the lead is a far-off pipe dream.
His first birdie came at the semi-driveable hole 16th, when he fanned yet another tee shot but got a nice break when his Bridgestone came to rest on some mulch next to a tree. Which, of course, is a much better outcome than the juicy rough that frames all of TPC Harding Park's fairways. He nipped a nice wedge to 15 feet and the roll was true.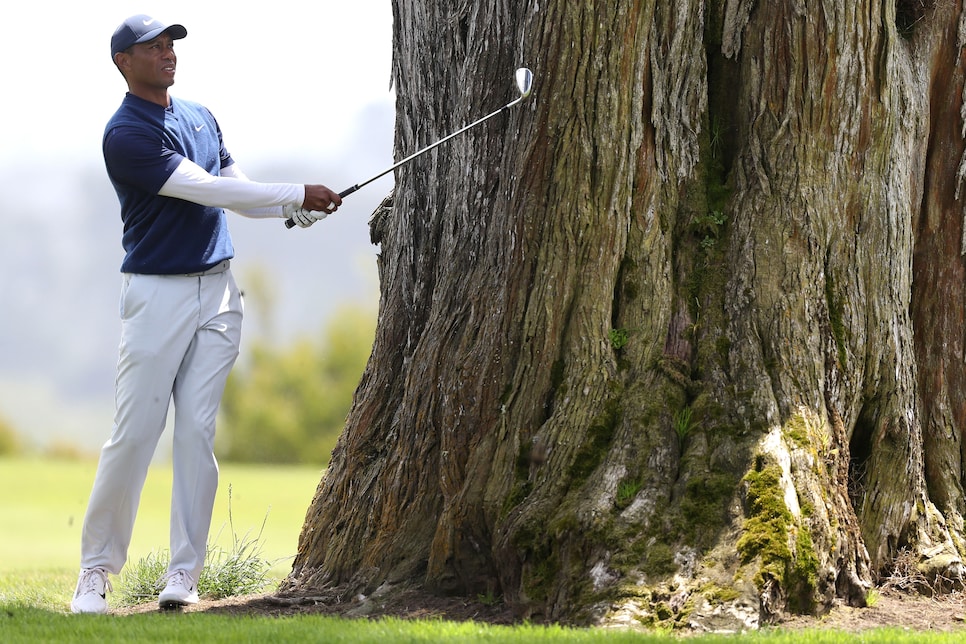 Tiger Woods plays his second shot from beside a tree on the 16th hole during the third round of the 2020 PGA Championship.
Jamie Squire
His best swing of the day was his last, a ripped 4-iron from 209 yards, uphill and into the breeze, to five feet. The putt was dead center, and suddenly he'd salvaged a 72 that looked and felt close to 82.
Sunday's round will offer little more than a chance for a confidence-boost. He'll tee off early, sitting at two over through 54 holes, and it will be quiet. He'll finish well before the leaders tee off. So, will it be tough to get up for?
"No," Woods said. "Last day of a major championship to play, and get ready for the [FedEx Cup] Playoffs, and we have the U.S. Open after that. We have some big events to be played, and hopefully tomorrow I can shoot something in the red and get it to under par for the tournament, and hopefully I can do that."