The Loop
PGA Championship 2020: Tiger Woods and Rory McIlroy talking pro sports and COVID is an early highlight of Day 1 coverage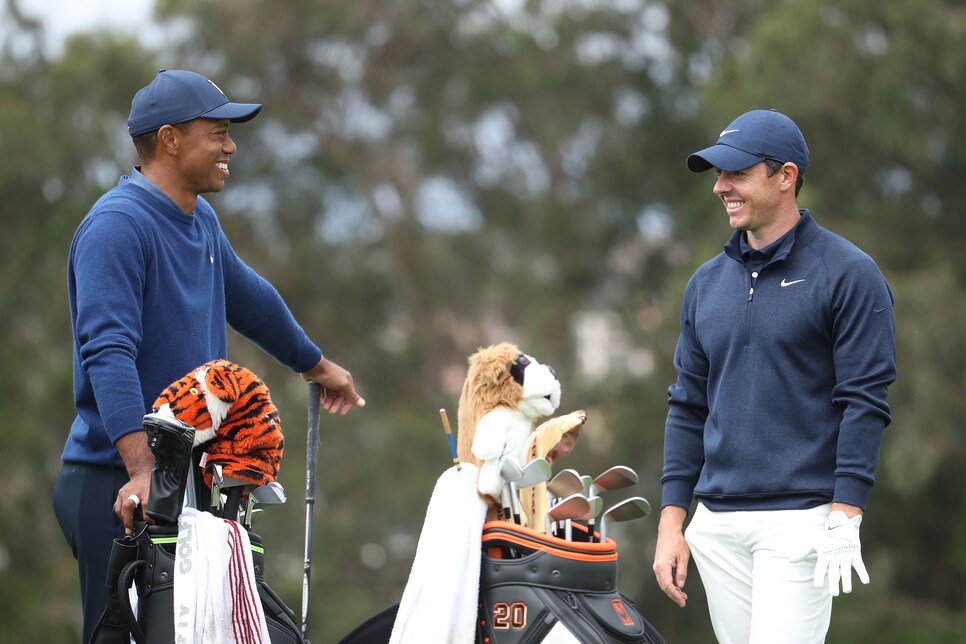 Tiger Woods and Rory McIlroy smile on the fourth tee during the first round of the 2020 PGA Championship.
Christian Petersen/PGA of America
As is tradition, coverage complaints have absolutely flooded Golf Twitter feeds nationwide. For those who didn't want to pony up a few bucks for ESPN+, waiting until 4 p.m. ET to watch a major is understandably frustrating. But for those who did fork it over, they've been treated to an A+ viewing experience so far.
In addition to a main feed, which features plenty of golf shots, there are also two other featured group feeds. Not surprisingly, one of them is the trio of Tiger Woods, Rory McIlroy and Justin Thomas, who went off just before 9 a.m. ET at TPC Harding Park.
Early in their round, the story was the strong play of Tiger and the struggles of Rory, but those storylines have flipped in the last hour, with Woods coming back to the pack and McIlroy surging. However, the true highlight of this featured pairing so far was not any golf shot, it was a conversation between Woods and McIlroy. The topic? Professional sports, and how some of them are handling the COVID situation.
"Once one person has it in in [an NFL] locker room, they're all going to get it," said Woods.
"MLB is doing well," said an overly optimistic McIlroy.
"For now. If they have one more outbreak, they're done," Woods responded.
Woods may be characterized as a doom-and-gloom guy by some, but he is more-than-likely right. First, it was the Miami Marlins, then the St. Louis Cardinals. A third team going through an outbreak might be the final nail in the MLB's coffin.
It wasn't all COVID talk, though. Woods also commented on McIlroy's golf bag, which was a shade of orange the 15-time major champion didn't care for.
This is it, this is what the people want. Some great, safe-for-work banter between two of the greatest players to ever live during a major championship. Golf fans don't ask for much.
For the full, difficult-to-understand conversation, check out this two-minute clip below and crank the volume: